New strategy will pave the way for emissions-free roads by 2050, says government
11 July 2018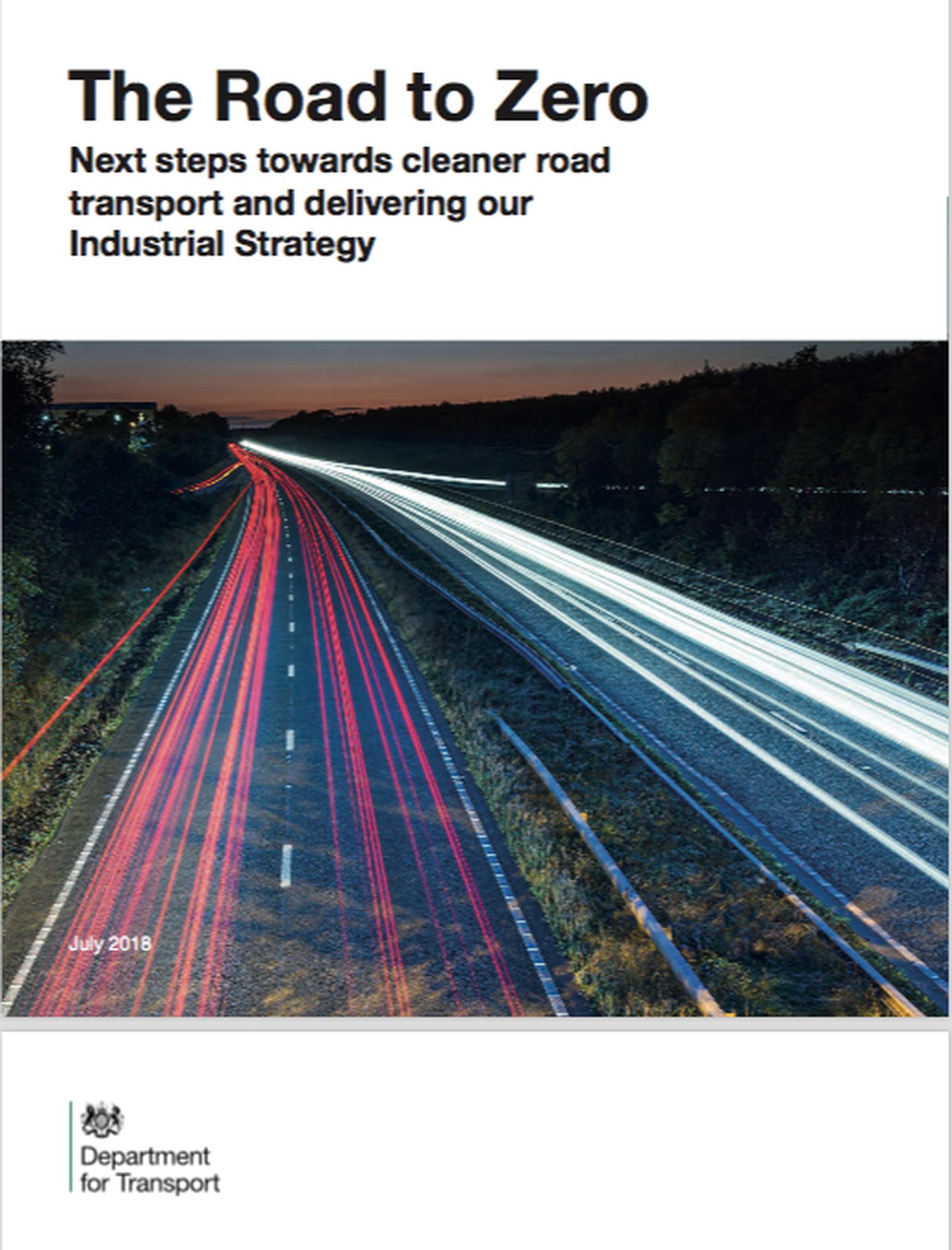 The government has stated its aim of making all cars and vans on the UK's roads zero emission by 2050. The sale of all new petrol and diesel cars and vans will end by 2040, as set out in the government's Air quality plan. "By then, we expect the majority of new cars and vans sold to be 100% zero. By 2050 we want almost every car and van to be zero emission," says the Road to Zero strategy.
The government previously stated in its Clean Growth Strategy that ultra low emission vehicle uptake levels would reach 30-70% of new car sales and up to 40% of new van sales by 2030. "Our ambition is to reach the upper end of these ranges. We want to see at least 50%, and as many as 70%, of new car sales being ultra low emission by 2030."
The governement acknowledges that though new cars are more efficient than those bought in 1990, transport greenhouse emissions have fallen just 2% since then. "As a result, transport is now the largest sector for UK greenhouse gas emissions (27%), of which road transport accounts for over 90%. Road transport is one of the biggest contributors to poor air quality in some of the UK's towns and cities."
Proposals set out in Road to Zero will enable a "massive expansion of green infrastructure across the country", reduce emissions from the vehicles on the UK's roads, and drive the uptake of zero emission cars, vans and trucks.
The strategy sets out a list of long-term ambitions including a new voluntary industry-supported commitment to reduce HGV greenhouse gas emissions by 15% by 2025, from 2015 levels.
The government says it is investing £1.5 billion in ultra low emission vehicles by 2020, with a range of measures including:
installing chargepoints in new homes, "where appropriate", and new lampposts to include charging points
the launch of a £400m Charging Infrastructure Investment Fund to support new and existing companies that produce and install charge points. Taking powers through the Automated and Electric Vehicles Bill to ensure that chargepoints are available at motorway service areas and large fuel retailers;
a £40m programme to develop and trial innovative, low cost wireless and on-street charging technology
providing £246m to research next generation battery technology through the Faraday Battery Challenge
up to £500 for electric vehicle owners to put in a charge point in their home through the Electric Vehicle Homecharge Scheme. And an increase in the value of grants available to workplaces to install chargepoints
the extension of the Plug-In Car and Van Grants to October 2018 at current rates, and in some form until at least 2020, allowing consumers to make savings when purchasing a new electric vehicle
fulfilling a £48m ultra low emission bus scheme funding round to accelerate uptake of supporting infrastructure.
the launch of an Electric Vehicle Energy Taskforce, bringing together the energy and automotive industries to plan for the increase in demand on energy infrastructure.
The government says it will work with industry, businesses, academia, consumer groups, devolved administrations, environmental groups, local government and international partners to "enable the deployment of one of the best electric vehicle infrastructure networks in the world and prepare for a greener future for the UK's roads".
Road to Zero presents the findings of an "independently verified" government assessment of the environmental performance of the fuels and technologies available to consumers.
The assessment reveals that battery electric vehicles have "substantially lower greenhouse gas emissions than conventional vehicles, even when taking into account the electricity source and the electricity used for battery production". Battery electric vehicles produce the lowest greenhouse gas emissions of all the energy sources and fuels assessed, irrespective of vehicle type and operation, according to the report.
"Between now and 2050, we project electricity grid emissions will fall by around 90%, with total greenhouse gas emissions from electric vehicles falling in parallel."
Conventional vehicles have an average lifespan of around 14 years – so vehicles bought today could still be on our roads in the 2030s, the report estimates. "Without further action to reduce emissions from the vehicles already on our roads it will be difficult to meet our air quality and greenhouse gas reduction ambitions. We also expect conventional vehicles to continue to make up a large proportion of new sales. We will therefore also take steps to ensure that new conventional vehicles are as clean as possible."
Low carbon fuels will play a vital role in driving down emissions from conventional vehicles, and in sectors which are harder to decarbonise such as heavy goods vehicles, says the government. "We want to increase the supply and sustainability of low carbon fuels, doubling use by 2020 and increasing it further to 2032. We will also provide policy and funding incentives to encourage the production of advanced low carbon fuels. Government will continue to consider further expansion of bioenergy use in transport in the context of demands across the economy, given its potential importance to other sectors such as heat."
The future of mobility
Looking to the "future of mobility", Road to Zero considers the potential of autonomous vehicles and ride-hailing services, ride sharing and new mobility services. "The way we travel and who owns vehicles in the coming years will affect the trajectory of ultra low emission vehicle uptake, the infrastructure these vehicles will need and emissions from conventional vehicles."
It expects autonomous vehicles to allow smoother, more efficient drives, and vehicles that communicate with each other and with infrastructure "could improve traffic flow and therefore reduce emissions".
Another factor could be the drop in young people learning to drive and buy cars. "Digitally enabled, on-demand and shared transport services are already changing how people consume mobility in the UK. This could signal a shift to fewer vehicles on the road with higher utilisation rates. Some analysts forecast dramatic declines in individual car ownership in the coming decades."
The government says it will be exploring ways of reducing emissions for last mile deliveries, particularly in urban areas. "We will shortly launch a call for evidence on this subject, including exploring for the first time providing grants and/or other financial incentives to support the use of e-cargo bikes."
Transport secretary Chris Grayling said: "The Road to Zero strategy sets out a clear path for Britain to be a world leader in the zero emission revolution - ensuring that the UK has cleaner air, a better environment and a stronger economy.
"The government's mission, as part of the modern Industrial Strategy, is to put the UK at the forefront of an industry that is estimated to be worth up to £7.6 trillion per year by 2050.
"The Road to Zero strategy is technology neutral and does not speculate on which technologies might help to deliver the government's 2040 mission. The government has no plan to ban any particular technology - like hybrids - as part of this strategy."
'Little mention of e-bikes': Sustrans
Charity Sustrans expressed concerns that the strategy makes little mention of electric bikes. Rachel White, senior policy and political advisor at charity Sustrans, said: "The UK government has missed an opportunity to make active travel more accessible to all in its Road to Zero strategy by not including measures to support e-bikes.
"Whilst we welcome the government's commitment to hold a call for evidence on last-mile deliveries, including consulting on the provision of grants or other financial incentives to support e-cargo bikes, we would like to see financial support for all e-bikes to encourage their uptake.
"E-bikes are a more accessible active way to get about for those that may live in very hilly areas, or may be less physically able to use a pedal bike such as the elderly. However, they are still prohibitively expensive for the majority of people."
She added: "There is a strong argument for linking the Road to Zero strategy with the 'Cycling and Walking Investment Strategy'. Whilst moving to cleaner electric vehicles has a role to play in helping us tackle our air quality and climate change crisis, 45% of particulate matter - of which there are no safe levels for human health – comes from tyre and brake wear. A switch to electric vehicles fails to address this. We need fewer not just cleaner vehicles on our roads."
'Strategy falls short in number of areas': CCC
Meanwhile, the Committee on Climate Change (CCC) said Road to Zero "falls short in a number of areas". The strategy leaves open the possibility of sales of conventional hybrids and very short-range plug-in hybrids in 2040 and beyond, "which is inconsistent with the UK's climate change commitments".
There is also "uncertainty about whether the government intends to remain part of the EU framework for car, van and HGV emissions standards should the UK leave the EU", says the independent non-departmental government advistory body.
It points to an "absence of measures" to address the fast-growing market for higher emitting vehicles, including Sports Utility Vehicles (SUVs), and a "failure to incentivise the purchase of electric and hybrid vans, despite the fact that new models with longer electric range are well suited to the needs of urban van drivers".
Lord Deben, chairman of the Committee on Climate Change, said: "Overall, Road to Zero falls short of our expectations. The committee had hoped for a groundbreaking Strategy to tackle emissions from transport – now the most polluting sector of the UK economy. Road to Zero has not risen to the task. We commend the ambition to ramp up the number of electric vehicles on our roads by 2030, and the new charging infrastructure in homes and streets, but there are plenty of missed opportunities too.
"Relying on the private sector to effect the shift to zero emission vehicles by 2040 is risky – we had hoped for greater clarity on government actions to back this up and to ensure plug-in hybrids sold in the UK travel further in electric mode on a single charge."
Urgent need for more rapid chargers: RAC
The RAC also offered its assessment of the strategy. Nicholas Lyes, RAC head of roads policy, said: "Motorists' concerns about the limited range offered by electric vehicles needs to be addressed head on - manufacturers have a role to play here, but so too does the government in ensuring the necessary rapid charge infrastructure exists.
"The incentives offered to drivers to buy a new, cleaner vehicle also needs to be looked at. Changes to the car tax system last year arguably made it less attractive to buy a plug-in hybrid vehicle - which is odd, given the government's recognition that these vehicles are a crucial stepping-stone to an all-electric vehicle.
"There is a strong argument for looking at new incentives to help make the purchase price as comparable to similar sized conventional equivalents - perhaps by way of a VAT discount or even an exemption on them.
"New charging technologies also have a big role to play - and it is pleasing to see the government has seen the role that street lights can play in offering charging infrastructure."