Westminster rejects mayor's vision of traffic-free Oxford St
08 June 2018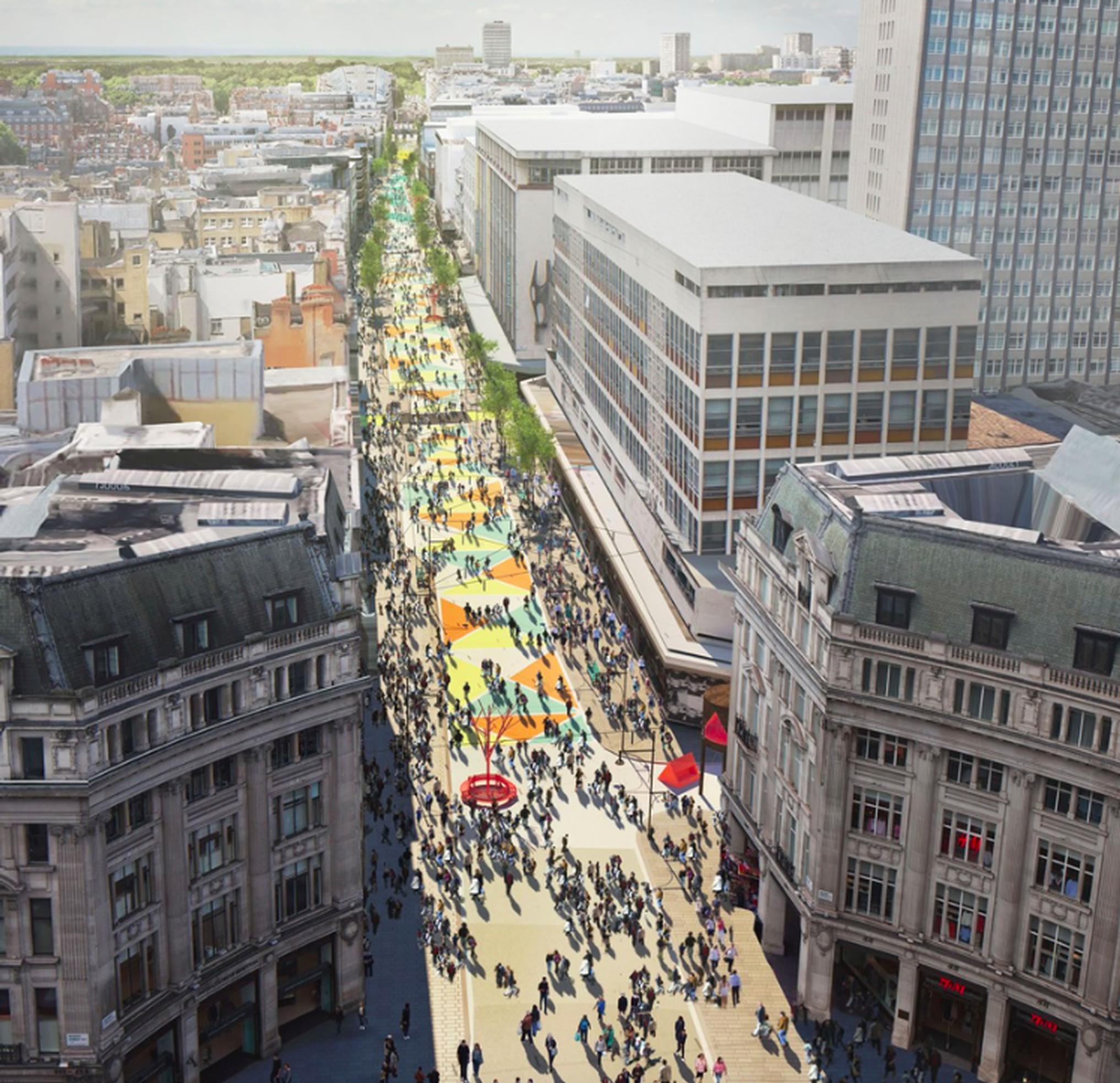 Westminster City Council has withdrawn its support for the Mayor of London's proposals to pedestrianise the western section of Oxford Street. Mayor Sadiq Khan wanted to see the section from Oxford Circus to Orchard Street, near the flagship Selfridges store, pedestrianised.
This would have coincided with the opening of the Elizabeth Line (Crossrail) between Paddington and Abbey Wood next year, with improved pedestrian access at Bond Street station.
However, the council has now stated it will not support the mayor's traffic-free vision and says it will draw up its own proposals for the transformation of Oxford Street.
The council said that 61% of Westminster residents who responded to a consultation, which ran from November 2017 to January 2018, opposed the Oxford Street proposals, which included pedestrianisation. "The prime concern was the displacement of traffic and potential disruption on the streets around Oxford Street," said a Westminster council spokesman.
Sadiq Khan described the council's decision as a "betrayal of the millions of Londoners and visitors to our city who would have benefited from making Oxford Street a safer, healthier and better environment". He said: "All the main Mayoral candidates agreed on the need for the pedestrianisation of Oxford Street at the last election, as did Westminster Council until today.
"The project was a good example of two political parties putting politics aside, working together to improve our city for everyone. This now poses a real threat to the future of Oxford Street, which could not be worse timed, coming on the same day House of Fraser announced they will be closing their Oxford Street store. I won't walk away from Oxford Street. It's too important for our city."
Responding to the mayor's comments, Leader of the Council Nickie Aiken said: "I utterly reject any suggestion that there is any kind of betrayal. Quite the contrary, we are sticking up for the people who know best, those who live and work in the district. It was clear through two public consultations and recent council elections that local people do not support the pedestrianisation proposals.
"But doing nothing to improve the area is not an option either if we are to maximise the potential benefits from the opening of the Elizabeth Line. We must future-proof Oxford Street and the surrounding district so it remains the pre-eminent shopping district in the UK and maintains its crown as the nation's high street. The news that the House of Fraser will be closing their Oxford Street store only confirms our view that we all have to work harder to help the retail industry to grow and evolve, not simply stand still or just focus on traffic.
"We are now working on our own proposals to improve the Oxford Street district and will share them with residents, business and visitors for discussion in the early Autumn."
Westminster's decision to withdraw support for a traffic-free Oxford Street was condemned by Ashok Sinha, chief executive of the London Cycling Campaign, and Joe Irvin, chief executive of Living Streets.
In a joint statement, they called on Westminster to "see sense", warning, "unless they do, Oxford Street will remain one of the most polluted and congested major city locations in the world – an embarrassment to London at a time when forward-looking major cities are prioritising walking, cycling, public transport and smart logistics.
"Whatever Westminster's leaders do and say, a transformation of Oxford Street will happen – because it has to. London cannot accept its iconic shopping street continuing to be so dominated by motor traffic that it is failing businesses, failing pedestrians who are suffering far too many collisions and injuries, failing those seeking to cycle in safety to and through the area, and failing with illegal pollution levels that damage the health of those visiting the area."
Westminster council must support plans to develop a city centre and shopping destination fit for residents, all Londoners and visitors, Sinha and Irvin said. "This necessarily means removing motor traffic from Oxford Street and prioritising walking and cycling throughout the area. Anything less will be failing London – and indeed the image of the whole UK.
"We call on the Mayor to use all available and appropriate measures to ensure a scheme for Oxford Street moves forward rapidly, and that other projects Westminster Council leaders are opposing or obstructing – such as Cycle Superhighway 11 – now move forward without delays or dilution."
Sadiq Khan should only fund Westminster Council's own projects if they ensure the borough is progressing towards the Mayor's Transport Strategy aims and objectives, they suggest.
"This doesn't need to be the end of the story. A motor traffic-free Oxford Street is possible. We call on the leaders of Westminster Council to reverse their decision and once more look to the future and not the past."
Westminster's decision was also condemned by active travel charity Sustrans. Matt Winfield, London Director for cycling and walking, said: "It's really disappointing that Westminster aren't helping deliver this once in a generation opportunity to transform central London.
"Hundreds of thousands of people would benefit from this world leading destination being free of traffic, free of exhaust fumes and open for all to use.
"The current situation simply isn't sustainable. On average, a pedestrian is involved in a collision once a week, and everyday half-a-million visitors and workers are breathing air that is four times the legal limit. Cancelling the project simply means residents, businesses and visitors will continue to suffer.
"We are calling on Westminster City Council to work with the mayor to realise Oxford Street pedestrianisation and provide parallel cycle routes that will result in benefits for walking, air quality and a more sustainable and liveable city."