Transforming NYC transport – again
The need for New York's proposed congestion charging policy and why Uber and Lyft are currently a menace to the city
28 March 2018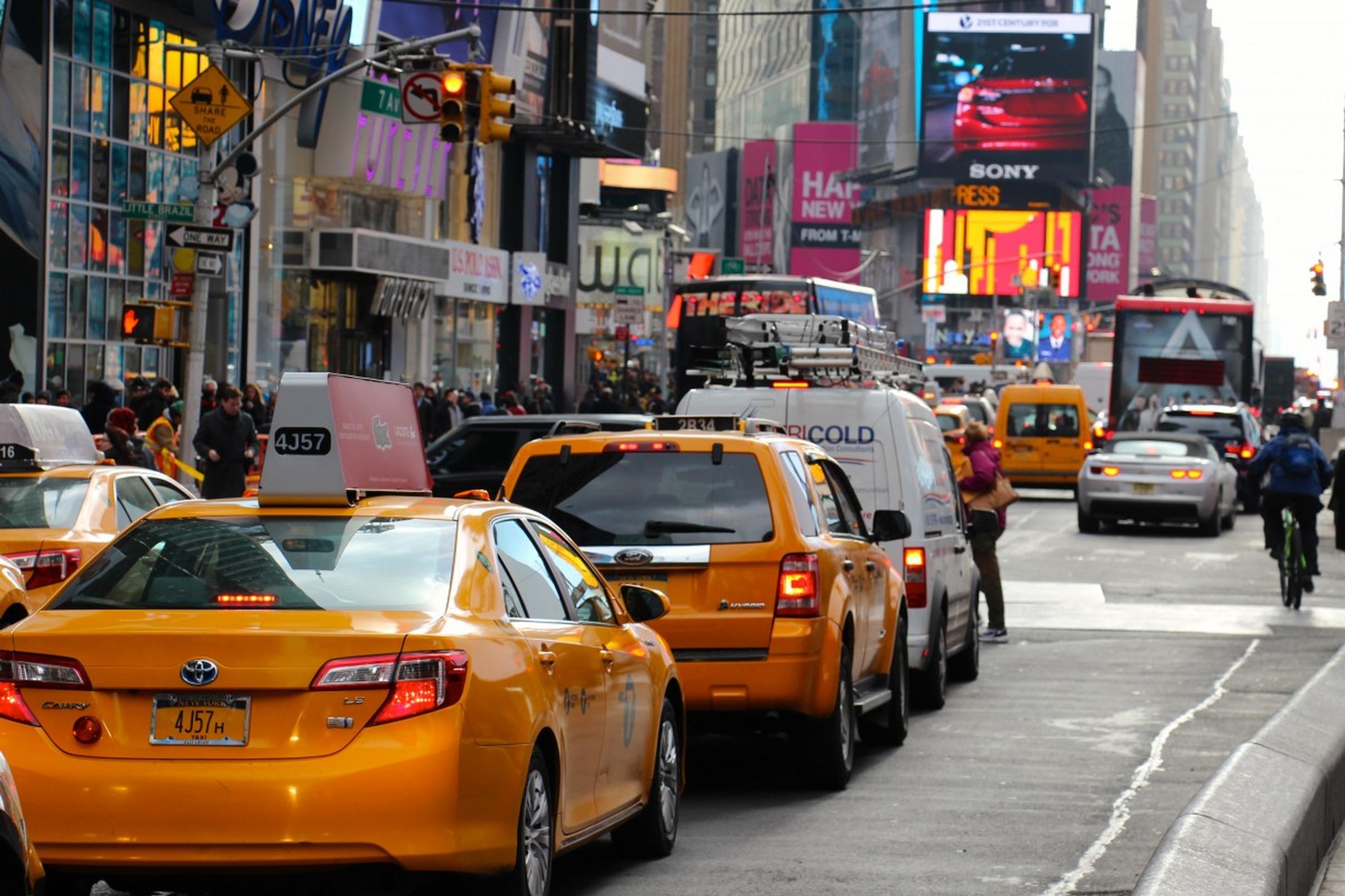 Jon Orcutt, director of communications and advocacy at Transit Center, NYC, talks to Transport Xtra about the need for NYC's proposed congestion charging policy and why Uber and Lyft are currently a menace to the city. Jon talked with Andy Salkeld, Leicester City Council
Transit Center is a national Foundation dedicated to improving public transit. We are based in New York City, specifically in Lower Manhattan, and were closely involved with the major positive changes that took place under the Bloomberg administration, says Orcutt. Michael Bloomberg served as the 108th Mayor of New York City, holding office for three consecutive terms, beginning with his first election in 2001. 'His work on mobility changed the NYC zeitgeist in terms of making progressive sustainable public transport a real option,' says Orcutt. To put this in perspective, a snapshot of Bloomberg's achievements make the case: he created the City's first bus rapid transit system, launched Citi Bike, the nation's largest bike share programme, made major investments to improve traffic safety, brought traffic fatalities in New York City to a historic low, built the first new City-funded subway track in decades, and strengthened existing infrastructure, including $5 billion to ensure the City's 787 bridges are in the best condition in generations.
Jon Orcutt will be speaking at the Transforming Cities conference in Leicester on 12 and 13 April. The two-day agenda includes free city walking and cycling tours, a free running tour, free public lectures, a networking reception and a full-day Conference: register via the website. Public authorities may register to attend the Conference for free by using this link
Bloomberg was ably supported by Janette Sadik-Khan, who was appointed transportation commissioner by Bloomberg in 2007 and served in that role until 2013. Her tenure was marked by significant changes to New York City streets and public spaces, including the conversion of road space into bike lanes and into pedestrian plazas, notably along Broadway at Times Square and Herald Square.
Bloomberg and Sadik-Khan are a hard act to follow. Asked what's happened to NYC in the intervening 18 years, Orcutt is thoughtful. 'In terms of pedestrian and street design with regard to transportation, our current Mayor, Bill de Blasio, found a way to repackage a lot of Bloomberg initiatives and make them his own under a new name, which was Vision Zero.' Vision Zero refers to the plan to dramatically reduce traffic deaths using street design as a tool. 'It looks like Mayor de Blasio is on the right track to reducing traffic, which has happened in each of the first four years of his leadership, a feat that is very difficult to achieve. It's unprecedented in the city's history to do it for years in a row. (The New York Police, notes Orcutt, played no role in the street design and traffic management schemes that have been successful in the city, despite being part of the Vision Zero initiative. Speed cameras, speed restrictions which are enforced by the legislature and street design interventions have been the things that work for Vision Zero, he says.) 'But after Sadik-Khan left office in 2013,' says Orcutt, 'we found ourselves in a really tough place in terms of macro transportation issues in the city, with mass transit outages leaving people being stranded, derailments, and a 10 year decline in bus ridership. This is a slow haemorrhage that's getting worse each year.'
More than Transit
One of the great transit Renaissance stories of all time is the rebuilding of the New York City Transit system after the 1970s. Using tax revenues, over a generation we've been able to rebuild the transit system into something that supports our city and makes it a city that's able to attract people, muses Orcutt. But the transit system has been unable to absorb all of the travel demand associated with 1.5 million new people needing to move around the city region daily. Traffic levels levelled off in the 1990s, and we've absorbed much of the latest travel demand related to jobs and leisure through cycle projects. But during the last few years, transit ridership is falling, bus ridership is falling and traffic levels are rising.
Car traffic on the rise
Growth in New York City is being absorbed by car traffic, which is increasing dramatically because of Uber and Lyft. 'We have access to a lot of data, much more than most American cities, because the city has a major taxi regulatory structure,' says Orcutt. 'We plugged plug Uber into a category as soon as they showed up in New York City, and we've been able to increase the pressure on them to yield more data. We know that most of the Uber and Lyft trips are happening in the most crowded parts of the city at the most crowded times of day. This makes sense for a market- based system, because that's where the travel demand is, but it's adding tremendous congestion and making the bus services worse, both through crowding up the streets, slowing traffic down and through providing incredibly subsidised cheap rides.' It's also destroying the traditional taxi industry and eating into transit ridership at the margins. Uber will never replace transit in a crowded city, because geographically you simply can't fit that many cars into the spaces needed to serve people, he adds. 'Uber can't replace 12 car subway trains arriving every few minutes on multiple lines, but it can jam up a city in terms of how its streets work, and that's what's happening in New York.'
Lyft is responsong to this issue by Lyft using geofencing to limit customer pick-ups along a portion of busy streets in San Francisco, according to Mission Local. The ride-sharing company will move a certain amount of its pick-ups to a side street as a safety measure to reduce congestion and discourage double parking, which has especially had an impact on cyclists in that area. 'Lyft believes that combining technology and infrastructure is necessary to creating safe, vibrant streets,' a Lyft spokesperson said in an emailed statement. 'We're encouraged by the City's recent installation of safe-hit posts along Valencia Street and are excited to collaborate on experiments, like this current pilot on Valencia, that can help support citywide Vision Zero and multi-modal goals.'
Apps appear to be making things worse in NYC, agrees the BBC, as traffic has slowed in line with the growing popularity of apps such as Uber and Lyft, suggests a study by transport expert Bruce Schaller. Over the four years of the study, the number of cars in Manhattan seeking ride-hailing fares increased by 81%.
Lack of policy response – until congestion charging proposals
What's interesting, continues Orcutt, is that there has been almost no policy response to this so far: not from Metropolitan Transportation Authority (MTA), the state government, or from Mayor de Blasio. In 2015, de Blasio tried to tap the number of Uber vehicles operating in the city, says Orcutt, as he has a lot of support from the traditional taxi industry. Yet he was defeated heavily: 'Uber mows down Bill de Blasio' shrieked the Washington Post headline. 'But at least we've been able to get more data, so we know what's really going on. We see that Uber's erosion of traditional taxis mean that there are far fewer wheelchair accessible vehicles on our streets and, as the taxi industry is regulated but Uber is not, Uber does not have to abide by regulations on accessibility, diversity and mobility.
'We need to manage to congestion by creating more dedicated space for buses, which the city has been very slow to do. We are working on a role for the Transport Network Companies (TNCs or ride and car-sharing services) so they fit in with overall City mobility solutions, but the TNCs are fighting back hard. We really need a sustained macro-level response to the problem. With this in mind, the Governor has put congestion pricing back on the table for the first time since mayor Bloomberg was defeated on this in 2008.' Proposals for the new policy centre on charging for entry to the Manhattan Central Business District, and surcharges for Uber, Lyft and others within the CBD. Uber and Lyft already pay a sales tax which goes to the public sector, notes Orcutt, but very little of that ends up back in the transit sector. Yellow cabs, on the other hand, have always charged 50-cents per trip on every fare that has sent $600 million to the MTA. '
Political in-fighting
As ever in politics, rivalry and in-fighting is clouding the congestion charging issue – and, on 8 April, finally defeated the proposal. Governor Cuomo of New York State had come to accept the need for congestion charging, according to New York magazine, though not without plenty of waiting, waffling, and hints of an impending reversal, it notes. Mayor de Blasio had not. State legislator reactions to Cuomo's proposal have generally ranged from the tepid to the hostile, reports the magazine. However, after the vote, the original Bloomberg plan was a step too far. Late on Monday, the state assembly in Albany shelved the mayor's plan, which would have charged drivers who entered Manhattan south of 60th Street between 6am and 6pm on weekdays.
Back in January, a panel of experts appointed by Governor Cuomo produced a set of proposals called Fix NYC, the basic recommendations of which were a $11.52 toll on all private cars entering the central business district and a lower per-ride surcharge on taxis, Ubers, and their ilk. The result would have netted $1.8 billion a year for the transit system; weekday traffic in midtown and lower Manhattan would have moved, on average, 20 percent faster; and New Yorkers would have spent half a million fewer hours getting where they need to go. Uber was initially supportive of the proposed charge, but has since changed its tune, according to the New York Daily News, and is now 'looking to put the brakes on a modified congestion pricing plan put forward this week by the state Assembly Democrats. On March 16, the ride-sharing service launched a new television ad trashing the Assembly's plan to raise money for the cash-strapped MTA by charging Uber riders in the outer-boroughs more in fees than those who take yellow cabs in Manhattan,' says the paper.
Fighting over congestion charging embodies the strong rivalry between Mayor de Blasio and the Governor, says Orcutt. 'The mayor has been doing a disservice to the public by creating a lot of bull**** excuses about not doing it. 'He is absolutely wrong to say it's not progressive; the people who drive into Manhattan are well-paid and often subsidised for parking. It's Manhattan's working class people who need to get into the city on transit, they are the ones who need some fairness.'
Jon Orcutt will be speaking at the Transforming Cities conference in Leicester on 12 and 13 April. The two-day agenda includes free city walking and cycling tours, a free running tour, free public lectures, a networking reception and a full-day Conference: register via the website. Public authorities may register to attend the Conference for free by using this link