Government awards £51m for development of self-driving car testing infrastructure
Four winning consortia led by HORIBA MIRA, Millbrook, TRL and the Warwick Manufacturing Group
19 October 2017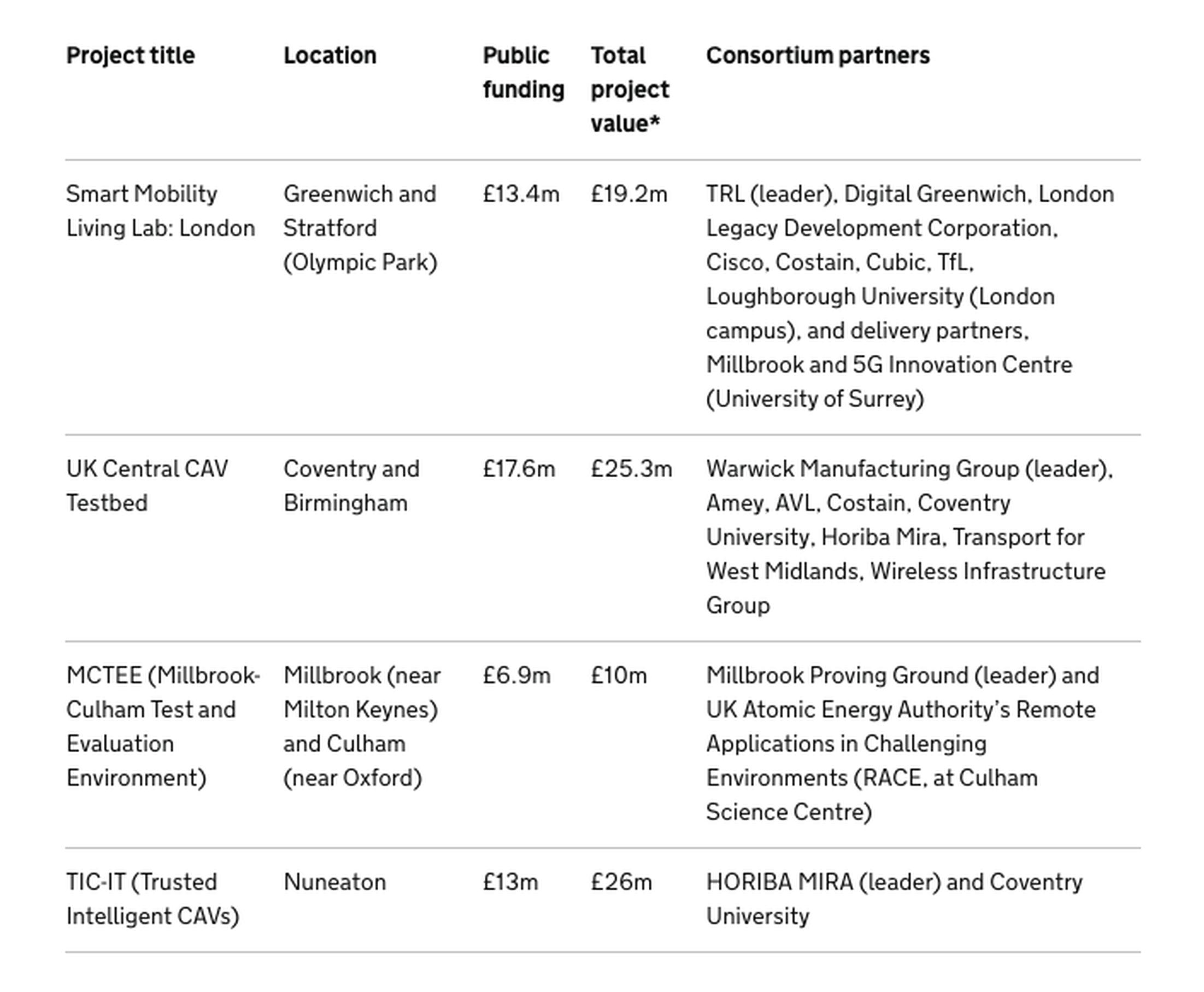 Four projects across five locations have been awarded a total of £51m in funding for creating the environments needed to fully test connected and automated vehicle (CAV) technology.
The projects are the first to be funded from the government's £100m Connected and Autonomous Vehicles testing infrastructure programme announced in November 2016 and will be matched by industry.
The consortia selected selected in this first round are led by HORIBA MIRA, Millbrook Proving Ground, TRL and the Warwick Manufacturing Group. Their projects will test the speed, safety and potential opportunities for delivering CAV innovation.
HORIBA MIRA in Nuneaton will build a new site alongside its existing vehicle test tracks where automated vehicles can be tested at the limits of their speed and handling to ensure they are safe.
Millbrook Proving Ground in Bedfordshire and Remote Applications in Challenging Environments (RACE) based in the Culham Science Centre in Oxfordshire will set up a range of different test areas mimicking increasingly realistic city driving environments, where automated vehicles can be tested before being taken onto public roads.
Two projects will adapt real world locations for testing of automated vehicles in live traffic: TRL will lead a project to set up live test environments in Greenwich and Stratford's Olympic Park in London; Warwick Manufacturing Group will set up real world test environments in Coventry and Birmingham
Business and energy secretary Greg Clark said: "Combining ambitious new technologies and innovative business models to address social and economic challenges lies at the heart of the government's modern Industrial Strategy. Accelerating connected and autonomous vehicle technology development is central to achieving this ambition and will help to ensure the UK is one of the world's go-to locations to develop this sector.
"These projects, backed by government, form part of a globally unique cluster running from our automotive heartlands in the West Midlands, down through our innovation centres in Oxfordshire and Milton Keynes, through to London, Europe's only megacity. To achieve this, government and industry are working together to create the world's most effective CAV testing ecosystem, integrating existing proving grounds and public road test sites across the UK's existing automotive sector, strengthening existing capabilities and creating new ones."
The CAV projects are expected be fully operational and advancing technology development in this sector within the next 18 to 24 months. The new AV ecosystem will be co-ordinated through MERIDIAN, a government-backed and industry-led hub to develop CAV technology in the UK.
Jim Campbell, launch director of MERIDIAN, said: "As connected and autonomous vehicle technology becomes more complex, ensuring that the UK automotive industry has world-leading facilities to test and refine concepts is of imperative importance."
Simon Edmonds, director of manufacturing and materials at Innovate UK, added: "This first wave of testbed infrastructure investment is crucial at establishing a UK cluster of excellence to test and develop autonomous vehicle technology. This is another good example of how the UK is leading the way on this exciting agenda, and how UK companies can take advantage of the massive opportunities it presents."
Yesterday the government introduced the Automated and Electric Vehicles Bill. The Bill will increase the access and availability of chargepoints for electric cars, while also giving the government powers to make it compulsory for chargepoints to be installed across the country and enabling drivers of automated cars to be insured on UK roads.
Graham Hoare, chair of the Auto Council Technology Group, said: "Currently no other country has taken this innovative leveraged national approach and this can be a major differentiator on the global stage. This will be a globally unique set of capabilities that is co-ordinated and developed to provide a solution to industry that will enhance delivery efficiency, collaboration and knowledge growth."