Moving beyond conflict: the benefits of well designed cycle routes
Good cycling infrastructure actually improves driver behaviour, says Pete Zanzottera, a member of the CityConnect advisory group developing new routes in West Yorkshire
26 April 2017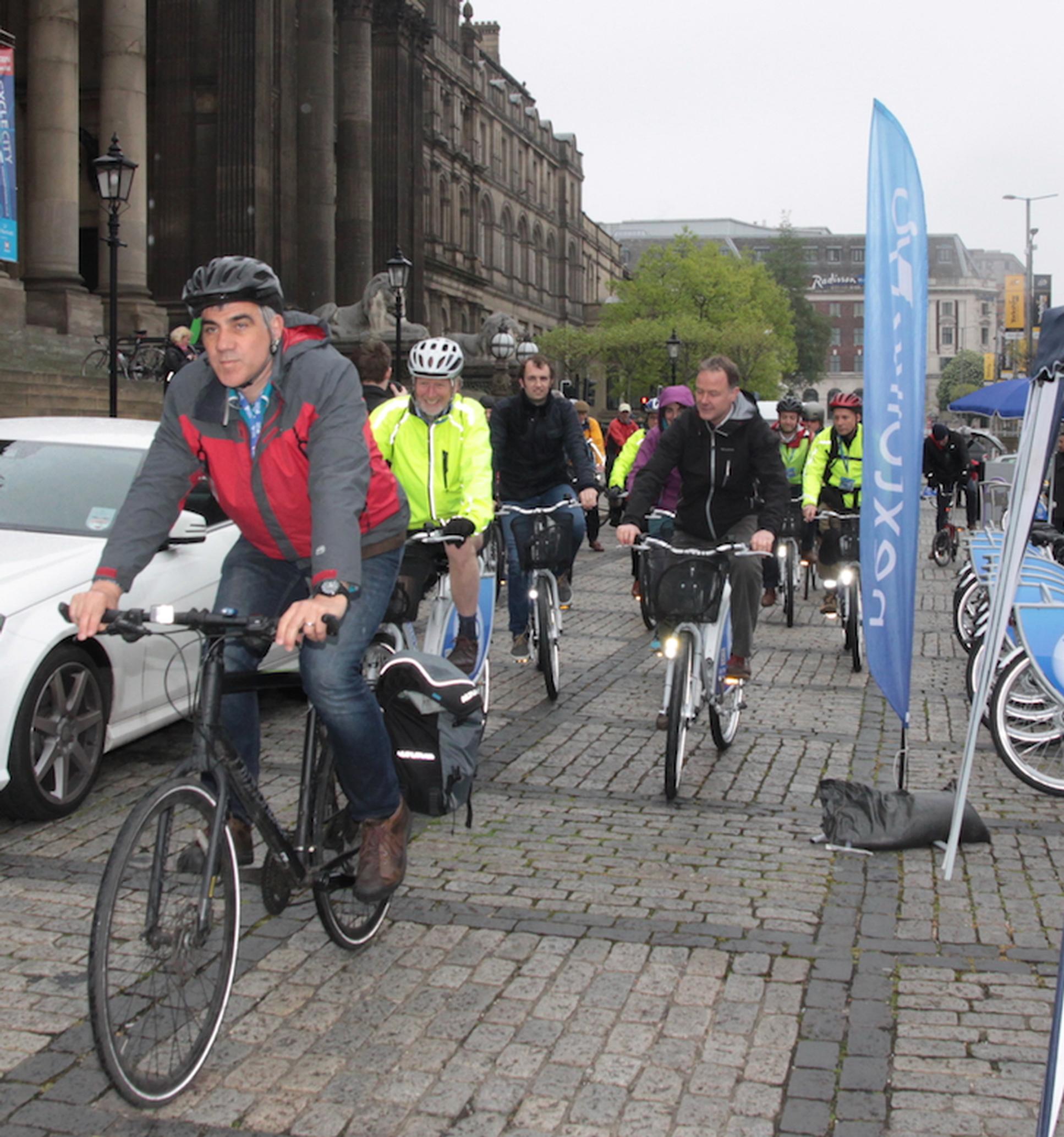 The Leeds to Bradford Cycle Superhighway is changing driver behaviour for the better and opening up cycling to "ordinary people", believes Pete Zanzottera, a member of the CityConnect advisory group that helped shape the 23km route.
The CityConnect project is funded by the Department for Transport's Cycle City Ambition Grant, which awarded £60m to the West Yorkshire Combined Authority and local authority partners for two phases of improvements, which are due to be completed in 2018.
Cycle Superhighway 1, which opened last summer, runs from Leeds city centre along the A647 to the new Broadway shopping centre in Bradford.
Sustainable travel consultant and cyclist Zanzottera lives on the outskirts of Leeds and says the route has made it far easier for him and his family to cycle into the city centre. "Cycling along the road could be hair raising experience. My children say they were intimidated by the traffic, but they now feel much safer."
He adds: "Before the Cycle Superhighway the route was only used by commuter cyclists and people dressed in lycra. That has changed – we are now seeing local lads on bikes, women in their thirties cycling for the first time, ordinary people on ordinary bikes."
Those cycling along the segregated route have priority over vehicles entering from side roads. "This is an example of infrastructure that is self-indicating to the point that a lot of drivers get it right now," says Zanzottera. "I have video footage of left turning traffic taking care at junctions and giving way to cyclists that are going down the Cycle Superhighway. It really is working."
Some respondents to the CityConnect consultation feared that the cycle route would cause tailbacks. But these fears have turned out to be unfounded, says Zanzottera, adding that the route has had little impact on traffic levels. "What tends to make a big difference is when there are accidents, so every now and then the roads are snarled up."
Cycle City Active City is being held in Bradford next month, at the start of a crucial period, which will reveal if usage levels of Cycle Superhighway 1 are rising, says Zanzottera.
"According to the local press the route is a white elephant, but this is partially them pursuing their own agenda. If you go on social media you hear a very different conversation."
Cycle Superhighway 1 is an example of infrastructure that is self-indicating to the point that a lot of drivers get it right now
The initial consultations carried out by CityConnect showed a high level of support for the infrastructure changes, says Zanzottera. "You can get a very narrow band of opinion if you just talk to those with businesses along the frontages of the route, but you get a very different view if you talk to all the hundreds of people who live behind those frontages and ask them what sort of place they want their children to grow up in."
Besides which, cyclist and pedestrian friendly routes tend to be good for business, argues Zanzottera. "We have a lot of people believing that footfall or patronage of shops is governed by vehicles, but that is simply wrong. There is overwhelming evidence from around the UK and the United States that if you make areas pedestrian and cycling friendly and put them around transit-oriented developments you create the sort of places where people spend more time and visit more often."
Phase 2 of the CityConnect project is now underway, which is focusing on improving cycling infrastructure in other urban centres in West Yorkshire such as Huddersfield, Bradford and Wakefield, as well as expanding the network within Leeds city centre.
"These Phase 2 developments will hopefully take us to that magic point when networks join up," says Zanzottera. "In Leeds there is a real chance for the network to link up and become even better."
However, there are still major challenges over how to ensure safety for cyclists along bus routes through the city centre. "If you are taking your kids into the city centre on their bikes you don't really want to be mixing with buses in bus lanes. There are a couple of key junctions that have not been resolved yet."
There have also been some disagreement between the CityConnect advisory group and local traffic engineers, says Zanzottera. "There are a few junctions where traffic engineers said the traffic volume was such they could not create a cycle lane that went straight across. They say that putting in dedicated cycling facilities would create tailbacks. The advisory group disagrees."
Zanzottera is convinced that some car journeys disappear once cyclist and pedestrian friendly routes are created. "We know that lots of journeys are made on a whim. Transport planners tend to think that the level of traffic is a given. Most transport planners are extremely worried about removing vehicle capacity. They run traffic models that say demand is constant, but demand is not constant. It is influenced by infrastructure. The elasticity of demand is much greater than transport planners realise."
This will be among the issues discussed at Cycle City Active City next month. Bradford is a worthy host city for this year's event, believes Zanzottera. "Bradford has been transformed in recent years. It now has really high quality urban space in the centre. It has always had a range of community involvement and festivals but it now has the space to host that kind of thing."
Visitors will be able to test out Cycle Superhighway 1 and see the new Superhighway being built to the north of the city.
There are also excellent examples of shared space in the city now, he says. "People have had a downer on shared space, but that is where it has been used wrongly. If you are creating a long, linear route it shouldn't really be shared space. But if you have a short section when you reach a town or city centre, where vehicles are calm and you have a great number of pedestrians, they are good things to have."
Meet Pete Zanzottera and members of the CityConnect team at Cycle City Active City