Southwark plays host to the urban space debate
Practitioners from all the complementary disciplines working to create better places gathered under one roof at a major event last month, reports Deniz Huseyin
03 November 2016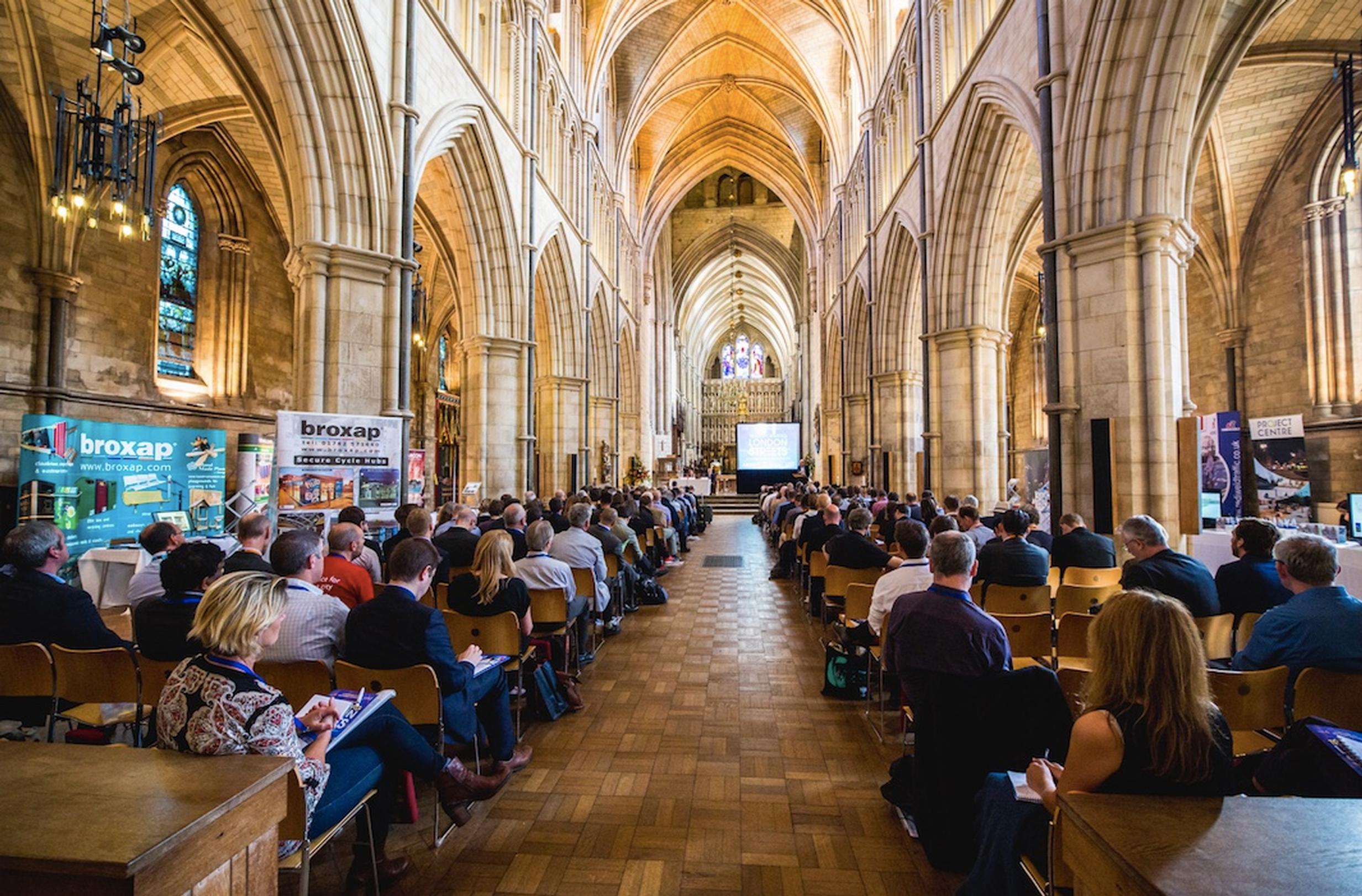 More than 200 delegates attended Transforming London Streets at Southwark Cathedral to explore the ways in which public spaces and cycling and walking infrastructure in the capital are changing. The event, organised by Landor LINKS and hosted by Southwark Council, brought together experts from local government, government agencies, consultancies, academia, equipment and service providers and campaign groups.
The programme encompassed placemaking, regeneration, behaviour change, technology, community initiatives and air quality measures. As well as a wide array of presentations, there was also an exhibition representing all facets of this evolving sector along with a guided cycling tour of London's Cycle Superhighways and a walking tour of the Bankside area.
Southwark's cycling vision
In his keynote presentation, Cllr Ian Wingfield, Southwark's cabinet member of environment and public realm, told delegates that the council is investing more than £30m on cycling and walking improvements over the next five years.
"Our cycling strategy sets out a clear vision for cycling in the borough," he said. "We want cycling to be for the many, not the few – the natural choice for getting from A to B – with people from all over Southwark of all ages, abilities and backgrounds able to cycle an attractive, quiet route that does not involve sharing the road with large vehicles or fast moving traffic."
Over the past year the council has delivered a number of projects, many in partnership with Transport for London and the local community, said Wingfield. "These include the cleaner, greener streets across the borough, Quietways network, the Cycle Superhighway, more cycle parking in residential areas and investment into the community led studies to open up the Low Line and Peckham Coal Line.
"Upcoming work includes the Southwark Spine, a new cycling route designed and funded entirely by the council to complement the Quietways."
The council is also investing in behaviour change, providing the skills and knowledge to help people living, working and studying in the borough get around on foot or by cycle, said Wingfield. "Our increased investment in the behaviour change programme has boosted our cycle confidence programme, a service designed to give people the skills to cycle with confidence on the road, and we are looking at ways we can diversify and target women along with older and disabled people to start cycling."
Route to better air quality
Another London borough that is developing cycling and walking infrastructure projects to encourage active travel is Camden. Cllr Phil Jones explained the impact of changes along Torrington Place and Tavistock Place.
The trial, involving wider pavement and stepped cycle tracks, began in November 2015. Also, the corridor was made mainly one-way for motor vehicles. The council is now consulting on whether the changes should remain or whether the road layout should revert to its pre-trial layout of two traffic lanes with a single, two-way cycle track.
"There have been a 52% rise in cycling east-west along the route in the morning and afternoon rush hours," said Jones. "And protected space for cycling on the east-west Torrington Place/Tavistock Place route has made it easier for people on cycles to access the north-south cycle routes."
Cycling northbound into Gordon Square has gone up 173% he noted, adding that on Sundays there have been average increases of 39% in cycling into and along the route.
There have also been improvements in air quality since the trial began, according to Jones. Nitrogen Dioxide (NO2) emissions at Tavistock Place have fallen 21% compared with levels before the trial, he reported.
Meanwhile, NO2 levels have dropped 10% at Russell Square and 9% at Gordon Square.
But there has been some opposition to the layout changes; taxi drivers have complained that it has resulted in increased journey times to some destinations, Also, the new eastbound one-way traffic route has made it more difficult to drop off disabled passengers at Tavistock Hotel, some taxi drivers have said.
Conversely, many businesses around the area have supported the changes, said Jones. "Older cyclists, families and cyclists with disabilities feel more comfortable cycling in the Bloomsbury area."
The consultation ends on 21 October, with the council due to make a decision in early 2017 on whether or not to retain the re-configured layout.
Safety must come first
One issue that all local authorities must consider when installing new infrastructure is whether it is truly safe, said Peter Siemensma, senior transport planner at consultants Arcadis.
He discussed the Dutch "sustainable safety principle" which "anticipates mistakes and accepts that humans are fallible". The underlying object of this principle is to "ensure mistakes aren't fatal".
Serious accidents can be caused by high kerbs, potholes and bollard, he warned. In the Netherlands these factors cause 60% of all accidents involving cyclists where no other road user was involved, Siemensma pointed out.
"If this is the case in the Netherlands it is very likely that similar accidents happen in the UK too. Therefore, you could argue that the new 'state of the art' cycling infrastructure in London may not be 'state of the art' in reality."
The focus should be on "safety by design, not just regulation", Siemensma explained. Humans and safety should be firmly at the centre of design and "the central issue is that people, even if they are highly motivated to behave safely while using the road, make errors that may result in crashes. Therefore, roads should be designed in such a way that allows road users to make little mistakes."
This requires roads to have one clear function, either as through roads, distributor roads or access/residential roads. Also, road design should enable road users to "read" the maximum speed of the road "even if they have overlooked a sign".
Siemensma went on to argue that bus lanes seldom made suitable routes for cyclists. "Based on the Dutch sustainable safety approach, this should not be common practice as it mixes vulnerable road users at low speed with massive vehicles travelling at high speed. Things are different on a residential road, as speeds are much lower, where sharing the road is common practice."
He concluded: "A simple method is asking yourself a question: would I allow a 10-year-old child to cycle, walk or cross this road on their own? If the answer is 'no' the design probably wouldn't pass the sustainable safety test."
Shared space, less haste
The subject of shared space was raised by Sam Neal, project director, major projects and regeneration at consultants Project Centre.
Shared space was incorporated into the 'The Scene', a new development in Walthamstow, north-east London, which was completed last year.
As part of this development – which comprised a new cinema, restaurants, shops and apartments – the road layout of the adjacent High Street was altered to make it more pedestrian and cyclist friendly.
Prior to the new layout, the road was used by rat-runners who cut through Cleveland Park Avenue to avoid main road Hoe Street, said Neal. This resulted in "regular conflicts" between vehicles using the road as a short-cut and pedestrians looking to enter Walthamstow market – the longest daily outdoor market in Europe. "Dispensing with a clear demarcation between the pavement and the road, and closing the road at the top of Cleveland Park Avenue, has helped to create a wide shared space where the car is no longer dominant," said Neal. "As there is no longer a clearly designated road, drivers proceed with greater caution. This has reduced the potential for conflict and provided cyclists and pedestrians with much more freedom – and safety – as they move through the space."
A thorough consultation process resulted in broad support from local people to the Scene development, said Neal.
Waltham Forest council required the developer Hill to "go over and above the statutory consultation requirements with the planning process", she explained. Preview sessions for councillors, residents and businesses around the site were held before the wider community consultation programme. "This helped to open channels of communication and encourage dialogue and feedback from the outset." A stakeholder group, made up of residents and businesses, were able to raise issues or concerns with the construction team.
This culminated in the resident association "speaking in favour of the planning application at the planning committee hearing", said Neal.
"Community engagement was also an important component in the design of the public space. The multi-faceted engagement process included a trial panel of proposed materials so that the community could see what the space would look like."
Place, prosperity & wellbeing
Linda Thiel from White Arkitekter spoke of the benefits of creating public space that suited the needs of the majority. "Recent surveys by the Economist and Monocle of the world's most liveable cities show that a well-connected, walkable and cyclable cities result in healthier and happier population," she said. "Walkability also makes a city more attractive to newcomers which, in turn, attracts business and boosts the economy."
Architect firm White has its head office in Sweden's capital Stockholm, where cycle routes are undergoing a transformation, said Thiel. The city is spending 1bn Swedish Krona (£90m) to improve cycle routes, with the aim that by 2030 15% of commuters will travel by bike during rush hours, said Thiel.
"Good accessibility is one of the most important foundations in a city and how it grows," she said. "We need to constantly improve the streetscape to make it safe and attractive so that cycling becomes the preferred mode of transport for experiencing the city. This would lead to a reduction in pollution and alleviate stresses on other transport routes as well as enhancing the wellbeing of citizens through healthier habitats."
The rise in temporary and pop-up structures has helped demonstrate what a changed street can look like, said Thiel. "It gives us the means to test and try before committing to major investments. We need to adopt this technique to trial cyclability strategies to disrupt the car-dominated streetscape, to implement changes in the way streets are used and engage directly with the city's future cyclists."
Re-imaging public space through temporary measures was also touched on by Professor Rhiannon Corcoran, academic director at the Heseltine Institute for Public Policy and Practice.
She cited cases of streets being closed to traffic during "playing out" activities. This results in an environment where children and adults can play, talk and socialise. Not only does it encourage exercise among children but it also helps reduce isolation and loneliness, and "allows neighbours to get to know one another, builds trust, understanding, increases safety in that people look out for one another", said Corcoran.
New developments must "put people before place", said Corcoran. "We need to create places that naturally enable interactions and community activities to build palpable community spirit and encourage 'living' streets."
Projects should make the most of natural assets, she added. "Map them and make the most of them. For example, avoid rat-runs around parks. Instead, create shared spaces around natural assets, with flexible activity spaces beside them or within them."
Professor Corcoran spoke of the need for "well-design" which places wellbeing at the heart of placemaking principles. "Well-design should include flexible places and environments that priorities, accommodate and give explicit consent to cooperative community activity," she said. "Well-design should encourage, facilitate and enable people to volunteer their time as a form of 'sterwardship' in the pursuit of good places to live."