Powering Up Britain strategy gives another boost to electric vehicles
Energy security is focus of UK government's revised net zero plan
30 March 2023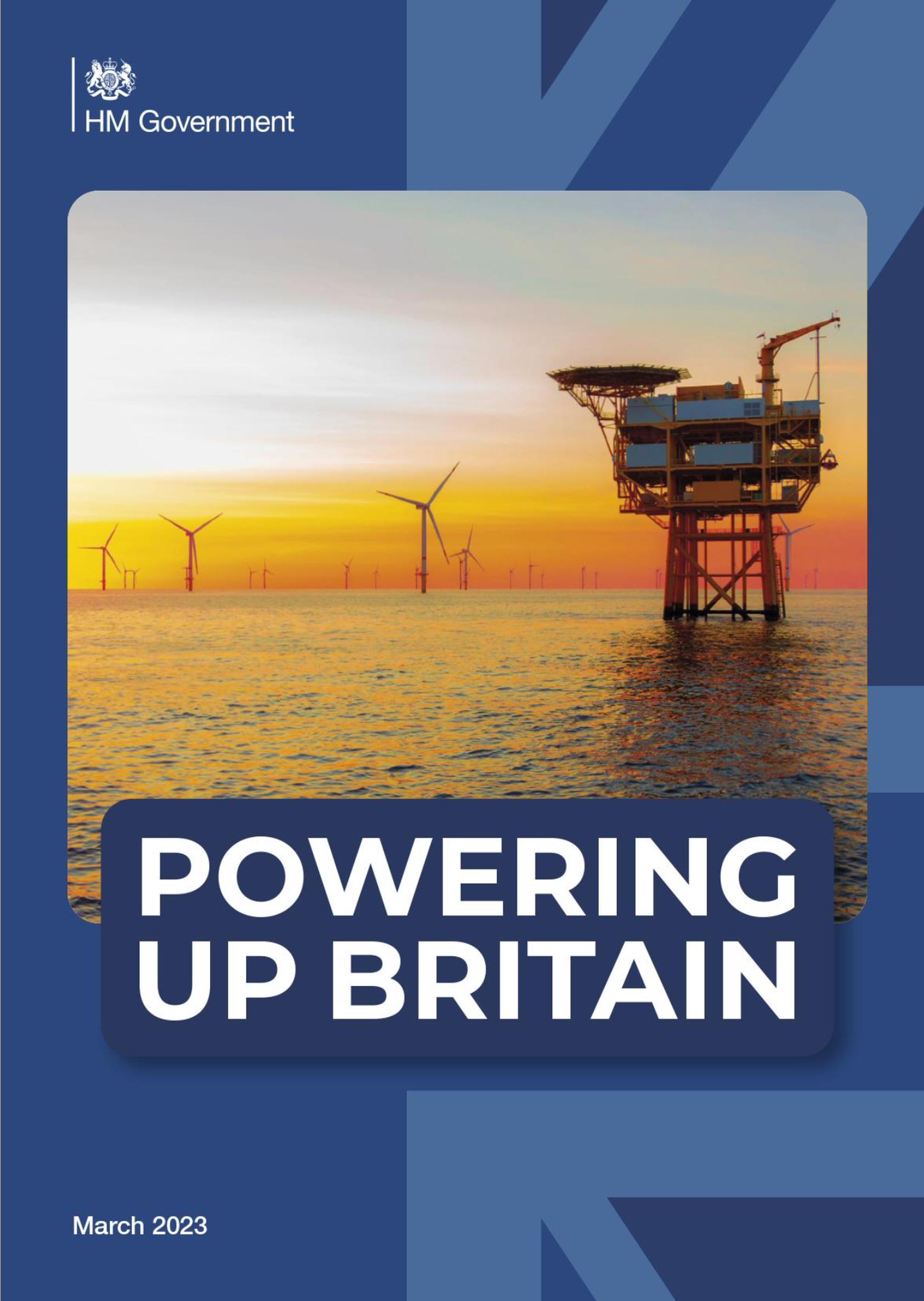 Decarbonising transport is a key strand of the government's new net zero plan, which has been published under the banner of Powering Up Britain.
The government has announced that it is investing a further £381m via the launch of the Local Electric Vehicle Infrastructure (LEVI) fund, along with £15m for the On-Street Residential Chargepoint Scheme (ORCS), to help install tens of thousands of new chargers across the country – alongside private sector investment.
The investment in charging infrastructure supports a new zero-emission vehicle (ZEV) mandate on which the government is consulting from today. The mandate is designed to help provide certainty to the sector and boosting the market of second-hand electric vehicles.
In addition, the government is also keen to encourage domestic production and use of sustainable aviation fuels (SAF) by opening the second round of the £165m Advanced Fuels Fund and launching the second SAF mandate consultation.
The new plan was drawn up after the High Court ruled last July that the then current net zero plan was not detailed enough to show how the UK would meet its goal to reduce its greenhouse gas emissions to net zero by 2050.
The launch of the new plan had long been trailed as being the government's 'Green Day', but in the event Powering Up Britain was unveiled by energy secretary Grant Shapps with a marked emphasis on delivering energy security and independence, and a way of reducing household bills for the long term. Signficantly, the report's subtitle is 'Energy Security Plan'.
The government pointed to how Russia's invasion of Ukraine has had a devastating effect on global energy markets, forcing up wholesale prices and with it the energy bills of households and businesses in the UK and around the world. The government stated that, after decades of reliance on importing fossil fuels, there needs to be a shift in the UK energy system towards cleaner, more affordable energy sources in Britain itself.
Shapps said: "We have seen over the past year what can happen when global energy supplies are disrupted, and a tyrant like Putin uses energy as a weapon. Access to cheap, abundant and reliable energy provide the foundation stone of a thriving economy with our homes and businesses relying on it to deliver our future prosperity.
"Following our unprecedented cost of living support this Winter, which continues, this plan now sets out how we fix this problem in the long term to deliver wholesale UK electricity prices that rank amongst the cheapest in Europe, as we export our green growth expertise to the world."
The new plan spans offshore wind, hydrogen, heat pumps and electric vehicles. A green finance strategy, to be set out by the chancellor of the exchequer, Jeremy Hunt, will seek to attract private sector money for investments in green industry. There will be a consultation on carbon border taxes penalise the import of high-carbon goods from overseas. There is also a plan to store CO2 under the North Sea.
Prime minister Rishi Sunak said: "When global energy supplies are disrupted and weaponised by the likes of Putin, we have seen household bills soar and economic growth slow around the world. We have stepped in to shield people from its worst impacts by helping to pay around half the typical energy bill. But we are also stepping up to power Britain and ensure our energy security in the long term with more affordable, clean energy from Britain, so we can drive down energy prices and grow our economy.
"That's why we're driving forward plans to boost renewables, revive nuclear and build new thriving industries like carbon capture, which will in turn create good jobs across the country, provide new opportunities for British businesses at home and abroad, and maintain our world-leading action to reach net zero."
Measures announced in Powering Up Britain include:
A commitment to carbon capture usage and storage (CCUS): The first projects will be announced to progress to the next stage of the negotiations to roll-out the first carbon capture clusters in the UK's industrial heartlands. The round for areas to apply for two additional future clusters has also been launched and there will be an opportunity for further projects to be added to the first two clusters. These announcements build on the £20bn CCUS funding
Investing over £380m into boosting EV charging points and infrastructure across the country to support the roll-out of electric vehicles
Building a stable environment for businesses to invest and grow in the transition to electric vehicles and sustainable aviation fuel
Kickstarting investment in floating offshore wind industry via a £160m fund to support port infrastructure projects
A first tranche of green hydrogen production projects under the £240m Net Zero Hydrogen Fund
Opening the fifth round of a scheme to incentivise investment in renewable electricity, backed by a budget of £205m. Now held annually, Contracts for Difference will build on the UK levy-funded support for renewable power since 2010 of around £80bn
Great British Nuclear, a body initially led by Simon Bowen as interim chair and Gwen Parry-Jones OBE as interim chief executive officer. GBN's first task will be to launch a competition to select the best small modular reactor technologies for development by the Autumn
Reforming the planning process to enable the building of more energy infrastructure including solar power and offshore wind projects more quickly
Cutting household bills by expanding government energy efficiency support to even more household: The Great British Insulation Scheme, a rebranded ECO+, will upgrade 300,000 of the country's least energy efficient homes
Reducing reliance on fossil fuels to heat buildings via a £30m Heat Pump Investment Accelerator is designed to leverage £270m private investment to boost manufacturing and supply of heat pumps in the UK. The Boiler Upgrade Scheme, which offers a £5,000 grant to anyone buying a heat pump, will be extended to 2028
Providing UK Export Finance with an extra £10bn capacity to boost exports, including from the UK's world leading clean growth sectors.
The government has also published its formal response to Chris Skidmore MP's independent Net Zero Review, saying will partly or fully acting upon 23 recommendations from the Independent Review of Net Zero report's 25 recommendations.
The UK Infrastructure Bank (UKIB) has also announced. The UKIB will appoint managers for equity funds covering both short and long duration electricity storage. The bank will invest up to £200m across the two funds on a matched basis, crowding-in wider sources of finance into the sector, and expects to make direct investments in electricity storage going forward.
Chancellor of the Exchequer Jeremy Hunt said: "Transforming our energy system is no longer just about tackling climate change, it is also a matter of national security. To protect ourselves from future price spikes, we need to accelerate the move to cleaner, cheaper, home-grown energy. By unlocking billions of pounds of private capital through our Green Finance Strategy, we generate more of the energy we need in Britain and create new industries and jobs that are built to last."
The government said it is aiming to build on its COP26 presidency and role in agreeing the Global Biodiversity Framework to lead international action in tackling climate change and biodiversity loss.
However, the government's new plan has been criticised by environmental experts and campaigners. Climate scientists say this plan will not move the UK closer towards meeting its legally-binding carbon commitments.
Campaign group Friends of the Earth were part of the team who brought the legal case against the last plan warned it may have to go back to the High Court. "With these policies looking dangerously lacklustre and lacking on climate action, we are poised to act if ministers have fallen short once again," said Mike Childs, head of policy. "These plans look half-baked, half-hearted and dangerously lacking ambition. These announcements will do little to boost energy security, lower bills or put us on track to meet climate goals."
Bob Ward, policy director at the Grantham Research Institute on Climate Change at LSE, said CCUS technology would be needed for certain industries, but warned that using it to enable the continued use of fossil fuels was a mistake. He said: "What does not make sense is to carry on with further development of new fossil fuel reserves on the assumption that CCUS will be available to mop up all the additional emissions. While the costs of CCUS will come down, it will make fossil fuel use even more expensive, and it will not eliminate all the risks resulting from the price volatility and energy insecurity of fossil fuels. A successful and competitive economy in the future will be powered by clean and affordable domestic energy, not unreliable and insecure fossils fuels."
Opposition political parties were not impressed by the new plan. Labour's shadow climate secretary Ed Miliband MP said: "The government's 'green day' turns out to be a weak and feeble groundhog day of re-announcements, reheated policy, and no new investment."
Green Party MP Caroline Lucas said: "The greenest thing about this is the recycling of already announced ideas."
Liberal Democrat environment spokesperson Wera Hobhouse MP said: "We are lagging behind in actually investing properly in renewables and decarbonising our whole energy system. Again, there's no law change of the de facto ban on onshore wind, which is the cheapest form of energy."
Conservative MP Alok Sharma, former president of the 2021 United Nations Climate Change Conference, said: "The announcements made are a very welcome step in the right direction and rapid delivery is now vital. However, what we still need to see is that big bazooka moment, commensurate with the scale of the challenge. We cannot afford to wait for the government to set out the UK's strategic response to green growth initiatives from other nations, like the US Inflation Reduction Act, which is helping to hoover up billions in private sector investment right now."
Energy companies welcomed the promise of new investment want to address issues with connecting new renewables to the power grid.
Lucy Yu, chief executive of the Centre for Net Zero, a think tank owned by Octopus Energy, said: "Speeding up the planning process for new renewable energy developments is welcome, but it has to be accompanied by reforms that make it easier, faster and cheaper to get a grid connection."
Focus: The National Infrastructure Commission's view
Earlier this week the National Infrastructure Commission published its Infrastructure Progress Review 2023, which identified that while good progress was being made on delivering a highly renewable electricity system for the UK, little progress had been made by government on energy efficiency or decarbonising heating over the last year.
Giving an initial response to the publication of the Powering Up Britain: Energy Security Plan, Sir John Armitt, chair of the National Infrastructure Commission, said: "Today's set of announcements includes steps forward in some areas, but in others, based on what we've seen so far significant questions remain as to whether the scale of interventions will be sufficient to drive change quickly enough. We need to move from setting targets to delivering on the ground, making it easier for every household to make the greener choices necessary to meet our climate commitments.
"We welcomed the investment in carbon capture energy and storage (CCUS) when it was first announced and it is good to see further steps in forming carbon capture clusters. We must keep up this pace to ensure the UK regains pace in this internationally competitive sector.
"We look forward to seeing the promised draft national policy statements for energy. Once finalised, these should speed up decision making and help provide greater certainty to developers, investors and communities.
"The extension of the Boiler Upgrade Scheme will give it more time to make an impact, but without a drop in upfront costs for consumers it is difficult to see how it will prompt the necessary uptick in heat pump installations. The lack of a revised spending commitment means it is hard to assess the contribution the scheme will make to government's own target of installing 600,000 heat pumps a year by 2028.
"The intention to rebalance gas and electricity prices will help reduce the operating costs of heat pumps, electric vehicles and other low carbon technologies. The sooner this can be achieved, the better.
"The commission will continue to monitor delivery of infrastructure commitments made as a result of our own recommendations. Shortly we will publish a report on the planning regime for major infrastructure projects, and later this year we will publish our second National Infrastructure Assessment to look ahead to the next phase of the net zero journey, including the infrastructure networks needed to underpin CCUS and hydrogen technologies."