Lower Thames Crossing is hugely destructive and not fit for purpose
Laura Blake dismantles National Highways' case for the proposed Lower Thames Crossing. The scheme would fail to meet every one of its objectives, be it on economic benefits, resilience, safety, congestion or the environment, she argues
02 November 2022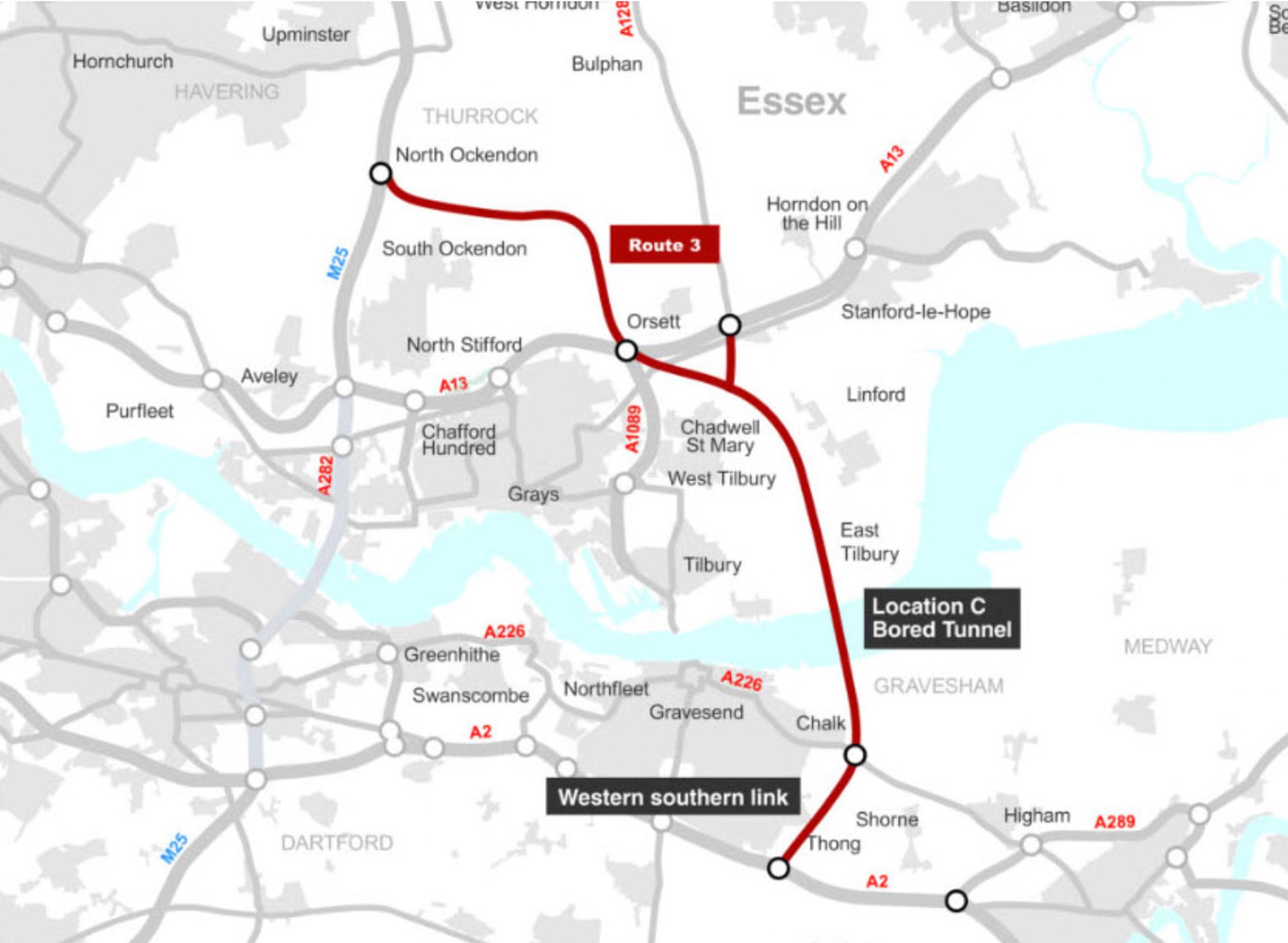 The original task of a new crossing between Kent and Essex was to fix the congestion and pollution problems at the Dartford Crossing. It has since morphed into being about economic growth, and new connections between ports in the South East to the Midlands and beyond.
The proposed Lower Thames Crossing has seven scheme objectives, all of which it would fail to meet.
It would not "relieve the congested Dartford Crossing and approach roads, and improve their performance by providing free flowing, north-south capacity". The Dartford Crossing has a design capacity of 135,000 vehicles per day, yet regularly sees 180,000.
That means we'd need to see a reduction of more than 25% to bring it back below capacity. Yet the proposed LTC would take as little as 4% away. It is also predicted there would be around a 50% increase in cross river traffic if LTC goes ahead.
It would not "improve resilience of the Thames Crossings and the major road network". The current crossing currently suffers with over 3,000 incidents per year, and the number would remain high due to the current crossing remaining over capacity and the increase in cross river traffic.
National Highways are not planning how traffic would migrate between the two crossings when there are incidents, and there would not be adequate connections. For example, there would be just one single lane from the A2 coastbound onto the LTC, which would be the route traffic would need to take to migrate to the LTC when there is an incident at the Dartford Tunnels.
Similarly, there is no direct access to the LTC via the A13 eastbound when there is an incident at the QE2 bridge. Or traffic coming off the M25, which would be five lanes at this point, onto just two lanes southbound on the LTC until past the A13.
It would not "improve safety", because whilst classified as an All-Purpose Trunk Road, the proposed LTC is being designed to 'smart' motorway standards. We know 'smart' motorways are currently being reviewed because of serious concerns over safety. The LTC would be a 'smart' motorway by stealth.
It would not "support sustainable local development and regional economic growth in the medium to long term". National Highways refuse to share any evidence to back up claims of economic growth, and one has to ask why. If it were as good as they like to portray surely, they'd be shouting it from the rooftops?
The withdrawn 2020 DCO application detailed the Benefit Cost Ratio as only 0.68, and when wider economic benefits were added, the adjusted BCR was only 1.44. This is 'low' and was based on the upper cost of £8.2bn. With the cost now predicted to be at least £10bn, it most certainly would not be "affordable to Government and users" nor "achieve value for money".
This also doesn't consider all the additional costs from projects that would be needed as a direct result of the LTC, but are being progressed as standalone projects, such as the Blue Bell Hill improvements, Tilbury Link Road, A2 dualling near Dover, and more. Nor does it include the additional costs of maintaining existing local roads that would be utilized in order for the LTC to be able to operate, like the Orsett Cock junction in Thurrock.
The proposed LTC would be more expensive per mile than the highly controversial HS2. At a time of economic crisis in the country, why waste so much of taxpayers' money on a project that is not fit for purpose?
It would most definitely not "minimise adverse impacts on health and the environment". Based on figures we had to largely obtain by means of Freedom for Information requests, it is predicted that the carbon emissions for the LTC would be over seven million tonnes. This is certainly not compatible with legal commitments to Net Zero. Neither is it in keeping with the Climate Change Committee's advice that "new roads should only be built if they can be shown not to increase emissions".
It would fail against the new air quality targets for deadly PM2.5, the particles from things like brake dust, tyre and road wear, so tiny they get into our organs via the bloodstream.
It would destroy and impact thousands of acres of agricultural land including grade 1 listed land) putting our food security at risk.
The whole LTC consultation process has been inadequate from start to present day
At a time when our country is one of the most nature depleted in the world, when we should be doing all we can to save, protect, and enhance our natural environment, the proposed LTC would be hugely destructive and harmful. It would destroy and impact greenbelt, countryside, habitats and wildlife (including protected species), and woodland including irreplaceable ancient woodland.
There is no provision for cross river active travel, and due to the lack of adequate connections LTC would not be viable for public transport like buses.
The whole LTC consultation process has been inadequate from start to present day. Alternative options like rail (Ashford-Reading) that would take freight off roads onto more sustainable rail, and public transport have not been given full and adequate consideration.
The proposed LTC would be hugely destructive and harmful, meets none of the scheme objectives, is not fit for purpose, and would be a complete waste of a huge amount of taxpayers' money. We need and deserve better.
Laura Blake is chair of the Thames Crossing Action Group
Thames Crossing Action Group, is a community action group representing thousands of people who are opposed to the proposed Lower Thames Crossing. They work with a number of groups, organisations, and NGOs, and have a seat on Thurrock Council's LTC Task Force committee. More info can be found at www.tcag.info