British Parking Awards 2022 winners revealed
20th anniversary competition recognises how traffic and parking management is evolving
20 October 2022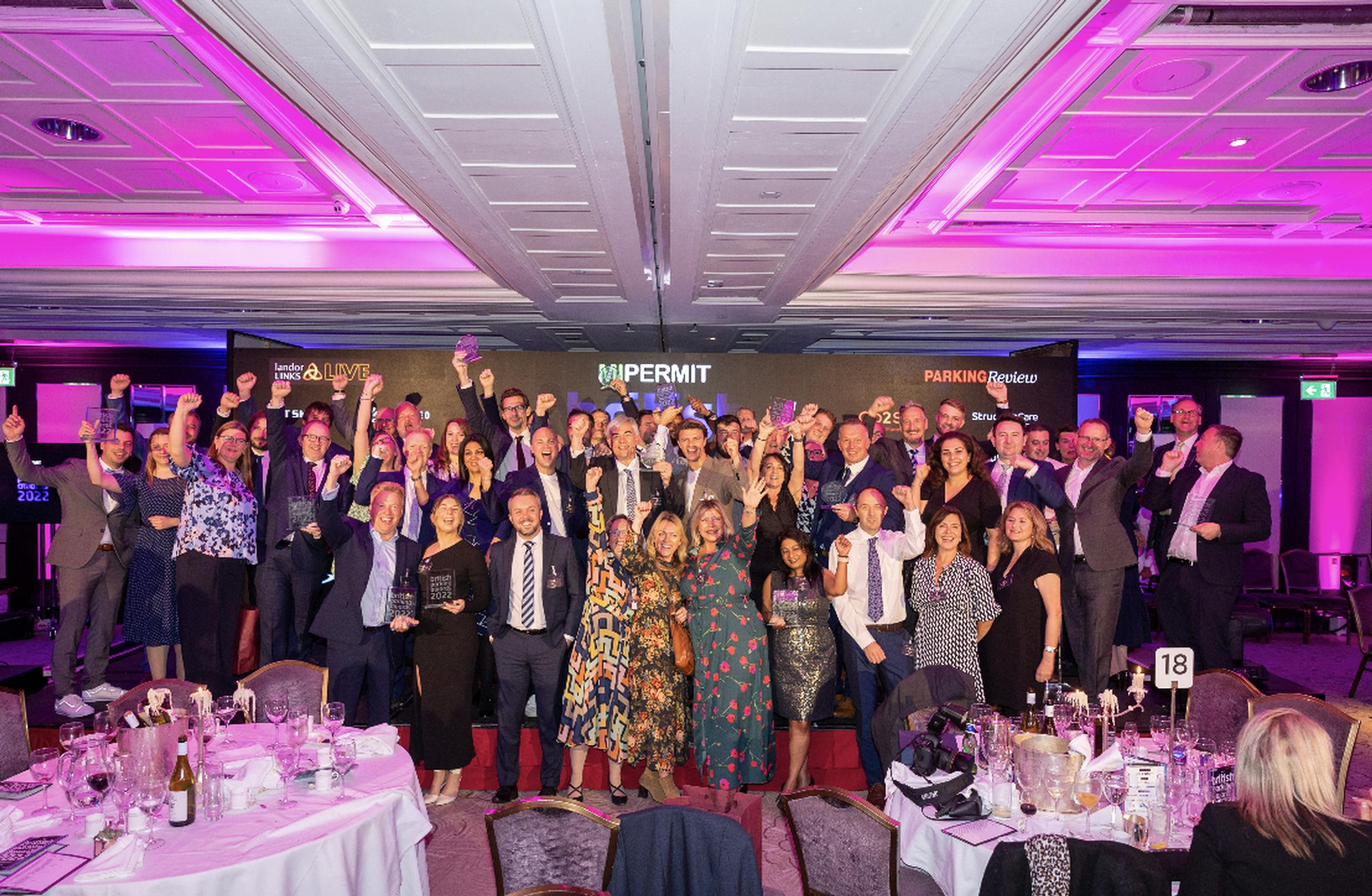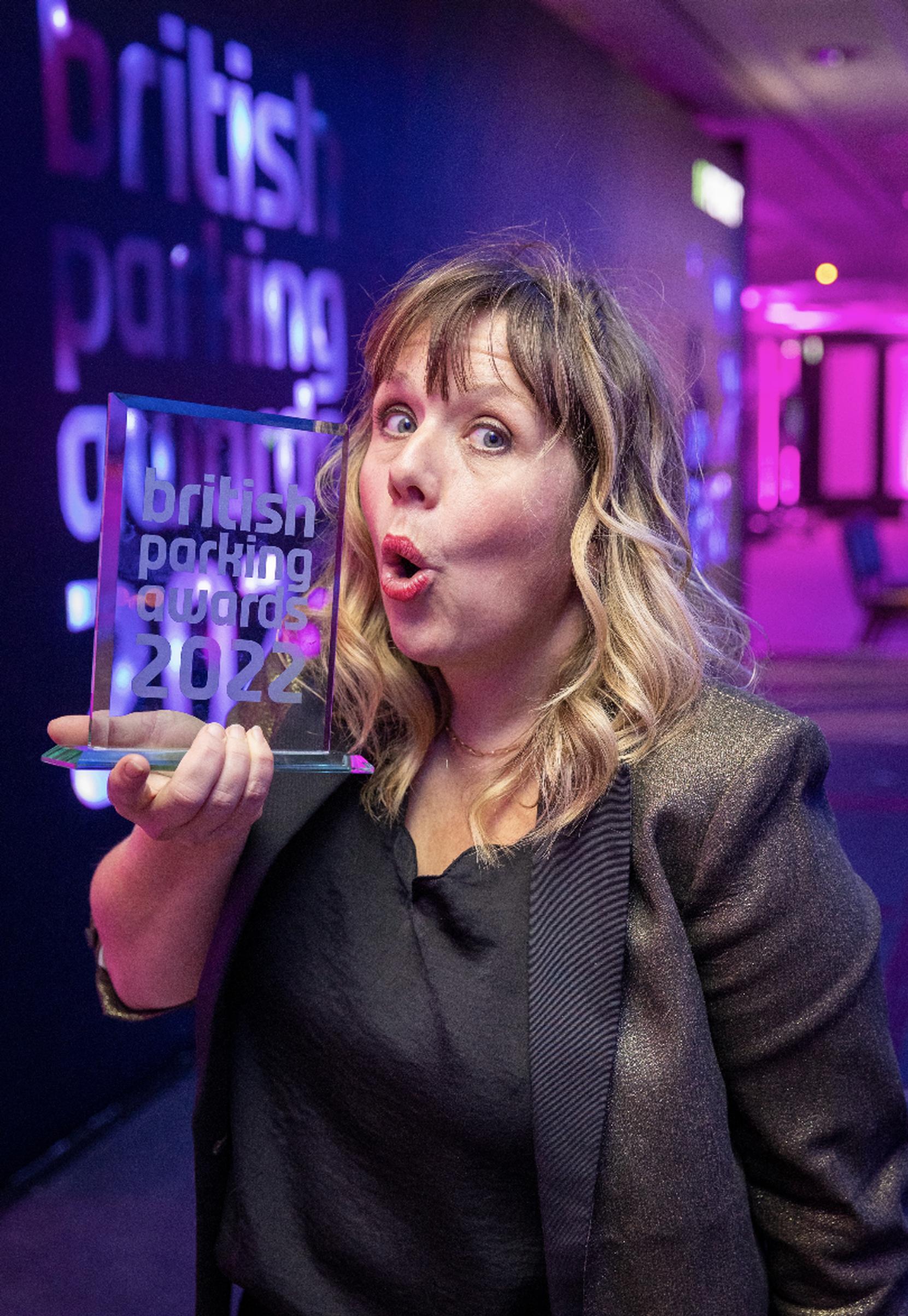 Innovative thinking, excellent management practice and a commitment to providing an excellent public service were all recognised at the British Parking Awards. This year marked the 20th anniversary of the competition which recognises achievement in the design, planning and management of parking across both the public and private sectors.
Over 600 people attended a gala lunch at the Royal Lancaster London on 19 October. The ceremony was hosted by the comedian Kerry Godliman, who was presented with a special trophy because she is 'Really Good at Parking'!
Besides the important recognising Kerry's achievements as a driver, the dazzling awards show also honoured the work of professionals and organisations working across the parking sector. A total of 25 trophies were presented, with recipients taking to the stage to a soundtrack of music by Queen and applause by an audience of friends, family and colleagues.
There were key prizes for the building of car park, and development innovative technology, as well as a raft of awards for the teams and individuals who make this such a vibrant sector. The awards also recognised the changing remit of parking teams, reflected in many entries addressed issues such as the regulation of moving traffic, low traffic neighbourhoods and air quality schemes. To mark the 20th anniversary, three special 'Parking Rosettes' were awarded to projects and people who are playing a key role in the rethinking of parking. Many entries reflected how the worlds of parking and electric vehicle charging are ever more interconnected, recognised in a set of trophies presented by EVolution Magazine.
The role of parking in mobility was explored in an opening address by Paul Moorby OBE, managing director of Chipside, creator of the headline sponsor MiPermit: "My message is that we must all dedicate our cores to delivering a cleaner Britain, with cleaner air, cleaner water and better education for all on net zero. We have to go out there and provide leadership to anybody that will listen. To those of you in parking who are designing the future so give yourselves a round of applause.".
The stars of parking
The MiPermit Inspiration Award was presented to Harrison Woods, co-founder of YourParkingSpace, a company that evolved from a peer-to-peer marketplace renting out driveways into a leading parking technology provider and, most recently, operator.
Sarah Randall, assistant director at London Borough of Newham, was named Parking Person of the Year in recognition of her championing of new technologies and trailblazing work in devising schemes that make school streets safer for children.
The Rising Star Award was presented to Jake England, group operating manager of the North Essex Parking Partnership (NEPP), a body that brings together the parking operations of six different local authorities.
A Lifetime Achievement Award was bestowed upon Carol Gibson, senior parking operations officer at Lewisham Council. During a career spanning nearly 30 years she has made the journey from office temp to running contracts and developing highly regarded training schemes.
Teams that work
The Liveable Places traffic order team at WSP was named Parking Team of the Year. The Back Office Award was presented to the Welfare Team at CDER Group for its work with vulnerable debtors.
The Front Line Award was Conduent Transportation team for its work supporting the roll-out of decriminalised parking by Oxfordshire County Council. This project was also presented with the Communication Award.
Newcastle City Council and the Great North Run Company were presented with a special award for rethinking how parking was managed for this annual race, including creating a pre-booked parking system for participants.
Bright ideas
The Parking Technology Award was won for a second year running by Barbour Logic for Challenge Writer, a piece of software that assists people with literacy problems write letters challenging parking penalties.
The technologists at Taranto Systems won a Special Jury Award. The award recognised how the team, led by Barry Johnson, has been pushing the envelope in areas such as using cloud computing and integrating parking IT systems with those used by tribunals and agencies setting up road charging and clean air schemes.
Excellent service
The Parking Partnership of the Year was presented to operator Q-Park and cashless payment specialist RingGo for a project that enables people to use their phone parking accounts to park in barrier-controlled car parks.
Q-Park was also recognised as the Parking Operator of the Year for its commitment to high standards in car park design and service.
Birmingham's B4 Car Park was once again named Best Car Park on account of its superlative operation which has been dubbed 'a hotel for cars'.
Team Comet, which manages parking at Stansted Airport, was presented with a Special Jury Award.
Brilliant buildings
The Best New Car Park trophy was presented to Nottingham City Council's Broad Marsh Car Park and Bus Station, a major civic building built by Galliford Try.
The Watford Riverwell hospital car park won the Car Park Design Award, a recognition of a striking structure designed by Fatkin and built by HUBER Car Park Systems for tbe West Hertfordshire Hospitals NHS Trust.
The Car Park Renovation Award was presented to Cemplas and Sika for their work re-profiling all the ramps at the Grand Central shopping centre car park, which is located above Birmingham New Street rail station.
20 years of progress
To mark the 20th anniversary landmark, special 'Parking Rosettes' were awarded to projects and people who were playing a key role in rethinking parking.
The Parking for a Better World rosette was presented to Nottingham City Council's workplace parking levy scheme which shows how parking policies can be used to both reduce urban traffic and raise revenues to provide better public transport and enhance the urban realm.
Dan Hubert, founder of AppyWay, received the Rethinking the Kerbside rosette for championing ideas such as providing drivers with real-time information on parking controls via an app and the digital mapping of TROs.
Two Parking Futures rosettes were awarded. New market entrant EF International Parking Services was recognised for its emphasis on enhancing the customer experience in retail car parks, while John Galsworthy, assistant parking director of the London Borough of Hammersmith & Fulham, was recognised for leading pioneering work on the combined use of traffic data, ANPR and digital permissions to manage air quality in urban areas.
The Parking in the Community Award was presented to JustPark for JustCharge, a scheme that allows homeowners to hire out their electric vehicle chargepoints. Many of the entries received this year reflected how the worlds of parking and electric vehicle charging are becoming ever more interconnected. This led to the creation of a new set of trophies for EV infrastructure projects, which were presented by EVolution Magazine.
The evolution of parking
Two EVolution Awards were presented. Westminster City Council, Siemens and Ubitricity received a trophy for their work rolling out kerbside chargepoints connected to lamp posts.
The second EVolution trophy was presented to Leeds City Council and contractor BAM Nuttall for their work creating the Stourton park & ride site, which is served by electric buses and offers solar-powered chargepoints.
The 2023 competition will be launched in the new year, and the British Parking Awards gala lunch will take place next summer.
The ceremony was staged by Landor LINKS, publisher of Parking Review, LTT and EVolution Magazine.
www.britishparkingawards.co.uk
British Parking Awards 2022: The Winners
Inspiration Award
Harrison Woods and YourParkingSpace
Parking Person of the Year
Sarah Randall, Assistant director, London Borough of Newham
Parking Team of the Year
Liveable Places traffic order team, WSP
Rising Star Award
Jake England, Group operating manager, North Essex Parking Partnership (NEPP)
Lifetime Achievement Award
Carol Gibson, Senior parking operations officer, Lewisham Council
Parking in the Community Award
JustCharge – JustPark
Communication Award
Introduction of Special Enforcement Areas (SEAs) – Oxfordshire County Council
The Back Office Award
Welfare Team, CDER Group
The Front Line Award
Conduent Transportation team, Oxfordshire County Council
Special Jury Award
Team Comet, Landside Operations, Stansted
Best New Car Park
Broad Marsh Bus Station & Car Park, Nottingham
Car Park Design Award
Watford Riverwell Car Park, Watford – West Hertfordshire Hospitals NHS Trust and HUBER Car Park System and Fatkin Design Architects
Car Park Renovation Award
Grand Central, Birmingham – Vinci Construction and Cemplas
Parking Operator of the Year
Q-Park
Outstanding Car Park Award
B4 Car Park, Birmingham
Parking Partnership of the Year
Q-Park and RingGo
Special Jury Award
Great North Run parking – Newcastle City Council and the Great North Run Company
Parking Technology Award
Challenge Writer – Barbour Logic
Special Jury Award
Barry Johnson and Taranto Systems
Parking for a Better World
Workplace Parking Levy – Nottingham City Council
Reinventing the Street
Dan Hubert and AppyWay
Parking Futures
Enhancing the user experience – EF International Parking Service
Air quality schemes – John Galsworthy and London Borough of Hammersmith & Fulham
EVolution Award
Enabling Westminster residents to make the transition towards electric vehicles – Westminster City Council, Siemens and Ubitricity
Solar-powered park & roode – Stourton Park & Ride, Leeds City Council and BAM Nutall