Progress Report: Issue Issue 17 15 Nov 2010
Share this article:
Traveline launches new UK website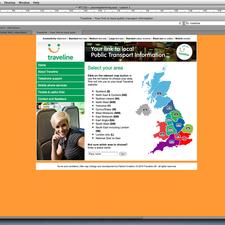 The new Traveline website
Traveline, the service providing integrated public transport information in the UK recently launched its brand new portal website. The site, which acts as a signpost to the regional Traveline sites as well as providing travellers with other useful travel information has been given a brand new look and feel making it more eye catching and easy to use.
Traveline, which also runs a telephone service and a number of mobile phone services, including Traveline-txt and NextBuses, launched the original website in 2000 and little has been done to upgrade the site since. The new look and feel comes courtesy of Manchester-based design agency, Fathom Creative and is one which has been welcomed by Traveline customers and stakeholders.
Peter Stoner, UK co-ordinator for Traveline, said: "We are delighted with the new look Traveline website. The look, feel and clear Traveline branding is eye-catching and professional making the site much easier to use.
"We hope that it will help the 12,000 visitors we have to the site on a daily basis, find what they are looking for and potentially encourage others to use it too."
The new site is launched at a time when the Traveline organisation is making leaps and bounds into new technological arenas with the launch of the NextBuses mobile internet service as well as various apps for the iPhone and Android phones.
The new Traveline UK portal can be found at www.traveline.info