Technology News: Issue Issue 14 3 Aug 2010
Share this article:
Queues are long, so why are ticket machines idle?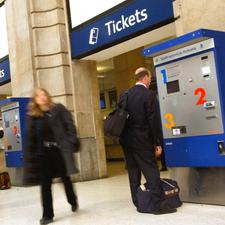 Ticket machines at Waterloo Station
Robert Jack
As pressure grows on the railway to tighten its belt, train operators will seek to reduce staff numbers at stations, including those in ticket offices. Train operators will claim that their customers can instead purchase tickets at ever more sophisticated and user-friendly ticket vending machines or TVMs. These machines have colour, touch-screen displays and can accept payment by cash or by credit or debit card. The problem is, as new research shows, that many passengers simply don't like using them.
The research, which has been carried out by consumer watchdog Passenger Focus, shows that even passengers who are familiar with TVMs are not always confident when making complex or less-familiar journeys and need help from staff. Often this is because ticket restrictions are not displayed clearly on ticket machines.
Instead they chose to queue at the ticket office, even though this means waiting longer and they run the risk of missing their train. Passenger Focus studied the queue lengths at some of the stations where satisfaction with ticket-buying facilities, as measured in the National Passenger Survey, was lowest. It was found that where queueing times for ticket offices were high, there was often only a short wait at TVMs. At Basingstoke, for example, a third of ticket office queues exceeded TSA standards (three minutes off-peak or five minutes during the peak). In contrast, no TVM queues exceeded these waiting times.
So why are passengers choosing to stand in line for several minutes rather than use a vacant TVM? In separate research, Passenger Focus videoed passengers using TVMs to find out some of the things that were troubling them. Problems included a bamboozling array of options, concealed information on ticket restrictions and overuse of 'railwayspeak'.
One of the TVM guinea pigs was left stumped when asked by a Southeastern ticket machine if she required her ticket to be "valid on HS1". What does that expression mean to Joe Public? And what about other popular TVM choices like "Standard, Anytime, Day Single".
One thing that did prove popular was the A to Z destination finder. Passenger Focus is asking TOCs to ask TVM users a series of questions to help them hone in on the right option instead of bombarding them with options at the beginning.
Anthony Smith, Passenger Focus chief executive, said: "Passengers catching a train for the first time or buying a different type of ticket from their normal one may well be defeated by ticket machines. This stress adds unnecessary pressure to buying a ticket. However, many passengers who buy a particular ticket often or use a familiar ticket machine may have less trouble.
"Ticket machines can present bewildering jargon, a barrage of information and choices as well as incomplete information about ticket restrictions. As a result some passengers would rather queue to speak to a member of staff, buy more expensive tickets than they need to or just give up and join the ticket office queue."
Smith also expressed concern at the length station ticket queues. Passenger Focus's research on ticket queuing times confirms that at some stations industry guidelines on queuing times are not being met. "As pressure to reduce staff numbers increases it is even more important that the industry sorts this out soon," Smith continued.
The longest queues were observed at Guildford, Winchester and Basingstoke on the South West Trains network. At these stations at least a third of queues at the ticket office are longer than recommended by the industry standard - despite ticket machines standing empty. Researchers observed that passengers were more likely to face queues at off-peak times.
Smith concluded: "As a result of this research some changes have already been made to machines and Passenger Focus is now working with the train companies to radically simplify what should be the straightforward process of getting a ticket. Most important is clear information about when off peak and super off peak tickets are valid."
For more information about ticketing solutions in the transport industry, why not register for the Travel 2020 exhibition? For more details visit www.travel2020.co.uk