Testimonials

New Transit has attracted praise from all levels of the industry...
Great issue, so much to read and it looks really good. The front cover will go down in history, look out Private Eye.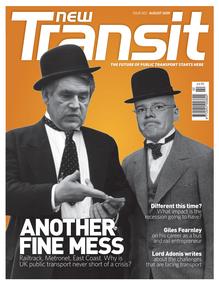 Roger Davies, Kendal

Just a note to say I thought the first issue of New Transit was superb, full of good interviews and news analysis. Well done!
Andrew Adonis, Transport Secretary
Many congratulations on an excellent first edition of New Transit. There was so much to read I didn't know where to start! I read it from cover to cover while on holiday and really enjoyed it. Well done and good luck.
Roger French, Brighton & Hove
Congratulations on a first-rate relaunch! We need more of this! Well done.
Professor John Hibbs, Birmingham
I started New Transit on my commute in this morning. Quite, quite brilliant. You have produced the transport industry magazine for clever people. I found myself prodding the pages, going, 'See? See? That's right!' Just the ticket.
Daniel Wright, Transport for Surrey
You have done it - a genuinely readable but heavyweight specialist magazine. This is a massive step forward for the sector. It has exactly the right balance of analysis to news and 'edge'. Well done.
Jim Boyd, Go Ahead Group
Nice format - and more manageable to read on the bus!
John Lincoln, Harrogate
New Transit - New Britain, its a new dawn is it not? Things can only get better! Very 1997 retro.
Anon
---
TransportXtra is part of Landor LINKS

© 2018 TransportXtra | Landor LINKS Ltd | All Rights Reserved
Subscriptions, Magazines & Online Access Enquires
[Frequently Asked Questions]
Email: [email protected] | Tel: +44 (0) 20 7091 7857

Shop & Accounts Enquires
Email: [email protected] | Tel: +44 (0) 20 7091 7855

Advertising Sales & Recruitment Enquires
Email: [email protected] | Tel: +44 (0) 20 7091 7861

Events & Conference Enquires
Email: [email protected] | Tel: +44 (0) 20 7091 7865

Press Releases & Editorial Enquires
Email: [email protected] | Tel: +44 (0) 20 7091 7875