Event/Conferences : Conference
Better Streets: What really works? | First Delegate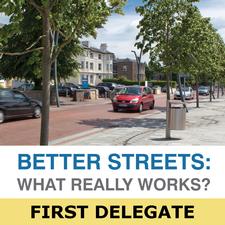 By booking a place at Better Streets: What really works?, you are eligible to bring additional delegates for just £145 + VAT each
The confirmation email following a credit/debit card purchase is your ticket to this event.
All fees are payable in advance of the event. Delegates may be refused admission if payment is not received prior to the event.
If for any reason you are unable to attend, cancellations received in writing by 18/11//11 will receive a refund less an administrative charge of £100 + VAT. There will be no refunds for cancellations made after this date. Applicable promocodes must be redeemed at time of purchase.
29 Nov 2011, Lords Cricket Ground, London

By RUDI
£245.00 +VAT in stock
UK Delivery included


The third LTT RUDI Shared Spaces Conference, chaired by Urban Initiatives' John Dales
What makes a really good street? As Jane Jacobs pointed out, streets are not neatly organised and, being such complex organisations, they frequently defy attempts to understand the organisational principles on which they work. In the context of reducing the dominance of motor vehicles on our streets, traffic engineers and urban designers are moving away from streets that are highly engineered, tightly regulated and expensively controlled, and which frequently segregate different classes of users, to spaces that facilitate integration and a mix of activities.
While designers and the public alike agree that the best streets are accessible, attractive, safe and interesting, a great deal of controversy still surrounds the issues of demarcation between carriageway and footway, decluttering, segregation and shared spaces – and designers' initiatives are not always popular with street users. Although demonstrably successful in terms of civic benefit and road safety, shared space and shared surfaces are particularly controversial.
A new language and a new set of definitions and principles is emerging to describe these new streets: low speed areas, transition zones, visual narrowing, shared space. Sadly, however, these emerging terms and principles are not yet commonly understood across the ranks of traffic engineers, transport planners, urban designers, landscape architects, policy makers and street users.
As the design movement for more flexible, less highly regulated streets gains acceptance across the UK – the most recent Manual for Streets 2 (MfS2) includes a call for the de-cluttering of UK streets, and more than 120 local authorities across the UK are planning to implement a shared space scheme in the near future – design, scale and implementation remain hotly debated issues that will be candidly and independently explored in this innovative event.

Find out more about this event