Bourne to deliver
Bourne Parking celebrates half a century of car park excellence
01 September 2023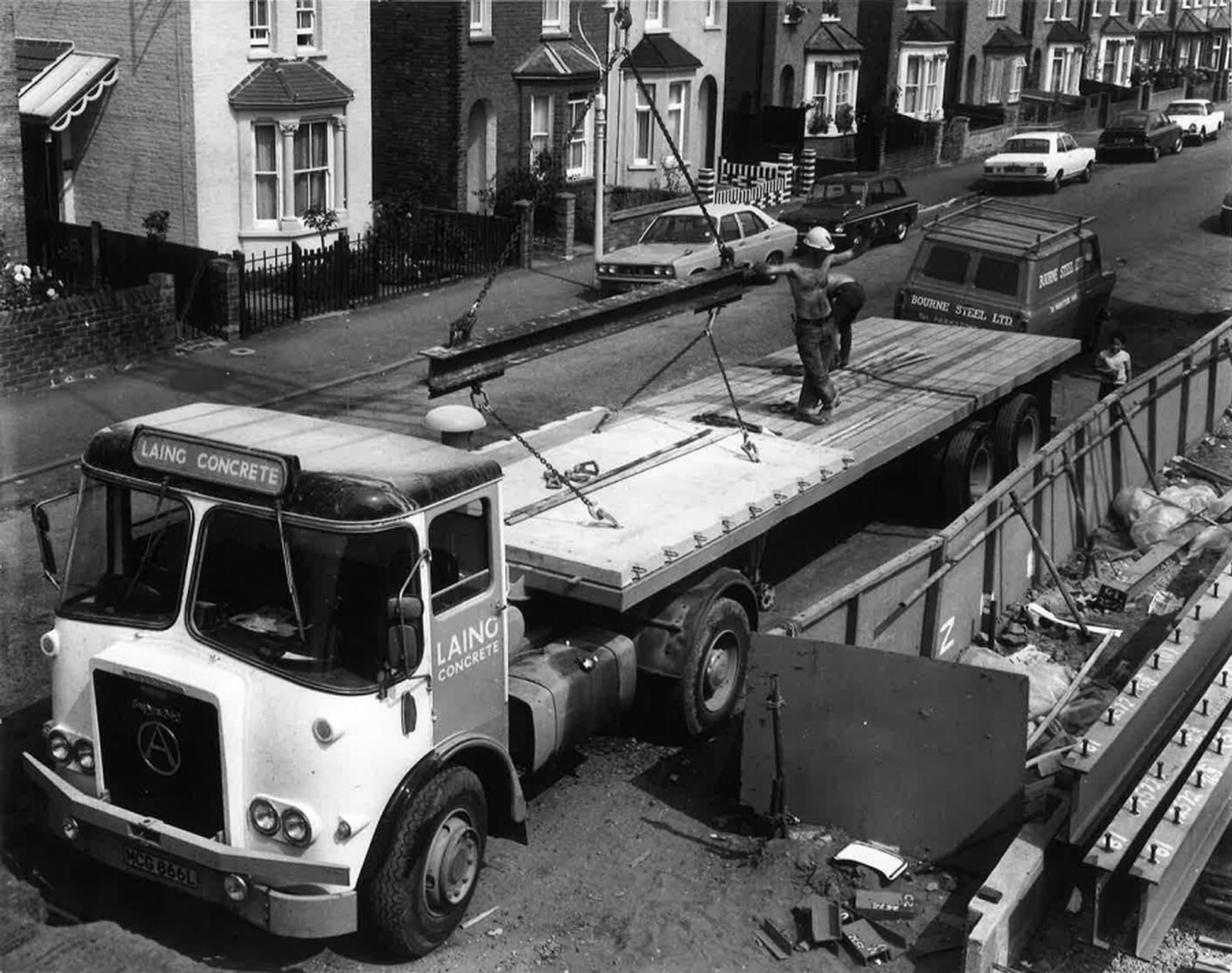 Having successfully navigated the recent COVID-19 pandemic and various recessions over the years, Bourne Parking is proud to mark the 50th anniversary of the completion of our first multi-storey car park. Our long heritage of exemplary design and build philosophy has continued to evolve since the completion of our first car park in 1973 for Tesco in Weybridge. This car park was constructed using our bespoke Montex modular car park superstructure, which is manufactured off-site in a factory-controlled environment using high quality materials. The car park remains fully operation to this day, albeit as a Waitrose car park, and is a testament to the longevity of the system.
Originally established in 1946 as a steel fabrication and erection business in Poole, Bourne have remained privately owned and highly regarded for nearly 80 years. Much has changed in terms of Health & Safety within the construction industry since the company was established, from the implementation of the Health & Safety at Work Act in 1974 through to the more recent introduction of the Company's Safety Charter, which encourages full reporting of unsafe, unhealthy, or unethical practices and all incidents and near misses, and is used to maintain continuous improvement. The safety and wellbeing of everyone that works with us is our primary business value, literally nothing matters more.
The design features of multi-storey car parks have also changed considerably over the past 50 years to cater for both increased public expectations in terms of security and ease of use, and the significant growth in car usage. Present day car parks are now predominantly designed as clear span steel framed structures that provide column-free parking and significantly improve the customer experience.
To ensure that our business remains at the forefront of best practice, our car park designs remain closely aligned with the IStructE Design Recommendations for Multi-storey and Underground Car Parks, which has set the standard for design methodologies and practices from its first publication in 1976 through to the fourth edition published in 2011.
Bourne Parking have successfully delivered 148 car parks to date covering the length and breadth of the UK, from Brixham in Devon to Aberdeen in Scotland. This has created more than 80,000 parking spaces, equivalent to approximately 2 million square metres of car parking. Another milestone for the company was the successful completion of our 100th car park this century in 2020, The Common in Hatfield, which was the winner of the Special Projects Award at the 2021 British Parking Awards. The car park's striking elevational treatment proudly shows off Hatfield's aviation heritage using a playful 'Airfix' kit motif to reflect Hatfield being home to the De Havilland aircraft company.
The recent increased use of hybrid and electric vehicles, together with the need for inclusive design and a far greater emphasis on sustainable solutions have necessitated a more modern approach to internal layouts and the inclusion of new requirements for structural design. To meet these changing requirements the IStructE officially released their new "Car Park Design" guide in June 2023. The guide reflects the significant changes to vehicular size and weight, and offers modern guidance in terms of car park circulation, ramp widths, parking bay sizes, deck loadings, headroom clearance, and crash barrier loads.
With the growth of urban logistics, developers are starting to embrace the concept of car park mobility hubs. Car parks are no longer simply a place to store vehicles and allow people to switch seamlessly between cars, buses, trains, bicycles, and walking, unlocking huge social and environmental potential. These hubs provide co-located public and shared transport services, offering access to cycle paths and Park & Ride services, and can even include vehicle charging and repair stations, parcel collection/drop-off locations and a host of leisure activities and refreshment facilities.
The new "Car Park Design" guide also includes a greater emphasis on sustainability and environmental considerations with particular focus on low embodied carbon structures, incorporation of renewable energy sources, rainwater harvesting and the use of green walls/roofs to increase biodiversity, all of which are currently being developed by our in-house design team for inclusion within current and future car park designs. As a founding signatory of "Steel Zero" Bourne have established a group-wide sustainability steering group to further a 'sustainable culture' driving innovation and opportunity across the business to meet the Group's Net Zero Carbon Strategy. The company is also committed to minimising its environmental impact, promoting good environmental practice, and ensuring that we operate in a socially responsible manner across all our operations.
The incorporation of biodiversity and renewables in conjunction with modern design can significantly improve the aesthetics of a car park as demonstrated by the new 222-space MSCP at Bedford Avenue in Slough, which has a sustainable, low maintenance green facade ('living wall'), irrigated using a rainwater harvesting tank fed from the stair-core roofs. This green infrastructure filters out up to 95% of airborne pollutants, utilising a large expanse of otherwise wasted façade for air purification.
Karl Butters, Managing Director, Bourne Parking, says: "As the leading British specialist car park contractor, we pride ourselves in our unparalleled experience delivering multi-storey car park solutions across the UK using our award-winning Montex car park system. Our bespoke, off-site manufactured superstructure provides our clients with cost and programme certainty and has enabled us to consistently deliver a high-quality product and in a safe and controlled manner. Our customer focused approach to construction and unwavering commitment to reducing our environmental impact is what separates us from our peers."
As we embark on the next 50 years, the future is bright. Our goal remains the same: to maintain the highest standards of technical excellence and safety in order to deliver innovative and sustainable car park solutions. Working together, with social responsibility and the environment at the very heart of our design and build.