ULEZ expansion: One month on
95% of vehicles across London now compliant with clean air standards, initial data shows
01 November 2023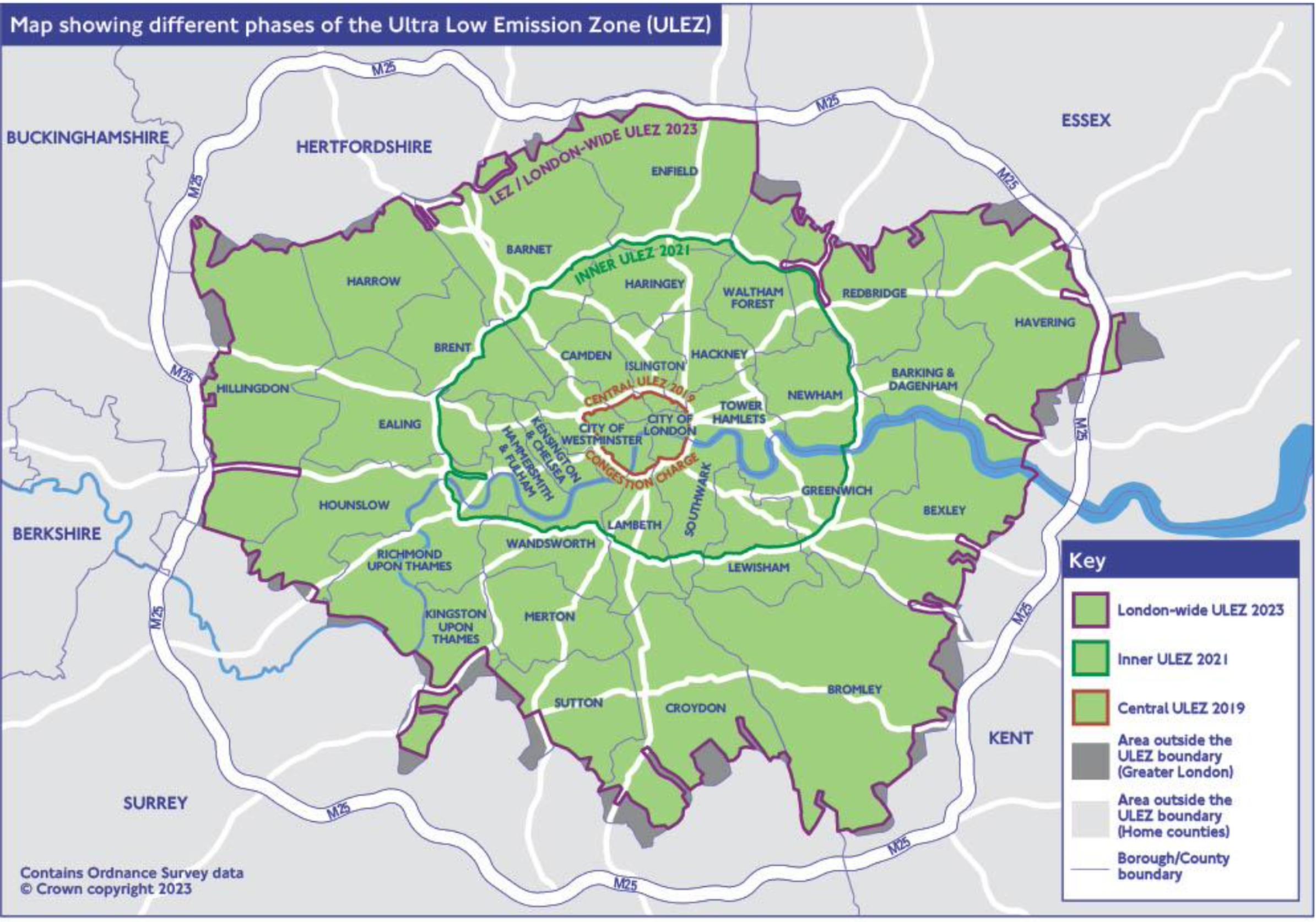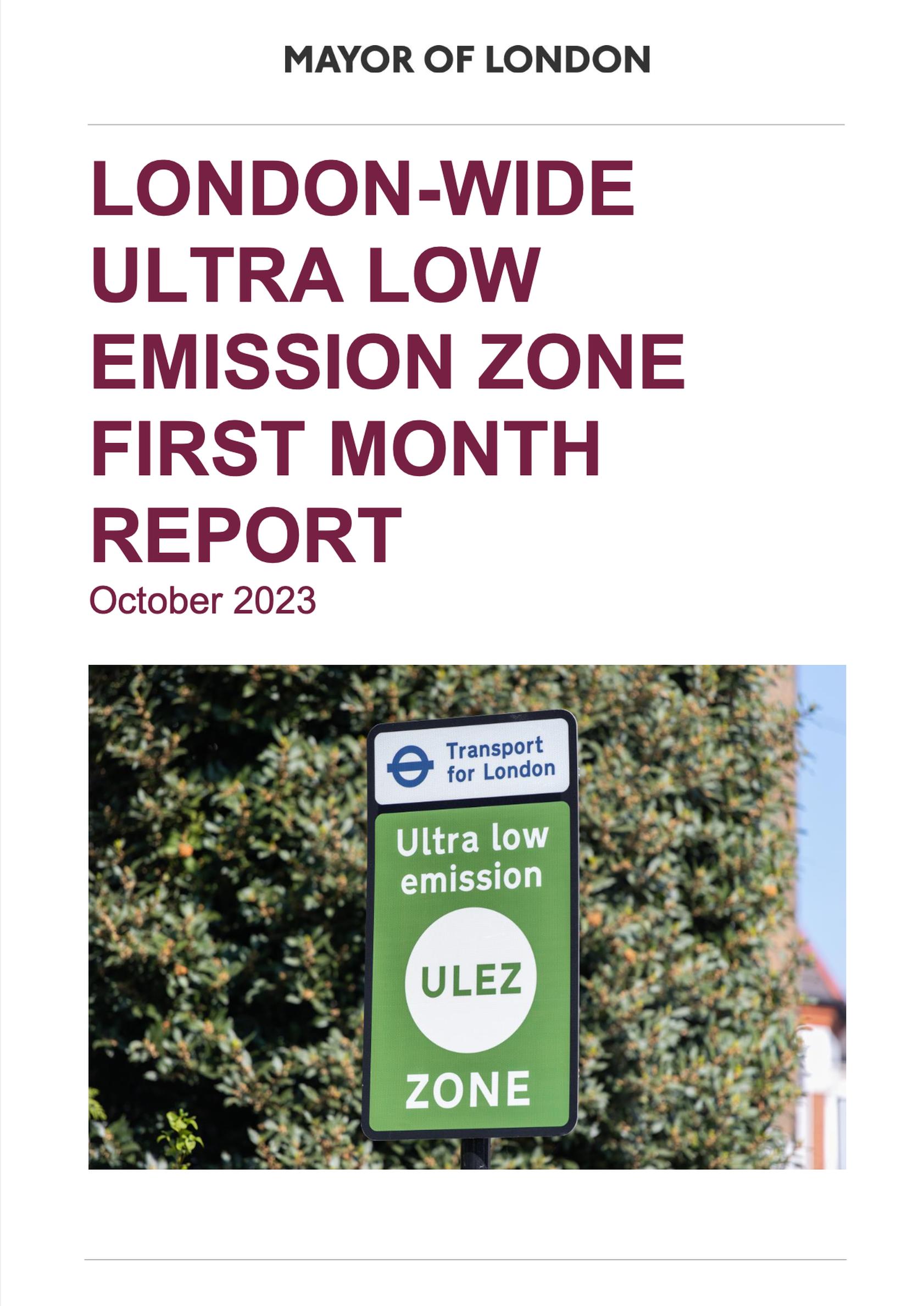 The Ultra Low Emission Zone (ULEZ) has led to a reduction in the number of older, more polluting vehicles seen driving in London since it was expanded to cover every borough of the city on 29 August 2023.
A report from the Mayor of London's office on the first month of the expansion scheme, compliance with ULEZ is now 95%. Since expanding London-wide, outer London vehicle compliance rates have nearly caught up with inner London, bringing cleaner air to five million more Londoners.
The data shows 10 percentage point increase in vehicle compliance in outer London, rising from 85% compliance when the Mayor of London Sadiq Khan announced ULEZ expansion consultation in May 2022 to 95% compliance now.
In 2017, before the Mayor introduced the first clean air measure, the Toxicity Charge, compliance across London was just 39%.
Expansion of ULEZ has come with a wider set of temporary exemptions ("grace periods") has been created for those who live inside and outside of London to support disabled people, community transport minibuses and businesses and charities with brand-new compliant vehicles or retrofit solutions on order.
The report reveals that more than 37,200 Londoners and London businesses and charities already benefitted from a vehicle scrappage scheme designed to take older, more polluting vehicles off the city's roads.
However, detail on whether or not the ULEZ expansion has cut vehicle emissions will only become known with the one-year report – which will not be published until after next May's mayoral elections.
The newly expanded ULEZ measures 1,500km2 and covers the whole capital with a population of over nine million people. The scheme is designed to take the most polluting vehicles off London's roads, helping nine million people to breathe cleaner air. Road traffic is the primary source of air pollution in London.
The Mayor predicts that nitrogen oxides emissions from cars are expected to decrease by 10% by the end of 2023 because of the ULEZ expansion. The impact of the ULEZ expansion on both emissions and pollutant concentrations will be reported in 2024.
Mayor of London Sadiq Khan welcomed the 'one-month on' report. "I've always said that the decision to expand the ULEZ was very difficult, but a month on from the expansion we can already see that it is working," he said. "London is now home to the world's largest clean air zone and this new data shows 95% of vehicles seen driving in London on an average day now comply with our air quality standards – a 10 percentage point increase since I began to consult on the ULEZ expansion in May 2022. This will make a huge difference to the lives and health of Londoners.
"More than 19 in 20 vehicles on London's roads are now compliant and do not need to pay the daily ULEZ charge. For the remaining Londoners still driving non-compliant vehicles, millions of pounds of scrappage scheme support is still available. Take-up has been incredible, with 37,256 grants approved for Londoners to date for the outer London expansion alone, and I encourage anyone affected by the ULEZ to apply today for support."
Key findings
Across both inner and outer London, 95% of vehicles overall seen driving in London on an average day now comply with the ULEZ emissions standards, up from 39% compliance London-wide in February 2017 when the Mayor confirmed the introduction of the Toxicity Charge (T-Charge) as a stepping stone towards the ULEZ.
The number of older, more polluting non-compliant vehicles seen driving in London on an average day has decreased by 77,000 compared to June 2023 – a reduction of 45%.
In outer London there has been a 10 percentage point increase in compliance since the launch of the consultation to expand the ULEZ across all London boroughs. 85% of vehicles seen driving in outer London on an average day were compliant at the start of the consultation in May 2022, and compliance has now increased to 95%.
Outer London vehicle compliance rose once the scheme was 'turned on' on 29 August. In June 2023 compliance across all vehicles seen driving in outer London was at 90.9%. The effect of 'turning on' the ULEZ expansion led to a four percentage points jump in compliance, to 95.2% in September 2023.
After just one month, compliance rates across all vehicle types in outer London have nearly caught up with inner London. 96.4% of cars seen driving in outer London are now compliant, compared to 96.9% of cars seen driving in inner London. Car compliance in outer London has increased from 90% in November 2022 when the Mayor announced the decision to expand the ULEZ London-wide, and 44% in 2017.
Christina Calderato, TfL's director of strategy and policy, said: "The ULEZ is highly effective in taking the oldest, most polluting vehicles off the roads with nearly 80,000 fewer driving in London since this June alone, and a 56% point increase in vehicles meeting the standards since 2017.
"We know that tackling London's toxic air is crucial to ensuring the health of those who live in the capital and that the greatest number of deaths attributable to air pollution occur in outer London. Air pollution is associated with increased risks of asthma, cancer and dementia, and disproportionately affects poorer Londoners, and those from Black, Asian and minority ethnic communities."
Compliance and enforcement
A public awareness campaign has been underway since January 2023 to prepare individuals, charities and businesses for the London-wide ULEZ expansion.
Transport for London (TfL)'s online vehicle checker webpage has been visited more than 20.5 million times since the Mayor announced the decision to expand the ULEZ in November 2022.
Over one million letters were sent to owners of non-compliant vehicles driving inside the zone ahead of the expansion.
Since the ULEZ expanded London-wide, charges have been paid for the majority of non-compliant vehicles (61%). The remainder were non-chargeable (i.e., vehicles registered for a temporary discount or which have an exemption) or were issued a warning notice on their first offence during the first month in recognition that people might make genuine mistakes in the first few weeks of the new scheme.
An average of 95.2% of vehicles now comply with the exhaust emission rules, which is resulting in 77,000 fewer non-compliant petrol and diesel vehicles being driven in the capital each day, down from 170,000 to 93,000.
The one-month on report says the compliance rate for cars in outer London is now virtually on a par with that in inner London, where 96.9% meet the rules. Of the 1,974,000 vehicles seen driving in London on an average day, only 2.9% (57,200) paid the £12.50 levy.
However, about 57,200 drivers a day have been paying the £12.50 levy, generating £23.6m for TfL by the end of September. More than 13,000 drivers have been sent £180 fines, generating up to a further £2.4m.
The report does not report a figure for the amount of revenue that has been generated by ULEZ fines and penalties. However, Conservative mayorial candidate Susan Hall has estimated that, by the end of October, motorists would have paid £52.5m in fines and levies, if September's figures were repeated.
Hall, who has been a vocal a critic of ULEZ expansion, said: "This proves once again that Sadiq Khan's ULEZ expansion is nothing but a tax grab. To take over £52m from hardworking people, with no gain to air quality described anywhere in this report, shows how little he cares for Londoners. It is those on the lowest incomes who are suffering most from this disastrous charge. As mayor, I will scrap the Ulez expansion on day one."
Scrappage scheme
The Mayor of London has funded a £160m scrappage and retrofit scheme to help Londoners, small businesses and charities switch to cleaner and greener modes of transport.
In August 2023, Transport for London expanded the eligibility of the scrappage scheme, meaning all Londoners can now apply for up to £2,000 to scrap a car or up to £1,000 to scrap a motorcycle, with millions of pounds of support still available. Small businesses and charities are eligible to receive increased grant payments of between £6,000 and £11,500.
The data released by City Hall reveals that the scrappage scheme has resulted in over £121m in funds committed to date to help London residents, small businesses and charities to transition to greener alternatives, including more than £49m to scrap cars and motorcycles and more than £72m to scrap vans and minibuses.
More than 37,200 Londoners and London businesses and charities have had their applications for scrappage grants for the outer London expansion approved to date.
The London scrappage scheme has received no help from the national government, unlike every other clean air scheme in the country.
Christina Calderato, TfL's director of strategy and policy, said: "To support the transition to greener journeys in the city, TfL has committed over £121m from the Mayor's £160m scrappage funds to help Londoners and London-based small businesses and charities scrap their non-compliant vehicles. Millions are still available in the fund and we urge those living in the capital who own a non-compliant vehicle to apply for the support available."
Reactions
Hirra Khan Adeogun, co-director of climate charity Possible said: "This new report shows that taking action to cut traffic and tackle air pollution has brought huge benefits to millions more Londoners. This success should give politicians from all parties courage in their conviction to go further and faster in cutting congestion that's choking cities across the country. Let's keep taking the dirtiest cars off the roads, and helping more people get around in greener ways."
Professor Kevin Fenton, London regional director, Office for Health Improvement and Disparities, said: "I'm pleased to see that the London-wide ULEZ has been effective at reducing the number and proportion of older, more polluting vehicles seen driving in London on an average day. I'm eager to see the impact that this will go on to have on air pollutant emissions in the capital.
"We know that the whole of London, including the outer London boroughs, exceeds the World Health Organization (WHO) guidelines for NO2 and PM2.5 pollution and these outer boroughs have the highest number of premature deaths due to toxic air. That's why cleaning up our city's air has been and must continue to be a high priority, and the ULEZ is an important step in this."
Clean air campaigner Rosamund Adoo-Kissi-Debrah CBE said: "The coroner's report following my daughter Ella's premature death stated that unless action is taken to clean up the air, more people will continue to die from air pollution. The first steps of the expansion of the ULEZ are positive, but there is still so much more to do to reduce air pollution and improve air quality in line with the World Health Organization guidelines, not just in London but for the rest of the UK too."
Henry Gregg, director of external affairs at Asthma and Lung UK, said: "It's extremely encouraging that the ULEZ expansion across all London boroughs in its first month has seen a reduction in the number of older, more polluting vehicles on an average day in London.
"These results help further demonstrate that schemes such as the ULEZ are instrumental in encouraging people to switch away from older and more polluting vehicles to cleaner forms of transport. The reduction in nitrogen dioxide levels in central London since the ULEZ was first introduced in 2019 shows the positive impact it has at cleaning up the air we breathe.
"The expansion has been a significant stride towards cleaner air for all of us, but particularly for those with living lung conditions. More than 60% of people with a lung condition in London live in the outer boroughs. Air pollution triggers symptoms including breathlessness, coughing and wheezing, and in more severe cases these flare-ups can result in hospitalisation."
John Dickie, chief executive of BusinessLDN, said: "The ULEZ expansion and extended scrappage scheme are playing an important role in encouraging Londoners to switch from older vehicles to newer, cleaner models. We urge businesses and households to take advantage of the scrappage scheme, which will help them make the transition. Cleaner air will help London be an even more attractive place to live, work and visit."