Visit Leicester's Bus Depot of the Future
Book a site visit as part of the Quality Bus conference in Leicesrer on 6-7 November 2023
29 August 2023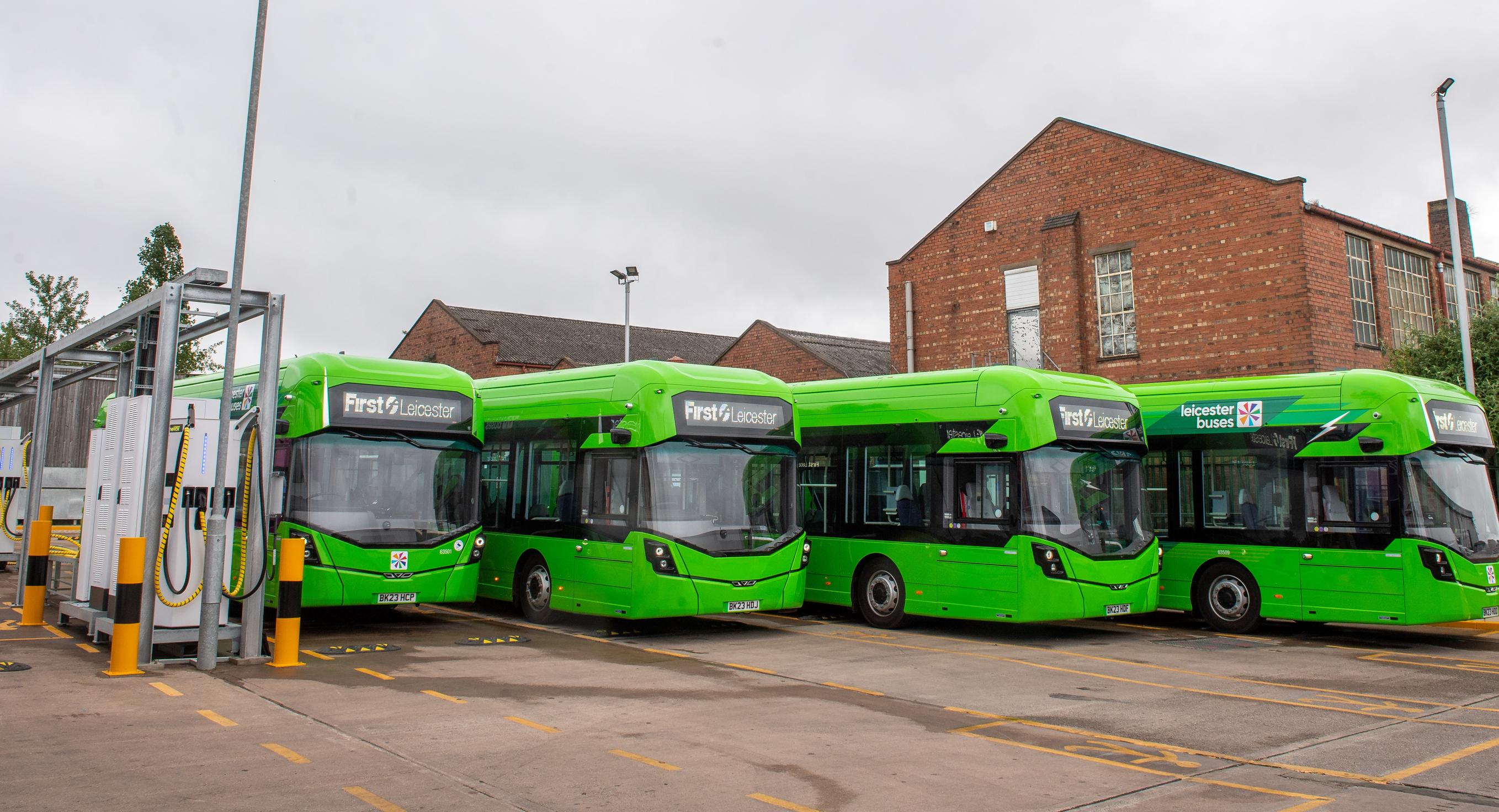 First Bus's Leicester depot is one of the UK's first electrified bus depots outside of London.
By incorporating the latest technology and systems, the new depot has given First the opportunity to improve bus travel in the local communities of Leicester.
The transformation of the depot came after First Bus and its local authority partner successfully secured Department for Transport (DfT) approval to boost their existing Zero Emission Bus Regional Area (ZEBRA) funding.
The depot is now up and running, with all gantries and chargers are now complete, commissioned and working.
---
On 6-7 November 2023, Leicester City Council and Bus Centre of Excellence, working with Landor LINKS, will host Quality Bus: supporting generation bus, with site visits & bus tours on 6 Nov and a full conference programme on 7 Nov. Reserve your place now!
Please note that event partner Bus Centre of Excellence (BCoE) will be funding a limited number of spaces to attend the Quality Bus event this year on a first-come, first-served basis. They will however be prioritising local authorities and there will be a maximum of two free tickets per organisation. If you would like a space, please reach out to BCoE directly at BCoE@ciht.org.uk
Hailed a 'depot of the future,' Leicester will set the precedent for a further five depots to become electrified by March 2024 through boosted ZEBRA funding.
Rob Hughes, operations director at First Bus, said: "First Bus has committed to one of the most ambitious decarbonisation strategies not only in UK mobility, but in net zero transport today. We are focused on First Bus becoming a leader in the transition to a low-carbon future and are committed to operating a UK-wide zero-emission bus fleet by 2035.
"A total of £48m has been invested so far to bring this project to fruition, through First Bus investment and DfT funding in partnership with Leicester City Council.
"The infrastructure within the site is being totally transformed and will house the latest state-of-the-art technology. We look forward to the project completing in November and are excited to introduce our new electric buses to our local communities.
"I would like to thank all our partners who are involved in the project, as they all play a vital partin bringing their skills, knowledge, products and technology to transform the First Bus depot in Leicester."
Cllr Adam Clarke, deputy city mayor responsible for transport, clean air and climate emergency, said: "As part of the Leicester Buses Partnership, we are committed to making the whole of Leicester's bus network electric, or zero-emission, by 2030. I'm very pleased that our successful bids for electric bus funding have been able to support First Bus' investment in these 86 new zero-emission buses.
"With our partners, we're also delivering a range of complementary projects designed to make bus travel more attractive to customers. New bus shelters, real-time information displays, integrated timetables, additional bus lanes and 'best fare' ticketing are just some of the initiatives that will complement the welcome investment in sustainable transport that First Bus is making in Leicester."
The chargers
Heliox was chosen as the partner to supply First Bus' Leicester depot with chargers, following successful commissioning at First Bus's York depot and Caledonia depot in Glasgow.
Heliox has supplied 24 dual-headed rapid 150kW chargers, eight triple-headed 180kW dynamic chargers and two mobile 40kW chargers to allow for the simultaneous charging of up to 74 electric vehicles.
The rapid 150kW chargers are supplied with Autocharge and a PAYTER terminal, which are capable of charging all types of vehicles including buses, cars and vans. This solution means the depot can be used for business-to-business charging, providing much needed local charging infrastructure.
The EV charging infrastructure is supported by a 15-year Service Level Agreement, ensuring a reliable and sustainable bus service for Leicester.
Solar panels
A total of 462 solar panels have been installed on the roof of the depot. The installation will be expected to generate a max of 188kW, delivering an expected 167,318kWh per annum.
The system is expected to generate around 55% of the building's electricity requirements.
Over the 25-year lifetime of the panels, we expect to save the equivalent of almost 400 tonnes of CO2.