DfT failing to meet active travel objectives for net zero, says NAO
21 June 2023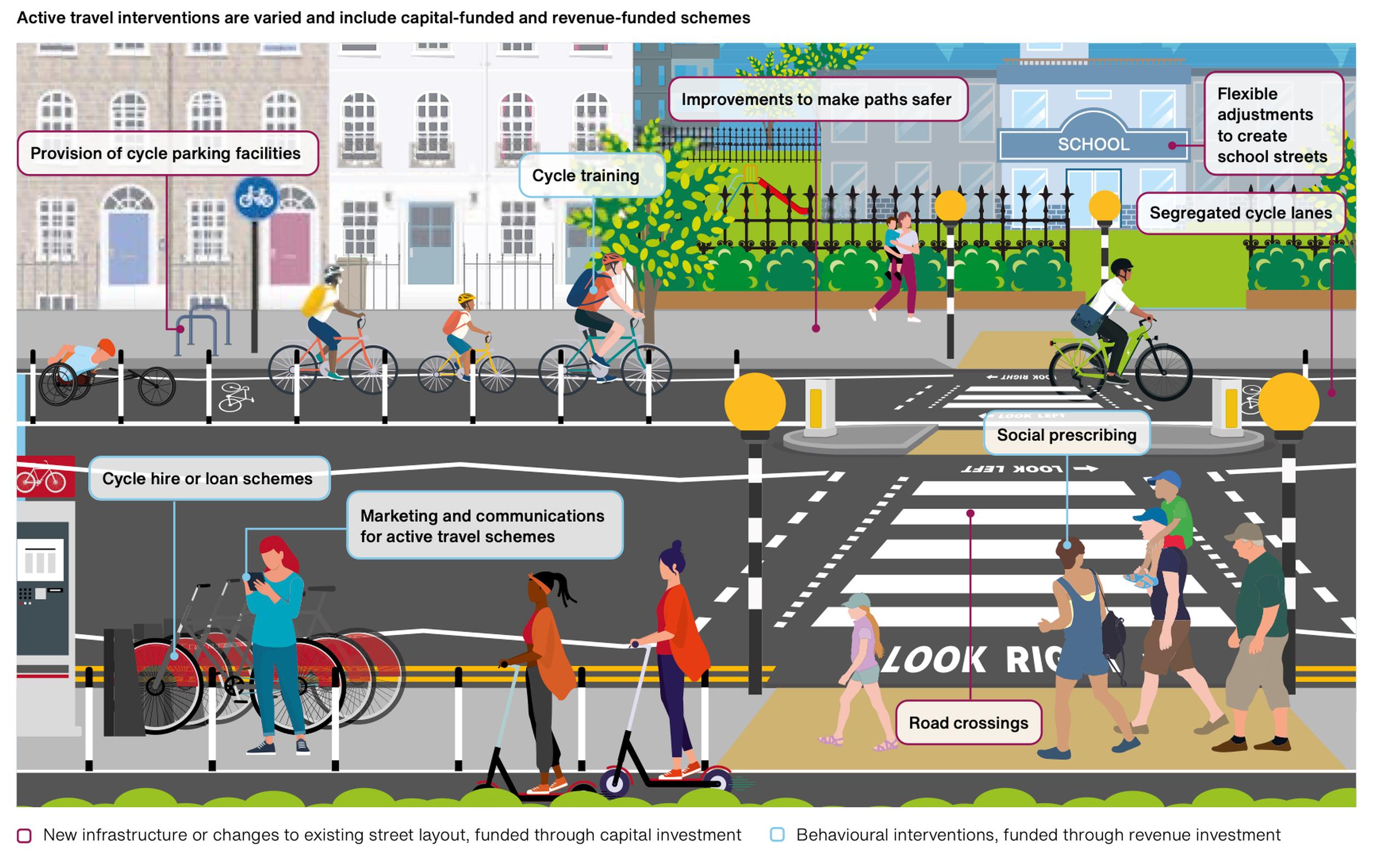 The Government is likely to miss its own targets for increasing rates of cycling and walking, warns a new report from the National Audit Office (NAO).
According to DfT estimates, the Government will have provided around £6.6bn (between 2016 and 2025) to boost active travel. "However, the DfT does not yet know if the schemes delivered by local authorities to date have been of good enough quality and does not have a plan in place to track the benefits of its active travel investment," states the report.
More than half (56%) of local authorities have "low capability and ambition" to deliver active travel projects, which has affected the quality of active travel interventions delivered with government funding to date, says the NAO.
During the Covid-19 pandemic, DfT launched a £250m fund to support the rapid delivery of active travel schemes, the report points out. "While designed to help facilitate social distancing as well as increase rates of active travel, some local authorities found it challenging to build schemes quickly and to engage their communities during this time, which led to poor implementation and some locally controversial schemes."
The latest survey data on active travel, from 2021, suggests the DfT has made "little overall progress" in increasing overall walking and cycling activity, the report notes. The levels of activity are lower than they were when the first Cycling and Walking Investment Strategy was published in 2017, it found.
In 2020, the DfT set out 33 actions, under four themes, relating to: infrastructure quality; integrating active travel with other transport and planning policy; improving capability within local authorities; and improving safety.
So far, the DfT has delivered eight actions, "with the clearest progress on measures targeting local authority capability", observes the NAO. However, it has made the "least progress" on actions intended to improve integration of active travel within transport and wider policy areas.
It notes that despite it aims to expand cycle training, the DfT has not fulfilled its pledge to expand Bikeability training.
The NAO also assessed the work of Active Travel England (ATE), the government executive agency set up last year to make walking, wheeling and cycling "the preferred choice for everyone to get around".
ATE has made "good early progress in tackling long standing issues", says the NAO. But to maintain this momentum there must be "longer-term stable funding for active travel, building greater capability in local authorities to deliver schemes, and making people feel safer while walking, wheeling and cycling".
The NAO recommends that DfT works with others in government to develop a more stable funding environment for councils delivering active travel interventions, and that DfT and ATE set out how they plan to approach public engagement and address concerns about safety.
Responding to the NAO report, members of the Walking and Cycling Alliance - including the campaign groups The Bikeability Trust, British Cycling, Cycling UK, Living Streets, Sustrans and the Ramblers - called for the Government to publish its own evidence for the funding required to achieve its objectives for 2025 and 2030 targets.
Xavier Brice, chief executive at walking and cycling charity Sustrans, said: "It's clear the Government has backpedalled on its promises, and is missing an easy win on the path to achieving net zero commitments, with proven benefits for public health.
"This report reveals that active travel objectives are in tatters, and only serves to highlight that long-term and ring-fenced investment can transform lives, if done well."