Parking policy is on the move
Transport minister Richard Holden discussed national parking policy the BPA's annual conference
01 May 2023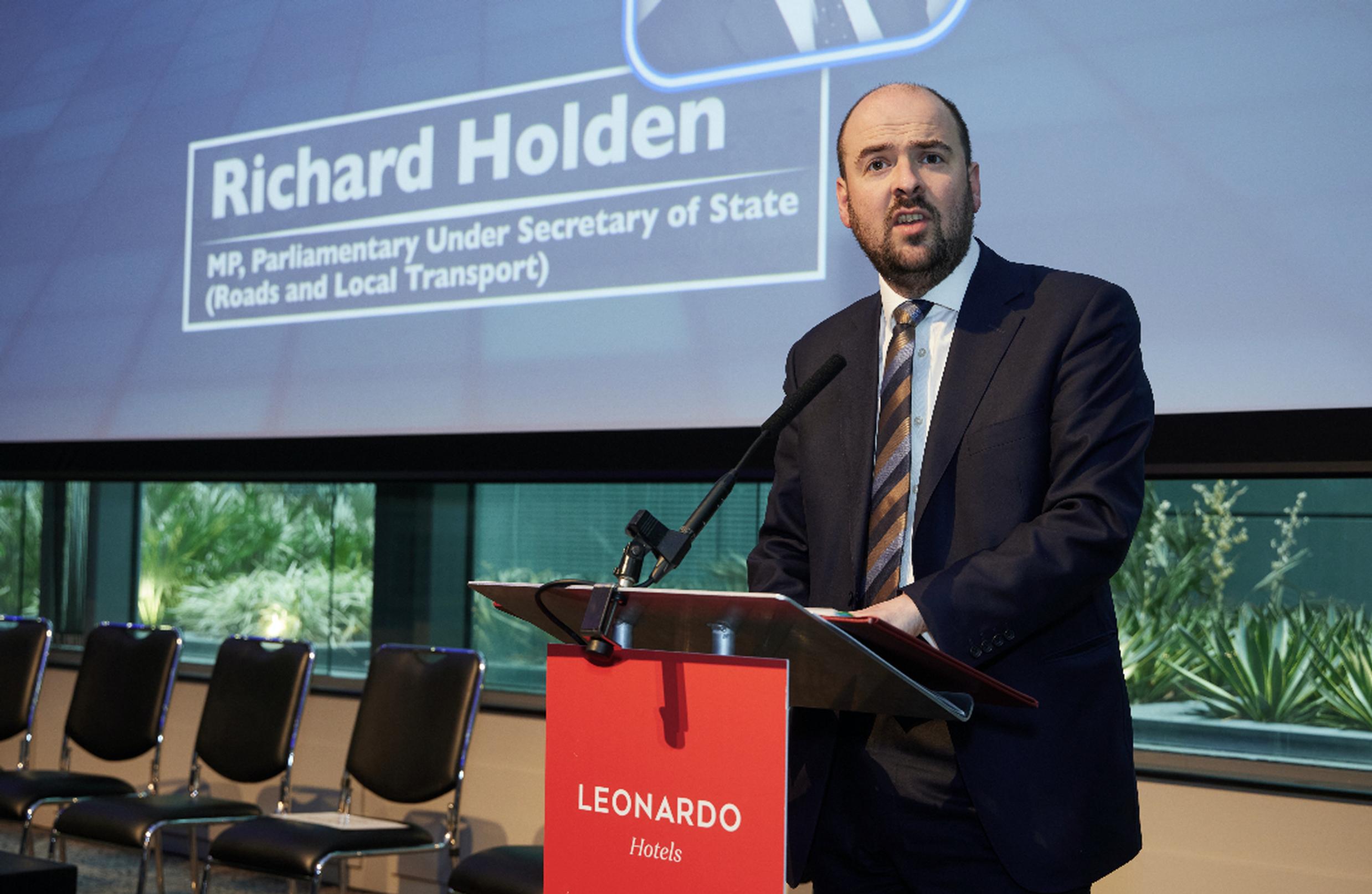 The Department for Transport is working with the parking sector to improve road journeys with initiatives including projects to harness the benefits of technology as we move further into the digital age.
National Parking Platform
We all know that working in partnership provides better transport services and I am delighted that the department has been working closely with the British Parking Association (BPA) to develop smarter parking – maximising the benefit of real-time data and IT systems to improve the experience of the user.
Digital data has been the driver behind most smart parking innovations in the last decade and now plays a central role in virtually all aspects of parking. My department provided the BPA with the seed-funding to develop the Alliance for Parking Data Standards, or APDS, which provides a standardised basis for seamless sharing and integration of data across the parking service.
APDS has now been adopted by both the international and European standard bodies. This is a tremendous achievement and places the UK parking sector at the forefront of smarter parking. It also provides the catalyst for further innovation – including the development of the National Parking Platform (NPP). I am pleased that the NPP is a key issue at today's conference. The department has funded the pilot platform, led by Manchester City Council, which is successfully demonstrating the power of APDS to change the way the parking system operates, by enabling users to choose the app of their choice when paying for their parking.
The success of the NPP depends on you – the parking sector. We need both local authorities and service providers to work together and embrace the potential. Local authorities need to make sure that they consider joining the Manchester pilot, when it is time to procure their service providers, and to provide contracts with the flexibility to join the NPP later.
We continue to assess the success of the pilot and make progress by developing the business case and demonstrating the security capability of the pilot. And we will, of course, continue to work closely with the BPA and its members to consider funding and governance models which could support wider roll-out.
Active travel priorities
The Department for Transport wants to enable more people to make their everyday journeys on foot or by wheeling or cycling. Active travel is central to many government agendas including green growth; health; the cost of living; regenerating high streets; and levelling up. The department remains committed to the ambitious vision that by 2030 half of all journeys in towns and cities are walked or cycled, as well as to the objectives outlined in the second statutory Cycling and Walking Investment Strategy.
Over the course of this Parliament, the government will be investing around £3bn in active travel from a wide range of funding streams, despite the challenging financial climate.
The government's new agency, Active Travel England, will support local authorities to develop and build new high-quality walking, wheeling, and cycling routes across England. It will also have a statutory consultee role in the planning system.
The government recognises the importance of active travel in unlocking multimodal journeys, which can reduce congestion, improve safety, and improve air quality, in particular in our town and city centres. As a result, Active Travel England provided £32m funding to local authorities earlier this year through the Capability Fund, to increase capability to plan good active travel infrastructure and integrate it effectively with other modes, including train, bus and park and ride/walk schemes.
Pavement parking
I know that many of you are awaiting with interest the government's response to our consultation on pavement parking. Overall, it is clearly the case that local authorities are in the best position to decide where pavement parking should or should not be permitted in their local areas. It is the department's role to ensure they have appropriate and effective tools to prohibit pavement parking where desired.
We understand that pavement parking carries inherent dangers for pedestrians and is particularly difficult for people with sight or mobility impairments, and those with prams or buggies.
However, we also recognise that many towns and cities were not designed to accommodate today's high traffic levels, and at some locations the pavement may be the only place to park without obstructing the carriageway. But as part of our wider accessible transport agenda, the department committed to review the laws on pavement parking.
To recap, the consultation sought views on the following three options:
Option 1: Bringing forward existing proposals to reform the TRO process. Removing bureaucracy and digitalising a costly, paper-based system would speed up applications, processing, and communication. This would make it quicker and cheaper for local authorities to implement Traffic Regulation Orders, including for prohibiting pavement parking.
Option 2: Introduce a new, civilly enforceable offence of obstructive pavement parking. This would enable civil enforcement officers to address instances of unnecessarily obstructive pavement parking as and when they find it.
Option 3: Legislate for a nationwide ban on pavement parking across England, outside London. This option would establish a general rule against pavement parking except where there is specific permission by way of a local authority exemption. This could be for single streets or wider areas. Motorists would benefit from a consistent rule: 'you must not park on a pavement except where signs permit.'
I am delighted to say that we had over 15,300 responses to the consultation. Every one of these has been read and analysed and we have been giving careful consideration to the findings.
This is an extremely complex issue. All of the options for tackling pavement parking have significant challenges in terms of deliverability and efficacy and we want to take the right step for communities and ensure that local authorities have appropriate and effective tools at their disposal. And, while I cannot commit to a date right now, we expect to make an announcement in the near future.
Civil enforcement of moving traffic contraventions
As I touched on above, the government recognises the imperative to promote wellbeing by encouraging active travel, alongside our decarbonisation agenda. That is why Gear Change included a commitment to make the moving traffic enforcement powers, under Part 6 of the Traffic Management Act 2004, available to local authorities outside London. Doing so created parity with London where similar powers have been in force for many years.
Enforceable restrictions include no entry, banned turns, driving in formal cycle lanes, and unlawful entry into box junctions.
We met this commitment in May 2022 by bringing into force a set of regulations setting the moving traffic enforcement framework. This regime enables local authorities to apply to the department for a Designation Order, which provides powers to issue penalty charge notices to motorists who contravene these safety-critical traffic restrictions.
The department has since begun the process of laying Designation Orders in Parliament in tranches to allow time for those local authorities wishing to acquire the powers to make the necessary arrangements before applying.The first such Designation Order came into force in July 2022 for 12 applicant authorities and a second order is scheduled to come into force in July 2023 covering a further 40 authorities. However, the government is clear that enforcement must be proportionate and fair, and the public must be on board. We therefore enshrined a number of mitigating measures in statutory guidance, to which local authorities must adhere under the 2004 Act.
These measures include ensuring that enforcement is a last resort where other measures have been exhausted, such as changes to junction layout or updating the traffic signing. Planned enforcement must also be publicised in advance.
To educate drivers and promote compliance, warning notices are to be issued instead of penalties for first-time contraventions at each location, for the first six months. These requirements apply to any new enforcement site. Moreover, the application process is not a rubber-stamping exercise, and the above requirements form part of a wider set of prerequisites set out in the statutory guidance that must have already been met before applications are made. Making these enforcement powers available to local authorities outside London will improve air quality through reduced congestion; promote active travel by keeping vehicles out of cycle lanes; improve bus punctuality by freeing up junctions; and improve safety for pedestrians crossing the road by enforcing banned turns and no entry restrictions.
While enforcement roll-out remains in the early stages, we know that these powers are already having a positive impact on contravention levels. Derby City Council, for example, reported between 50% and 72% reduction at five out of six School Streets schemes after only six weeks. These early signs are very encouraging. We will continue to monitor the effects of these powers as more local authorities go live.
The role of the BPA
As the main sector trade body with a large public and private membership and strong contacts internationally, the BPA is uniquely placed to work with the department on its drive to make travel by road easier, more efficient, and safer, while making the most of the exciting possibilities technology can offer. I know that the constructive working relationship with the BPA, which my department has enjoyed over many years, will continue.
Transport minister Richard Holden MP addressed the British Parking Association's BPA Live conference on 26 April