Budget 2023: Fuel duty's frozen and potholes will be filled, but transport was left behind
Chancellor focusses on child care, pension reforms and encouraging enterprise in the regions
16 March 2023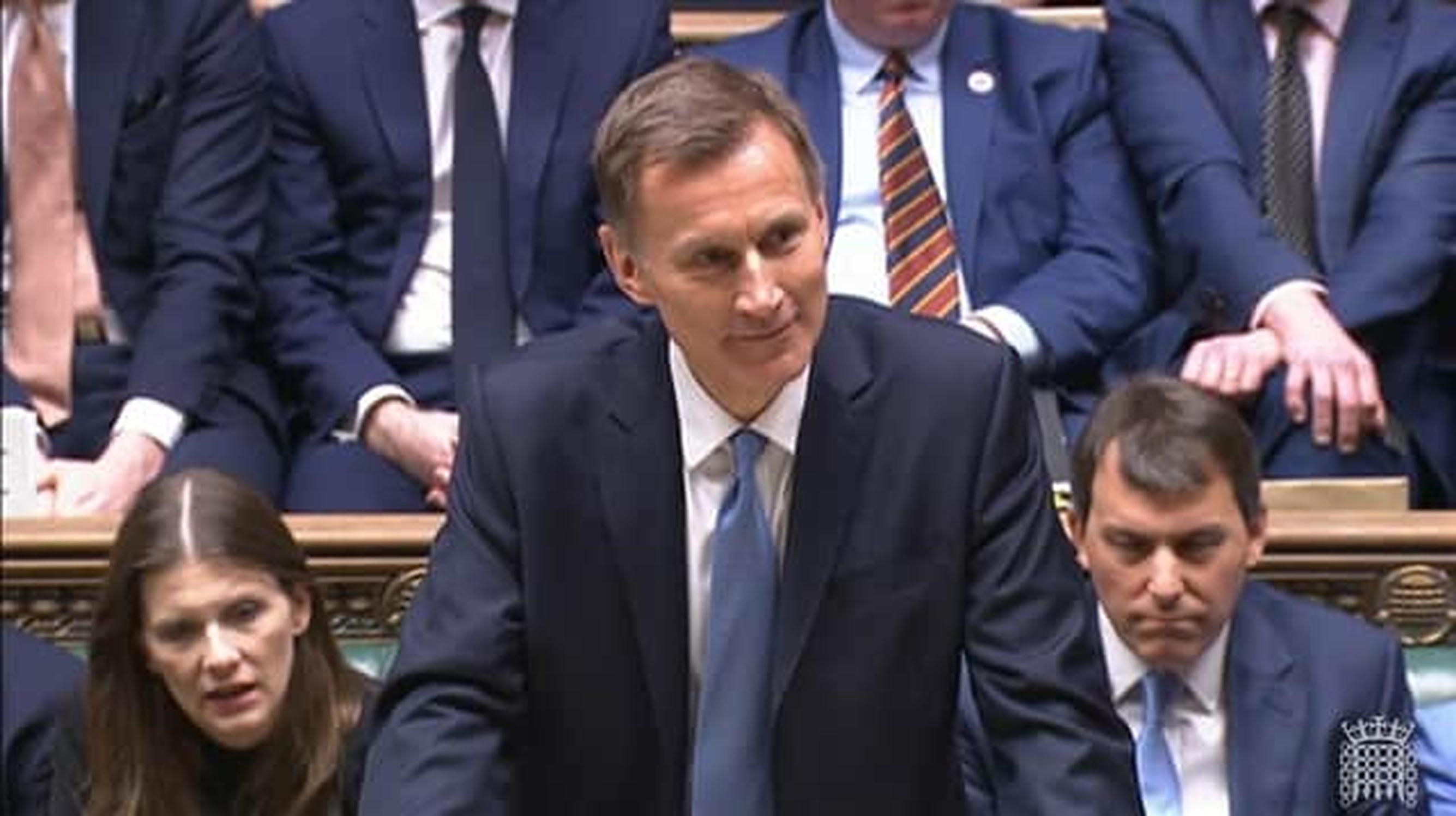 Getting Britain back to work was the theme of chancellor Jeremy Hunt's Spring Budget, whose headline announcements related to expanding free child care to help young parents and pension reforms designed to entice older people to stay in or return to work.
Hunt stated his desire to deliver on the Conservatives' 'levelling up' promises, strengthening the economic hand of local authorities and launching a dozen Investment Zones across the UK. Areas with potential to host Investment Zones include West Midlands, Greater Manchester, the North-East, South Yorkshire, West Yorkshire, East Midlands, Teesside and Liverpool. There will also be at least one in each of Scotland, Wales and Northern Ireland.
The chancellor also announced energy-efficiency tax breaks for businesses, a support package for carbon capture technologies and new innovation funding for nuclear, which will be officially classed as "environmentally sustainable" moving forward.
There will also be support for the development of artificial intelligence (AI), with the chancellor accepting all the digital technology recommendations made by Sir Patrick Vallance's recent Pro-Innovation Regulation of Technologies Review.
There were also announcements designed to mitigate the ongoing cost of living crisis, most particularly an extension of subsidies for household energy bills, and a decision not to increase fuel duty. On transport infrastructure, the main announcement was increasing the £500m annual Potholes Fund by a further £200m.
However, beyond the freeze on fuel duty and the promise of more money for fixing potholes the Budget announcement made little mention of other parts of the transport sector, with no new commitments to enhance rail infrastructure, boost support for buses, expand investment in active travel or underwrite the transition electric vehicles.
Transport did feature in the chancellor's plans to boost regional economies. Hunt said: "Having listened to the case for better local transport infrastructure from many honourable members, I can announce a second round of the City Region Sustainable Transport Settlements, allocating £8.8bn over the next five-year funding period."
Hunt said he wanted to ensure elected local leaders are able to fund and deliver solutions to their own challenges by giving them responsibility for local economic growth. This will see government consult on transferring responsibilities for local economic development currently delivered by Local Enterprise Partnerships to support local economic development to local authorities from April 2024.
Hunt added: "I will also boost Mayors' financial autonomy by agreeing multi-year single settlements for the West Midlands and the Greater Combined Manchester Authority at the next spending review, something I intend to roll out for all mayoral areas over time.
"I have also agreed a new long-term commitment so that they can retain 100% of their business rates, something I also hope to expand to other areas over time. Investment zones, regeneration projects, levelling up partnerships, local transport infrastructure and business rates retention… more control for local communities over their economic destiny so we will level up wealth generation and opportunity everywhere."

The Budget (print)
The Budget (HTML)
Reactions to the Budget
The chancellor's decision to freeze fuel duty was welcomed by motoring and logistics organisations, but headline making support for drivers drew criticism from transport campaigners whose calls for more investment in bus, rail and active travel seem to have gone unheeded. And climate campaigners and the automotive sector alike were uneasy about a lack of action that would both accelerate the roll-out of public EV chargepoint infrastructure.
Surprise, fuel duty is frozen
A planned 11p fuel duty rise could be introduced in this year's Budget. However, the 5p cut to fuel duty on petrol and diesel, due to end in April, was kept for another year.
Paul Johnson, director of the Institute for Fiscal Studies, said: "As expected, the energy price cap will remain at its current level for the next three months, so that an average bill will stay at £2,500 rather than rising to £3,000. There was some extra money to shore up the defence budget, alongside the extra cash for childcare. And surprise surprise, he found £6bn to freeze fuel duties and maintain the supposedly temporary 5p-a-litre cut announced last year, despite a fall of around 40p a litre in the price of petrol over the last year. Yet we're supposed to believe, wink wink, nudge nudge, that the 5p cut will be reversed next year. Forgive me if I harbour some doubts.
"Just as notable was what Mr Hunt didn't announce. There was no funding to be found to improve the pay offer to striking public sector workers, where £6bn might have been enough to make an inflation-matching pay offer possible this coming year. That's a political choice. Money for motorists, but not for nurses, doctors and teachers. And the big personal tax rises planned for next month, via the freezing of income tax thresholds, will still go ahead. That will mean an extra £500 in tax for basic rate taxpayers in 2023–24, and an extra £1,000 for higher rate taxpayers. These tax rises may be necessary from a fiscal point of view, but they are an important part of the reason why household incomes are still expected to fall more over the current two year period than at any point in living memory."
We need a Future Transport Bill
Intelligent Transport Systems UK (ITS UK) wants to see an ambitious legislative programme to support smarter transport.
Max Sugarman, chief executive of ITS UK, said: "The chancellor's Budget sets out some positive news on AI, science and technology, all of which will support the UK's ambitions to become a science superpower over the coming years. Transport can play a central role in this vision too – the UK is already home to a highly innovative intelligent transport sector, conservatively valued at £1.5bn, and with the potential to support £15bn in economic growth going forward.
"To unlock the full potential of the intelligent transport sector, the industry needs the right policy environment. This means the introduction a Future Transport Bill that supports new technologies like autonomous vehicles, drones, remote driving and e-scooters. It means shifting to a dynamic national pay-as-you-drive scheme that incentivises low carbon travel, and the roll out of smart ticketing on the rail and bus network. It requires the opening up of data from the transport network and the better integration of different transport modes, with support for Mobility as a Service schemes.
"Through investment in transport technology the UK can reduce carbon emissions, deliver more cost-effective capacity and improve safety, whilst also supporting a world-leading industry and the economic growth it provides."
Public transport needs a boost
There was disappointment that the chancellor maintained the freeze on fuel but offered little to back public transport.
Silviya Barrett, director of policy and research, Campaign for Better Transport, said: "We are disappointed that the chancellor has chosen to maintain the 5p fuel duty cut for another 12 months and continue the fuel duty freeze for a 13th year, especially as this will disproportionally benefit those who are already better off. If the government really wanted to help those who are struggling the most with the cost-of-living crisis, and support green growth, it should be helping to reduce the cost of public transport."
Claire Harding, research director, Centre for London, said: "Freezing fuel duty while pushing up public transport fares by 5.9% will have real impacts on the 42% of London's households that don't own a car and rely on tubes, buses and trains. Making driving relatively cheaper, while public transport gets more expensive, won't help us reach net zero by 2030. Instead, we need more investment in public transport. The lack of any new money for some of the city's big schemes like the Bakerloo Line extension is notable by its absence."
Budget was (mainly) positive for motorists
Motoring organisation RAC welcomed the fuel duty freeze and additional funding for fixing potholes, but was concerned at the lack of movement on equalising VAT on electric vehicle charging.
RAC head of roads policy Nicholas Lyes said: "We welcome the government's decision to keep the 5p fuel duty cut in place for another 12 months. The cut has given drivers some much-needed relief in what has been the most torrid year ever at the pumps, with price records being broken even after duty was cut. Given the importance of driving for consumers and businesses, duty should be kept low to help fight inflation."
Regarding increased funding for pothole repairs, Lyes said: "While welcome, another £200m is unlikely to make a big difference to the overall quality of our dilapidated local roads. We need to significantly increase funding for local road maintenance and improvement so councils can resurface roads properly rather than patching them up and hoping for the best. Last year the government spent £1.125bn on local roads in England which is in stark contrast to the £7bn that went into major roads from car tax, despite local roads covering so many more miles."
EV charging: No end to the 'pavement tax'
Electric vehicle charging campaign group FairCharge was disappointed at the lack of measures to support the UK's EV transition, particularly HM Treasury's failure to deliver on its key ask of equalising the VAT rate on public EV charging, currently 20%, with that for home charging. The campaign labels this a "pavement tax".
FairCharge founder Quentin Willson said: "Today the chancellor missed a crucial moment to ensure the UK keeps pace with Europe and the USA in the race to net zero. This statement was an opportunity to slash the ludicrous VAT differential between public (20%) and home (5%) EV charging, an unfair and outdated policy hindering EV uptake among those without driveways. It's enormously disappointing to see this low-cost intervention once again brushed aside. This is a huge policy failure and the mass adoption of EVs in the UK is being sabotaged by archaic Treasury policy."
The RAC has been backing the FairCharge campaign and its head of roads policy, Nicholas Lyes, said: "We're disappointed the government has not brought the 20% rate of VAT on public chargepoints down to match the 5% levied on domestic charging. A third of drivers do not have access to a driveway or a garage so will continue to be put off going electric or, if they have already have, penalised by high public charging prices, exacerbated by paying more in VAT than they should have to."
Road to zero-emission needs funding
The automotive sector wants the UK government to provide further support for research work inro greener vehicles and public electric vehicle charging infrastructure.
Mike Hawes, SMMT chief executive, said: "We face fierce international competition so it was pleasing to hear the chancellor directly reference industrial strategy and measures to attract investment. Tax breaks for capital expenditure, which the industry has long called for, extensions to climate change agreements plus action to alleviate the high cost of living and encourage more people into work are all much needed. Investment zones which focus on advanced manufacturing, of which automotive is an exemplar, R&D and technology are also positive steps.
"There is little, however, that enables the UK to compete with the massive packages of support to power a green transition that are available elsewhere. Indeed, the announced fuel duty freeze contrasts with an absence of measures to boost uptake of zero-emission vehicles, such as reducing VAT on public charging. We, therefore, look forward to additional policy announcements that support advanced manufacturing sectors, as the right conditions will enable the investment that drives growth across the country."
Concerns about the lack of more conspicuous investment in EV infrastructure were also expressed by both climate campaigners and the financial sector.
Nick Williams, transport managing director, Lloyds Banking Group, said: "It's disappointing that today's Statement from the chancellor announced no new support to strengthen the UK's electric vehicle charging infrastructure. It remains impressive that electric vehicles are entering the roads at record rates, but to meet this growing demand we need a charging network that can deliver, both in terms of availability and reliability. To achieve this, rapid expansion will be key.
"With the upcoming Zero Emissions Vehicle (ZEV) mandate also incentivising manufactures to bring more electric vehicles to the UK market, the call for an expanded charging network will be even greater, so the lack of support in the Budget statement is a big setback. We're hopeful that the government will reveal more plans ahead of its implementation next year, or we risk impacting the longer-term uptake of electric vehicles as confidence in our country's infrastructure waivers."
Helen Clarkson, chief executive, Climate Group, said: "The US, EU and China are overpowering the UK in the race to decarbonise, and unfortunately, this budget falls short of offering a plan to compete for green investment. While chancellor Jeremy Hunt nodded to the UK's past achievements on expanding offshore wind and rooftop solar, this Spring Budget overlooks cheap and clean renewable energy, and instead rebrands nuclear as 'environmentally sustainable' and throws cash at carbon capture technology. This was a missed opportunity to renew the UK's commitment to climate leadership, seriously invest in energy efficiency, speed up the electric vehicle switch, stop subsidies for fossil fuels and increase onshore wind."
Freight sector welcomes fuel levy freeze, but calls for more help
Logistics UK welcomed the chancellor's announcement that 5p per litre fuel duty cut originally introduced in March 2022 is to be retained for a further 12 months.
David Wells, Logistics UK's chief executive, said: "Logistics is the UK's system for growth and today's budget announcement was an opportunity for the chancellor to ensure continued – and potentially increased – investment in green growth and fulfilling careers, while keeping prices down in the shops.
"The announcement that the 5ppl cut in fuel duty is to be retained for a further 12 months is very welcome news for logistics businesses, particularly SMEs – who make up 99% of the industry, and traditionally operate on low margins. Logistics UK has consistently urged government to extend this cut, while maintaining revenue levels through VAT and other sources. Logistics is at the heart of every sector of the economy; this decision recognises the importance of managing logistics costs to avoid further inflationary pressures on business and consumers. This should help to ensure businesses have the funds to invest in productivity, growth and greener technologies, alongside the new policy for full capital expenditure announced as the successor to the super-deduction (providing it encourages the transition to a zero-carbon economy).
"However, Logistics UK is dismayed by the lack of support to help businesses with energy costs and our sector's transition to a low carbon economy, something which the government has urged industry to commit to. This is a missed opportunity. Our members will also be concerned about proposals for a reformed HGV road user levy and together we will be seeking urgent clarification as to the detail involved.
"While we are also disappointed there was no reference to much-needed Apprenticeship Levy reform, it is encouraging that government is focused on supporting people into work, which will help to relieve the existing skills gaps in industry and the wider UK economy. Logistics UK will work with its members to scrutinise the detail and identify what these measures will entail, such as the announcement of skills bootcamps and 'returnerships', and whether these will provide a credible pathway into logistics."