HS2 Birmingham to Crewe leg delayed by two years
Transport secretary says pause will address cost pressures
10 March 2023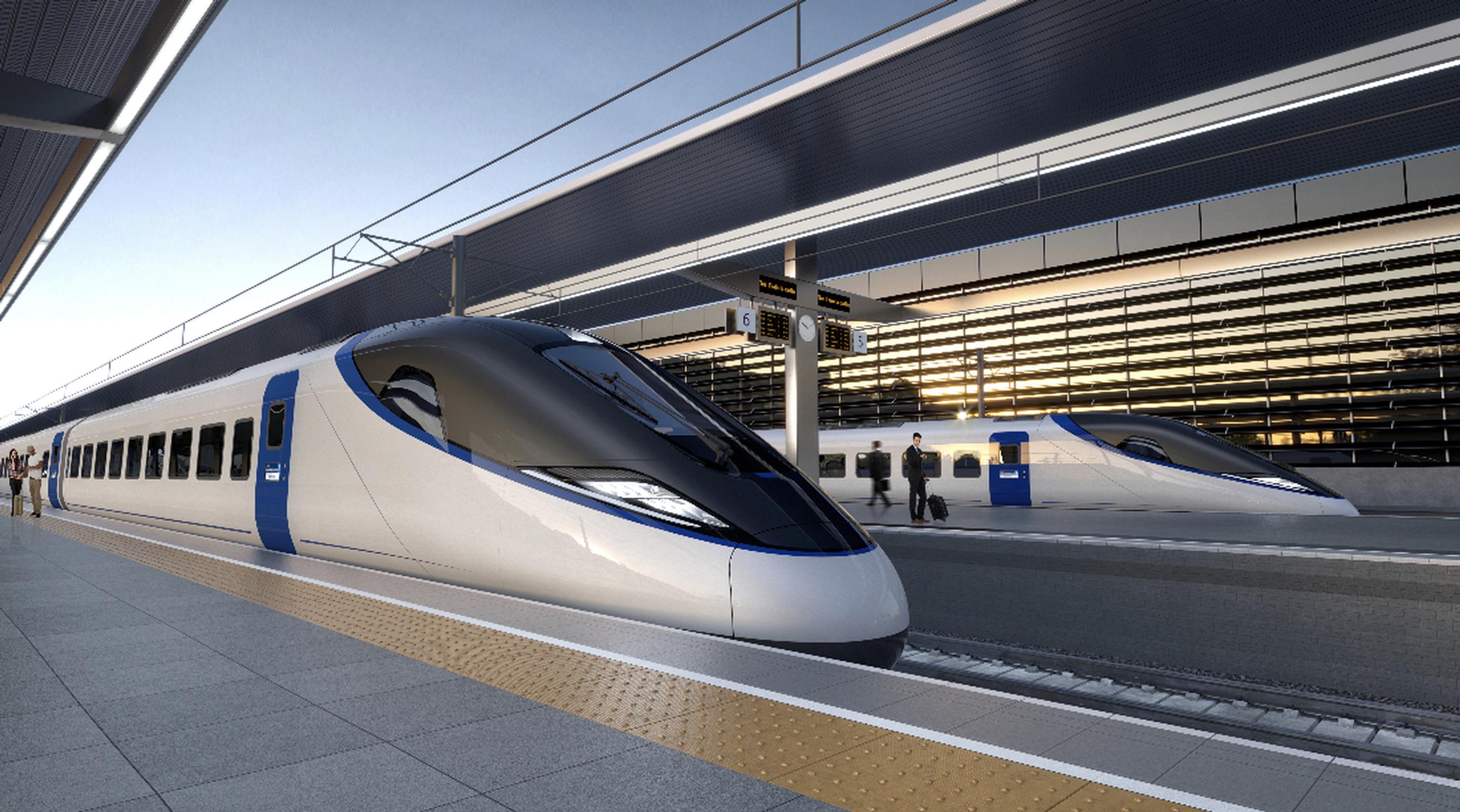 The Birmingham to Crewe leg of the HS2 high speed railway will be delayed by two years to cut costs, the government has announced.
Transport secretary Mark Harper said the HS2 project is facing "significant inflationary pressure and increased project costs". The pause announcement follows press speculation that Mark Thurston, chief executive of HS2 Ltd, and the government were examining the phasing of the build and the timing of the project.
The government hopes that pausing the project will allow it to spread the costs over a longer period of time, thus making it more affordable by reducing annual expenditure.
Harper said the government remains "fully committed" to delivering HS2 from Euston to Manchester, but in recognition of inflationary pressures, the next two years will be used to rephase construction and optimise future delivery of Phase 2a between Birmingham and Crewe so this is done in a cost-effective way.
High-speed services between Crewe and the North West will be delivered soon as possible after accounting for the rephasing of construction, the transport secretary continued.
Harper aded that the government aims to work to deliver an affordable station design at Euston while the High Speed Rail (Crewe-Manchester) Bill continues through Parliament. Work will also continue on progressing commitments made in the Integrated Rail Plan to develop HS2 East, the proposed route for HS2 services between the West and East Midlands, and to consider ways to take HS2 trains to Leeds.
Making the case for delay
Transport secretary Mark Harper claimed the government is making a record investment in road and rail via a written ministerial statement.
Regarding HS2 Harper wrote: "In rail, HS2 is making good progress, and we have already spent over £20bn delivering Phase One between London and the West Midlands, supporting 2,500 businesses and creating over 29,000 jobs. The government is prioritising HS2's initial services between Old Oak Common in London and Birmingham Curzon Street to provide delivery of passenger benefits as soon as possible.
"We remain committed to delivering HS2 services to Euston, and will address affordability pressures to ensure the overall spending profile is manageable. We will therefore take the time to ensure we have an affordable and deliverable station design, delivering Euston alongside high-speed infrastructure to Manchester. We continue to take the High Speed Rail (Crewe – Manchester) Bill through Parliament, and the Crewe-to-Manchester section will also form the foundations for improved rail services in the North through Northern Powerhouse Rail.
"The government is committed to delivering HS2 Phase 2a between Birmingham and Crewe. We have seen significant inflationary pressure and increased project costs, and so we will rephase construction by two years, with an aim to deliver high-speed services to Crewe and the North West as soon as possible after accounting for the delay in construction.
"Work continues on progressing commitments made in the Integrated Rail Plan to develop HS2 East, the proposed route for HS2 services between the West and East Midlands, and to consider the most effective way to take HS2 trains to Leeds. HS2 continues to represent a very significant investment into our national infrastructure, levelling up communities right across our country, providing a net zero alternative to car travel and domestic flights, and training a skilled workforce for the UK's future construction industry."
Dismay at delay
Opposition politicians, regional bodies, rail sector organisations and business groups expressed dismay at the delay and warned it could prove to be a false economy.
The Labour Party criticised the decision to pause the HS2 at Birmingham. Shadow transport secretary Louise Haigh said her party had committed to delivering HS2 in full if it gets into government and to par funding the work via a 'green prosperity plan'. She said: "Tens of thousands of jobs, and billions in economic growth are dependent on this project. Delays pile costs up in the long run – ministers now need to come clean on precisely how much their indecision will cost taxpayers and the north."
There was an ambivalent response from Lord McLoughlin, chair of Transport for the North, who said: "This is a disappointing announcement. But I was reassured by the transport secretary that we are still getting HS2 to Manchester, and the recommitment to NPR is welcome. However, it needs to be understood whether or not these cost savings can be realised while still achieving the same desired outcome and conditional outputs. The government needs to avoid being penny wise and pound foolish, as delays don't necessarily lead to savings, and in fact can drive costs upwards."
Andy Bagnall, chief executive for lobby group Rail Partners, said: "While inflationary pressures make infrastructure projects more challenging, it is critical for Britain's economy and meeting net zero targets that large sections of HS2 are not delayed which will ultimately increase the overall cost. We must address industry financial challenges across infrastructure and operations head on – not focussing solely on cost reduction, but also on driving revenues to close the financial gap and reduce the railway's reliance on taxpayer funding."
The High Speed Rail Group, which represents companies with an interest in high speed rail, tweeted a response: "The High Speed Rail Group is alarmed by today's news that sections of HS2 will be delayed. The delay at Euston in favour of Old Oak Common coupled with the delay between Birmingham and Crewe by two years will not save money and will only add to the total cost of the project. Without clear timings on delivery between Crewe and the North West, millions will only be left behind again. The cheapest way to deliver HS2 is quickly.
"Every cost element that makes up HS2 rises each time the project is delayed. Constant uncertainty in government breeds uncertainty in industry which does nothing to ensure efficient delivery. Investment to upgrade our national infrastructure is imperative to achieve the economic growth needed for prosperity and opportunity. HS2 is the single largest infrastructure project in Europe and will bring the UK's cities and regions closer together.
"Delays and cuts cost the people of Manchester, the people of Liverpool and the people of Glasgow at a time where what Britain needs most of all, is economic growth. If you cut investment, you cut growth and that is what are seeing here."
Reactions from the business sector also struck a note of concern. John Foster, policy unit programme director at the CBI, said: "The HS2 network will connect eight of the nation's 10 biggest cities, creating jobs, opportunity and prosperity throughout the country whilst at the same time playing a key role in reducing road emissions and congestion. Having been subject to significant revisions and years of uncertainty, business will at least have the clarity needed to enable them to plan effectively. But this news will ultimately reduce investor and contractor confidence in the rail sector.
"To mitigate further loss of confidence, it is critical that government tackles the inflationary pressures which are biting hard across the infrastructure sector. Delays to projects may create short-term savings, but they can ultimately lead to higher overall costs and slow down the UK's transition to a better, faster and greener transport network".
Kate Jennings, director of policy at Logistics UK, said: "Logistics businesses want to see ambition in infrastructure delivery, so they can deliver greater productivity and reduced emissions for the country. We recognise the inflationary pressures that have brought about these delays, however it is essential to maintain momentum on delivery and avoid a stop start investment, which reduces business certainty, adds cost to projects and brings economic costs in terms of reduced efficiency of the network.
"HS2, road investment schemes and other ambitious infrastructure projects are vital for unlocking economic growth across the country. When delivered, they will mean more capacity on our transport network, fewer inefficient delays from congestion and more opportunities for modal shift, enabling a cut in carbon emissions.
"The conventional rail network is at capacity; HS2 is the greatest opportunity for delivering a substantial increase in capacity for rail freight in the UK. Once operational, HS2 has the potential to release capacity on the existing network for up to 144 extra freight trains per day. With rail traditionally 'greener' than other transport modes, and each freight train able to do the job of 77 HGV's, maximising the capacity for modal shift to rail is vital for meeting decarbonisation targets.
"Logistics businesses need assurance that these projects will be delivered. That is why Logistics UK is calling for a 30-year infrastructure plan to optimise the national freight network, which underpins UK economic growth and productivity every day."