Bringing rail-led development home to the UK
TOD-style businesss models are developing outside Asia – can they finally make their mark in the UK?
06 February 2023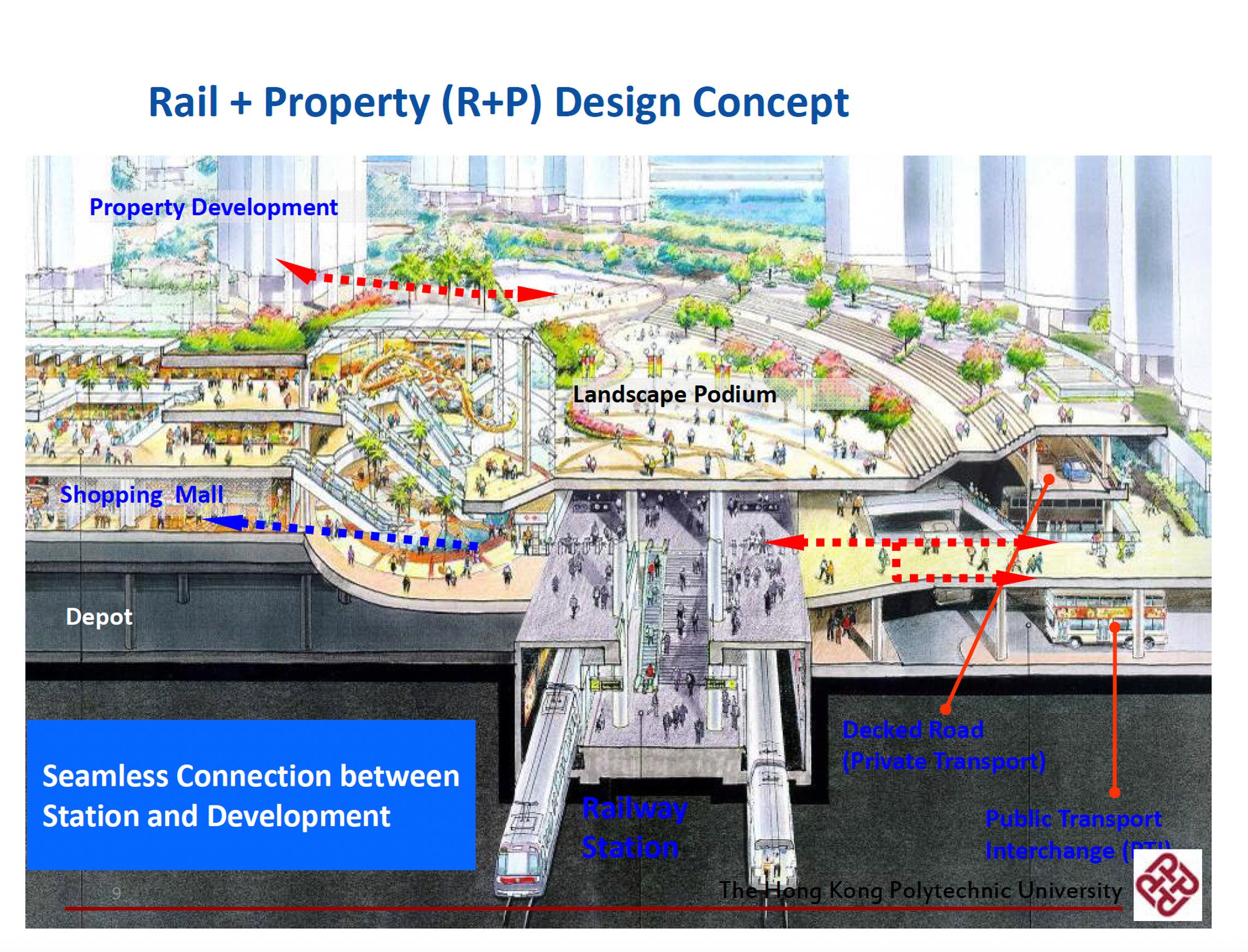 The practice of transport-led development, or Transit Oriented Development (TOD) as it has become widely known – the UK never really had its own 'formal' home-grown terminology – is helping to transform cities around the world for the better by creating great places around transport hubs and also providing an additional revenue streams to help finance public transport bodies.
---
Philip Beer from Burges Salmon, George Hazel from E-Rail, Anjna Farmah from TTL Properties, Transport for London and Francis Sootoo from SYSTRA Hong Kong, will all be speaking at Rail Stations and Property 2023
:
Limited free places for local authorities
---
There are few examples of financially sustainable public transport projects around the world, with the Hong Kong and Singapore public transport systems being notable exceptions. These systems have generated an average annual return for shareholders of around 9% and 11%, respectively, over the past ten years. Exceptions aside, rail typically requires financial support from governments, which – faced with multiple funding requests – are under increasing pressure to look for innovative ways to fund infrastructure projects and day-to-day operations.
The Transit Oriented Development project at Kowloon station in Hong Kong is arguably among the better global examples of effective Place-making and robust financial outcome. The main transport hub includes an airport rail link, subways, buses, rail connections and taxis. It also includes hotels, office towers, a high-end retail mall, food and beverage venue and apartments that can house up to 20,000 residents.
The focus is not on real estate assets, but on mapping the activities of residents and workers along rail corridors and establishing assets and businesses that capture a high daily proportion of passenger spend.
TOD can be an elegant solution to integrated urban design. Well-planned and well-designed railway stations can be an integrated part of their neighbourhoods. 'By thinking beyond the 'gate line' and embracing the environment our stations are in, we have the opportunity to support the creation of centres of activity that will attract people to places, support economic growth and improve pride in place,' said Elaine Seagriff, Director of Strategic Planning, Great British Railways Transition Team (GBRTT). 'In the context of placemaking, we want to help integrate railway planning with both wider planning for walking, cycling, public transport, spatial and urban planning,' she adds.
TOD-style businesss models are developing outside Asia. A major project led by Ramboll for Rail Baltica, a railway infrastructure project to link Finland, Estonia, Latvia and Lithuania with Poland, is working on identifying how to maximise local value creation from the seven international passenger stations along the Rail Baltica line. The project embraces commercial and urban development of the railway stations and their immediate neighbourhoods as well as boosting mobility options.
In the UK, projects using Land Value Capture for rail have mainly been led by Scottish-based company E-Rail. Back in 2021, working with Northumberland County Council, E-Rail secured between 25 and 30% of the capital funding required for a new passenger rail line from LVC – the first time this had been done in the UK. 'We believe our method for LVC will be a game-changer for public transport investment', said E-Rail director George Hazel.
E-Rail has now been commissioned by the Witney Oxford Transport Group to bring its ground-breaking LVC methodology to a new transport scheme in Oxfordshire. Charlie Maynard, Chair, Witney Oxford Transport Group, said: 'There is a great opportunity to obtain a share in the uplift in value of new housing along the A40 corridor required to meet local growth targets over the next ten years to help fund the construction of the railway project.'
However, the UK has always struggled to successfully bring off major rail-related projects, with the exceptions of King's Cross, the Jubilee Line extension and the Elizabeth Line, all of which are in London and which needed unique financial mechanisms to be developed to drive them forwards. So, I wonder, what's so different about the UK?
There's no single answer as to why TOD hasn't happened in the UK in the way that it happens elsewhere, says Philip Beer, partner, Burges Salmon. 'One obvious hurdle is cost, along with concerns about development around railway stations and rail assets because of the asset protection arrangements that have to be put in place.'
Often, he adds, with the way the schemes are promoted, there is little benefit accruing to the railway infrastructure/asset owner – because these are third party schemes, yielding benefit for others, but with the risk falling on the infrastructure manager (e.g. Network Rail). This leads to additional costs and time delays, both of which diminish viability.
Then there is the simple fact that development is expensive. Generally, development can work in big cities and in central London, but it can be more difficult in some of the UK's regional cities. 'But,' Beer adds, 'it doesn't have to be that way. There are ways that we can streamline the process as much as possible.
'And we have good examples of developers who have understood the process, who have engaged with the railway's infrastructure manager, come up with good plans, worked with the infrastructure manager throughout and come out with a good product. But the product that is to built has to be relevant. It must be what the neighbourhood needs, and what the neighbourhood wants. The basic tenet of development is that you've got to build something that people will want to use.'
Beer mentions other challenges that need to be overcome: fragmented land ownership, land assembly and planning policy. 'Despite rail-led development being complex and challenging,' says Beer, 'there are funders out there who are keen invest in such projects. If you have a strong community vision then you have a project, as with King's Cross, or the Weavers Cross project in Belfast that we're working on,' he says.
Chris Conway, Group Chief Executive, Translink, takes a similar view: 'Weavers Cross is transformational. Translink's vision is to maximise this transport-led regeneration opportunity, driving social, economic, and environmental benefits, enhancing connectivity and delivering sustainable and inclusive growth,' he says. 'We have welcomed strong political, business, and local support', he adds, 'and have run a programme of community engagement with residents, community groups, business owners and young people.'
Transport for London's new property company, Transport Trading Limited Properties (TTLP), established in 2022, has three main objectives. The first one is to help pay a dividend to TfL to reduce subsidies. So is there any reason that Network Rail couldn't take the same approach?
There is no reason why they can't, says Beer. But it has to be done thoroughly. Network Rail has worked with property partners in the past. In 2018, it agreed a £1.46bn commercial estate sale to Telereal Trillium and Blackstone Property Partners. Network Rail's portfolio was made up of around 5,200 properties, the majority of which were converted railway arches. TfL and Network Rail have also announded plans to work toegther.
In July 2022, Solum Regeneration, a long-standing joint venture between Kier Property and Network Rail, completed the sale of its third and final residential block at its Twickenham Gateway scheme to Meadow Partners. 'But what TfL has done differently,' says Beer, is to invest in a fully-fledged property company. Network Rail has had property partners, but it's never gone as far as setting up a wholly-owned company. Network Rail's mandate has been to improve stations, to improve the railway, improve the track and improve services.'
It's a really good idea for asset owners to invest in development, says Beer. This is the approach that was taken for High Speed 1 and this is what High Speed 2 is trying to do. A group of people within the organisations are focused on adjoining development opportunities as their core business, bringing public, private, rail and real estate sectors together to unlock complex sites.
They've seen the benefit of putting new infrastructure in and then developing around the new infrastructure to offset costs. TfL has done the same with the new Elizabeth Line; maximising the opportunities that come out of having land around bus garages, around stations and car parks. But it's a fact that there may always be tensions in case any development should undermine the safety and security of the of the railway.
The GBRTT has said that is will be active in pursuing new development opportunities across UK rail. 'The railway must make cost savings and become more financially sustainable, so we need to be creative and look, with our local and regional transport partners, at what funding sources there are for financing local improvements. Land value capture, for example, where landowners, developers and property owners are charged a levy associated with the increase in the value of the land due to the investment in transport infrastructure which can be reinvested into services that benefit local communities,' says Seagriff.
Beer looks forward to an easier track ahead for TOD in the UK. 'With Great British Railways (GBR), if everything is more joined up and we don't have the tensions between developers, operators and Network Rail, then this should help to make development easier. But such an approach would need to be 'built in'. GBR are thinking about this, and we all hope it will become part of the fabric of GBR as opposed to an afterthought.'