'Cities need new framework to deliver Net Zero plans'
15 November 2022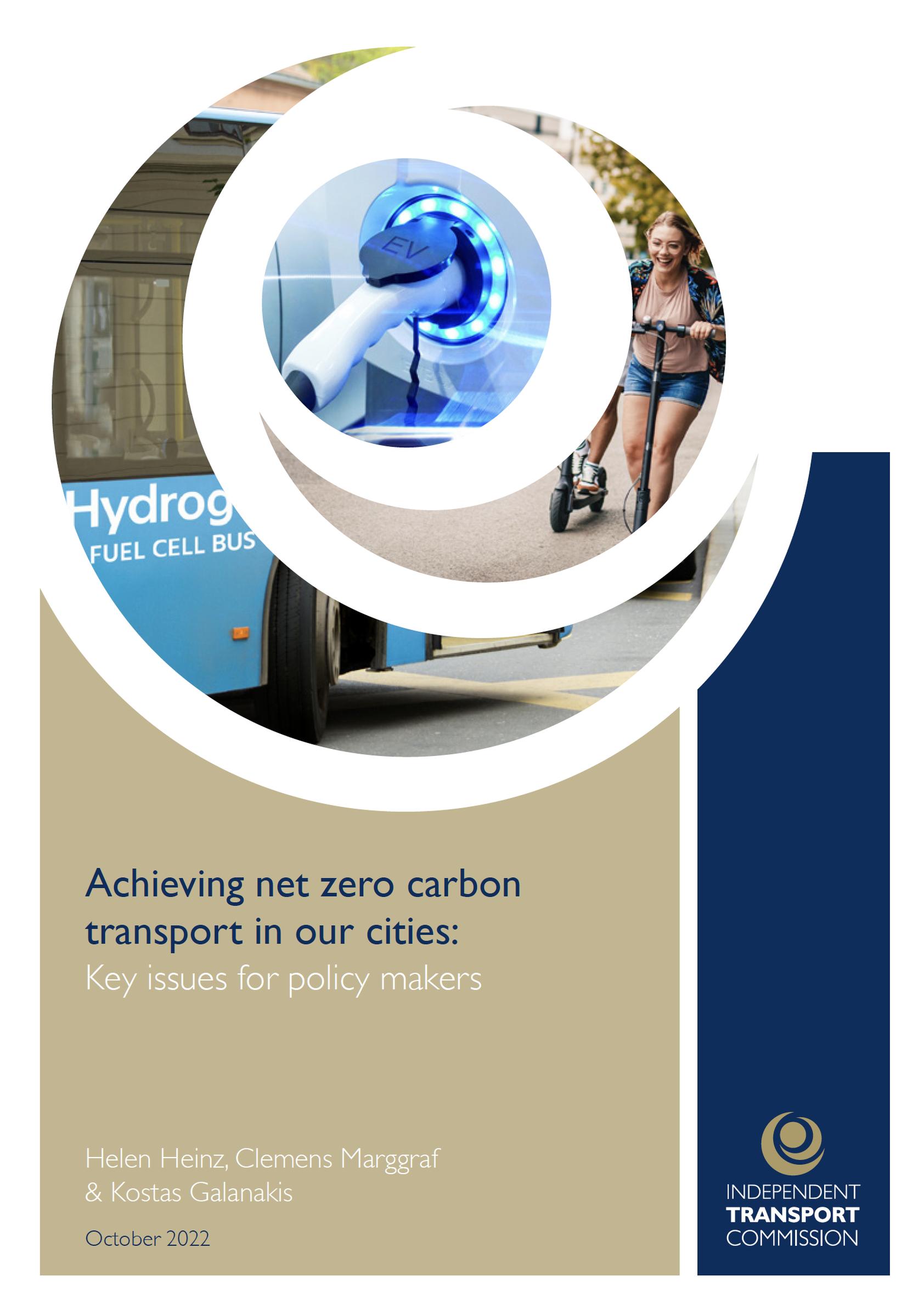 The limitations of current funding models are a "serious barrier" to urban transport meeting decarbonisation targets by 2050, warns a new report published by the Independent Transport Commission (ITC).
"A clear signal is required by central government to synchronise public and private investment and help guide the alternative financial streams for local authorities," states the report, carried out for the ITC by Nottingham Business School.
The Government should find ways to provide "more financial resources and autonomy for local authorities, as well as powers that can be used to develop integrated zero-carbon policies", said the land use and transport think tank.
The ITC said an 'Avoid-Shift-Improve' decision-making hierarchy should be adopted by councils seeking to re-shape communities to promote shorter trips, by making more amenities available locally and encouraging people towards active travel.
Researchers looked at transport in London, Nottingham and Durham. London was chosen as an example of a "global mega-city"; Nottingham was selected as an example of a mid-size city while Durham, including its UNESCO World Heritage Site, was used to look at the needs of small-scale historic cities.
The capital was judged to have a "clearly devised implementation plan" for reducing travel and especially car journeys through the development of a 15-minute neighbourhood planning strategy with a focus on local amenities.
However, the report noted that Transport for London (TfL) is financially stretched, and dependent upon emergency grants from central Government. New revenue streams, and collaboration with the private sector will enable necessary investment to achieve zero-carbon transport ambitions, it said.
Mega-cities such as London need robust funding mechanisms and an ability to integrate a wide range of policies if they are to achieve low-carbon transport objectives, the researchers said.
In the case of Nottingham, the researchers found that local policy makers are moving towards low-carbon transport thanks to an imaginative and proactive approach. The city's local transport plan is aligned with its local development framework, "helping to reduce the need for travel by providing more amenities in local neighbourhoods using the 15-minute city framework".
Nottingham has also made strong progress in shifting modal choice through its active travel programme, as well as its park-and-ride schemes and mobility hubs, researchers found. They praised the city's investment in electric vehicle charging infrastructure, and supporting the transition of the city's vehicle fleet to biofuels and battery power.
Nottingham has also made good headway in its decarbonisation strategy, such as the investment in Mobility as a Service (MaaS) schemes, which are more inclusive and accessible to households without a car, states the report. However, it noted that insufficient funding would make it hard for Nottingham (and other similarly-sized cities in England) to implement their plans. "The reliance on short-term grants from central Government is a hindrance to local city authorities in England in developing holistic decarbonisation policies."
The case study of Durham highlighted the challenges facing smaller cities in achieving zero-carbon transport. As well as being a centre for tourism, the city has a large rural hinterland, which results in a high level of car usage. A key problem is that the city does not control its own transportation policy, which is determined by the wider regional authority, the report said. The researchers found that the city's current plans are insufficient to reduce travel demand and to shift modal choice away from the car onto other modes.
Durham's current park-and-ride system is valuable, but its road user charging scheme, which only covers Durham City peninsula, near Durham Cathedral and Castle, is "very limited". The report added: "While there are ambitions to improve electric vehicle infrastructure, low household incomes in the region make electric vehicle uptake too expensive at present for many people."
The funding system in Durham was judged to be insufficient to achieve zero-carbon transport targets. Sustainable mobility in the city requires more substantial funding resources if net zero policies are to be successfully implemented, the researchers stated.