Sprint bus priority measures improve journey times by 22%
10 November 2022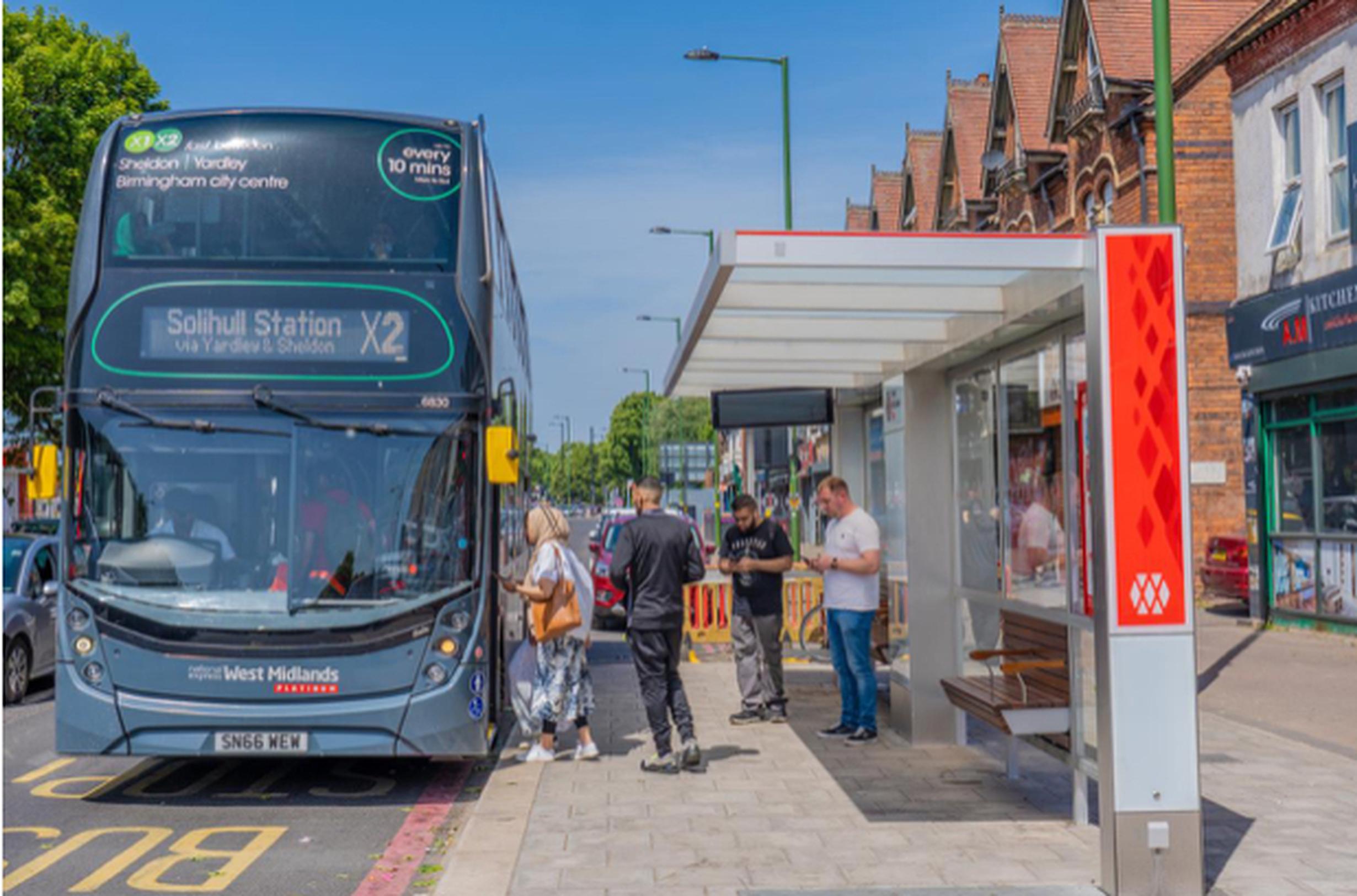 Average bus journey times are up to 22% quicker on two key Birmingham commuter routes after the introduction of Sprint bus priority measures earlier this year, according to Transport for West Midlands (TfWM).
This is based on analysis of journey data for 12,000 buses on the A45 between Sheldon and Birmingham city centre and the A34 between Walsall and the city centre in September compared with the same month in 2019.
The improved journey times is because buses now bypass congestion during morning rush hour commute on the A45 into Birmingham city centre, said TfWM, which is part of the West Midlands Combined Authority (WMCA).
It said that a key reason for the introduction of Sprint bus lanes and priority junctions was that journey times for buses stuck in regular traffic had fluctuated by more than 20 minutes on both the A34 and A45.
TfWM said that data revealed evening peak time variability on the X51 route between Birmingham and Walsall reduced by 31% while there is a reduction of 35% in variability for the X1 and X2 routes from Birmingham to Sheldon.
Sprint bus lanes ran during the Commonwealth Games, hosted by Birmingham in the summer, and helped ensure regular road users were less impacted by the additional traffic, said TfWM.
Phase 1 of Sprint was launched in May, with consultation on phase 2 – which includes further bus priority measures on the A34 in Walsall and Sandwell and A45 in Solihull – due to take place once designs are completed. Construction is due to follow next year.
Phase 2 is being part-funded with a £56m contribution from the City Region Sustainable Transport Settlement (CRSTS) awarded to the WMCA by the DfT earlier this year.
A cross-city route linking Walsall and Solihull with uninterrupted bus services will also start next year. This is due to be followed in 2024 with the introduction of 24 articulated hydrogen buses on the route.
Andy Street, mayor of the West Midlands and WMCA chair, said: "Despite only recently completing Phase 1, the data shows that we're already making a difference on the ground - saving people valuable time on their commute. So, with further time saving measures on the way via Phase 2, with the introduction of hydrogen buses along the route, we're confident Sprint customers will enjoy an even better experience in the near future.
"Sprint and other measures - such as the three year bus fare freeze announced last month – all form part of our plans to grow our bus network over the coming years by making bus usage a more attractive, affordable and convenient alternative to a daily commute in the car."
Cllr Ian Ward, WMCA portfolio lead for transport and leader of Birmingham City Council, added: "This data shows that bus lanes and junction upgrades do make a difference to people's journeys. This is why, over the next five years, we are looking to develop a further 50km of bus lanes and priority measures, create more cross-city bus services and make bus travel more comfortable, reliable and safer."