Number of trips below pre-pandemic levels, but car is still king
01 September 2022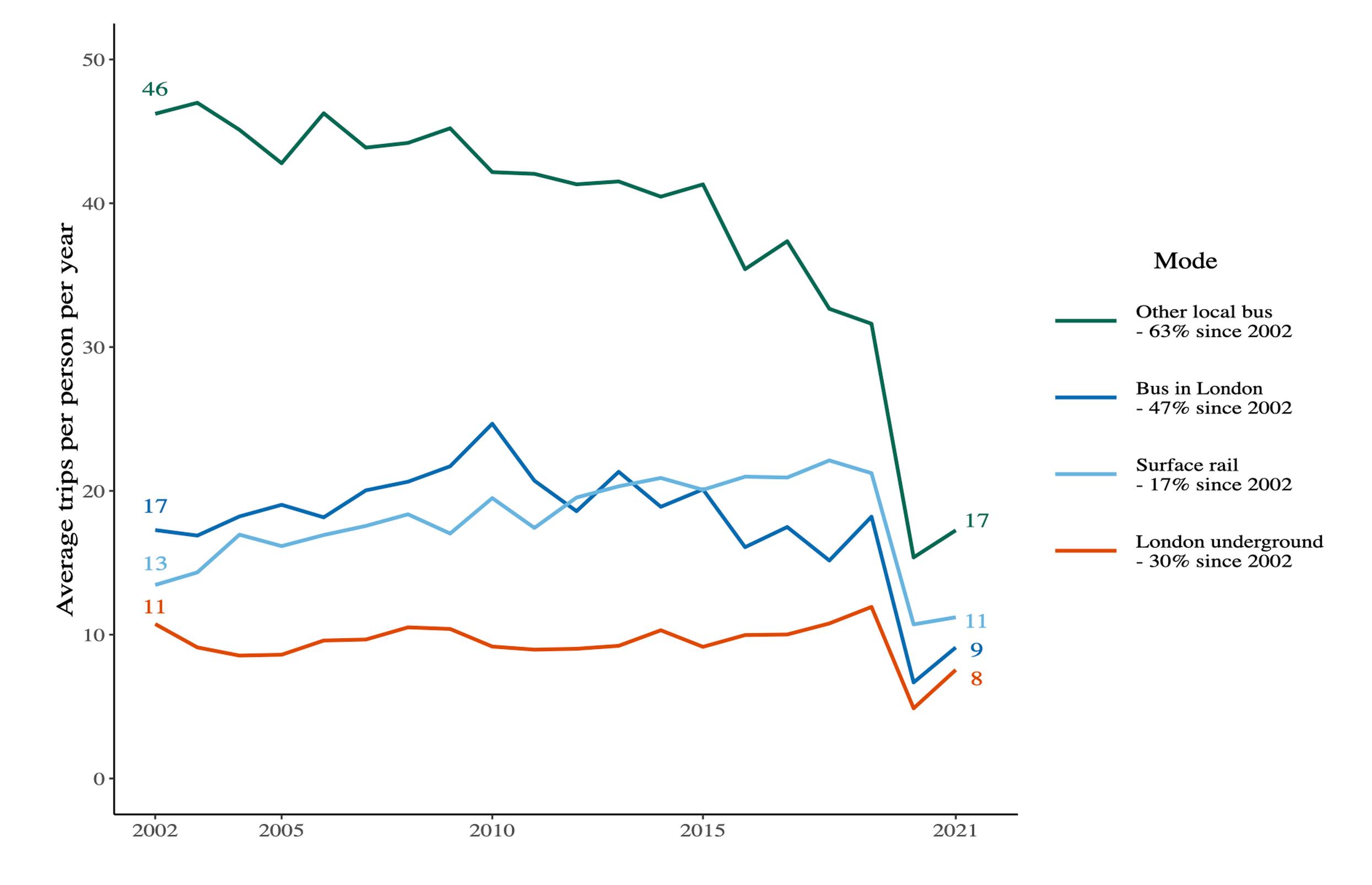 The number of trips has fallen to below pre-pandemic levels, according to new statistics published by DfT.
People in England travelling across Great Britain made 757 trips on average in 2021, or 15 trips a week, which was similar to 2020. But it is 21% lower than pre-pandemic levels in 2019, when people made 953 trips a year.
---
---
On average, people spent around 273 hours travelling in 202, a 33% drop from 65,000 miles in 2019.
The National Travel Survey (NTS) 2021 found that all modes of public transport showed a sharp decline in trip rates in 2020, when the Covid-19 pandemic resulted in restrictions on travel. In 2021 average miles travelled remained at a simlar level to 2020, a drop of 33% compared with 2019. The average number of trips and time spend travelling were also similar to 2020.
The frequency of working from home in 2021 was similar to levels observed in 2020 when the pandemic first placed restrictios on personal travel, athe NTS reports. In 2021, 11% of people worked from home three or more times a week, the same as 2020, and up from 3% in 2019. The proportion of people working from home once or twice a week in 2021 was 10%, the same as in 2020, but slightly higher than in 2019 (8%).
Cars remained the most popular mode of travel, making up 59% of all trips in 2021, a drop of 2% from 2019, and 80% of all miles travelled – a 3% rise compared with 2019.
Most trips are relatively short, the NTS found. In 2021 25% of trips were under one mile, and 72% under five miles. "These proportions of short trips are broadly consistent to how they were in 2020 and in 2019, with 25% being under one mile and 71% being under five miles in 2020 and 24% of trips being under one mile, and 68% under five miles in 2019."
Walking accounted for 81% of trips under one mile in 2021, the same as in 2020 and slightly higher than in 2019.
Almost three-quarters (73%) of rail trips were 10 miles or more in 2021, higher than in 220 when 63% were 10 miles or more but slightly less than 2019 when 74% were 10 miles or over.
Trends in local bus use (outside London) have shown a gradual fall from 46 trips per person in 2002 to 32 trips per person in 2019, reports the NTS. This was followed by a sharp fall to 15 trips per person in 2020, almost certainly due to the pandemic, and a slight increase to 17 trips per person in 2021, representing an overall decline of 63% since 2002.
Trends in average trips on the London underground and buses in London were "relatively stable" from 2002 to 2019, an average of 10 and 19 trips per person respectively, however these both fell to five and seven trips per person respectively in 2020 and both have increased since to eight and nine trips per person respectively in 2021. Trends on the increase in bus trips are comparable to bus statistics which show an increase in bus passenger journeys in 2021, compared with 2020.
During 2021, fewer pandemic-related restrictions were placed on personal travel, and patterns of travel started to return towards pre-pandemic trends. There was an increase in trip rates (average trips per person) for many purposes compared to 2020, however, day trips and 'other including just walk' trips decreased from their all-time high in 2020, as trips for the purposes of commuting, education, personal business and visiting friends at home increased.
The most common trip purpose in 2021 was for shopping. However, there were fewer shopping trips in 2021 compared with earlier years. There were 133 shopping trips per person in 2021, a 6% decrease compared with 2020 (141 trips per person) and a decrease of 26% compared to 2019 (181 trips per person).
Day trips including 'just walk' trips fell in 2021 compared with 2020, but the levels remain higher than pre-pandemic levels seen in 2019. From 2002 to 2019, day trips increased very slightly from 23 trips per person to 32 trips per person, followed by a large increase in 2020 to 45 trips per person, and then dropping to 36 trips per person in 2021.
Assessing the new statistics, David Metz, honorary professor at the UCL Centre for Transport Studies, told LTT: "Overall, 2021 was quite similar to 2020, reflecting impact of pandemic (prior to expected recovery in 2022).
"Cycling fell back to pre-pandemic level in 2021, after 40% boost in 2020. Men aged 50-59 cycle the most - early retirees keeping fit perhaps?
"As for the methodology, pre-pandemic used face-to-face interviews. During the pandemic in 2020 telephone interviews were conducted while in 2021 there were telephone interviews, with doorstep visit to encourage participation. Nevertheless, sample sizes were down: pre-pandemic 14,000, 2020 6000, 2021 10,000. But this should not affect the findings, given big changes from 2019 and small changes 2020-2021."
Metz added: "More generally, DfT's NTS is world-leading in breadth and depth. TfL's annual Travel in London report is world-leading for a city region. The difference is that TfL includes interpretation of data, whereas DfT has only a descriptive narrative that adds little to understanding. The Department is missing a trick."
John Siraut, director, economics at Jacobs, said: "We have yet to reach a new status quo but it would appear the pandemic has so far changed our travel patterns. There has been a clear and sustained increase in leisure travel although this is now at risk due to the energy crisis.
"Online retail is here to stay but there has also been a return to in-person shopping and a decline in online sales in recent months. Commuting and business travel may be permanently changed for at least a proportion of the working population."
Read John Siraut's analysis of the NTS in the next issue of LTT