Public transport use hits record levels during Commonwealth Games
17 August 2022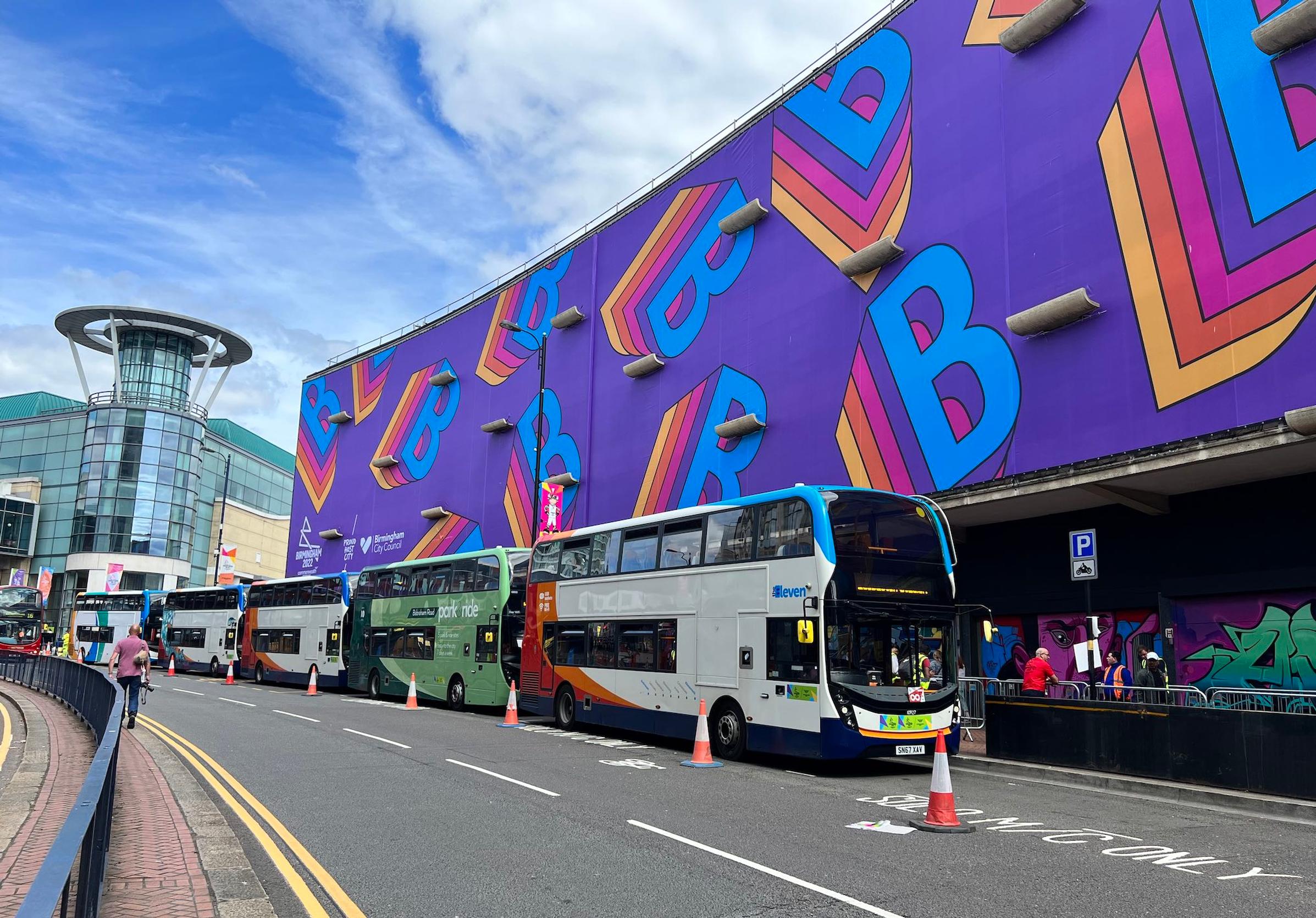 During the Commonwealth Games more than 650,000 shuttle bus journeys were made by spectators, Transport for West Midlands (TfWM) has reported. The games took place in Birmingham and other towns in the region between 28 July and 8 August.
The 600 shuttle buses, which took spectators to and from venues across the region, were part of a co-ordinated transport offer delivered by TfWM, transport operators and local authorities.
Spectators had public transport included in their ticket price as part of the Commonwealth Games Transport Plan, which significantly boosted passenger levels, said TfWM. Staff and volunteers were also allowed to use local bus, rail and tram services free of charge.
Rail transport during the Games was provided through collaborative working between TfWM, the West Midlands Rail Executive, West Midlands Railway (WMR) and other train operators and Network Rail.
WMR estimates that around two million journeys were made on rail across the region during the Games, with "records broken" at a number of stations close to venues.
It reported over 255,000 passengers travelled through Birmingham New Street Station on 6 August, and there were "unprecedented numbers" at University station, with more than 150,000 passengers during the Games, including 31,000 on 1 August alone.
The newly-redeveloped Perry Barr station recorded more than 25,000 passengers passing through during the 12-day event.
In addition to its usual staff, more than 170 volunteers from WMR were deployed on stations during the Games. Those supporting the efforts on the front line included train drivers, senior conductors, fleet technicians, cleaning staff, said WMR.
Meanwhile, West Midlands Cycle Hire bike and e-bike rentals doubled, with 28,000 bike hires during the Games. Everyone in the region was offered two free half-hour rides each day whether or not they attended a Birmingham 2022 venue.
The focus on public transport and shuttle buses meant that private car use and traffic congestion was kept to an absolute minimum, said TfWM.
Some made part of their journeys by car, with nearly 65,000 parking spaces booked through the park & ride service across the region throughout the Games.
Ian Ward, WMCA portfolio holder for transport and leader of Birmingham City Council, said: "The transport system has played a crucial part in what has been a fantastic Commonwealth Games for Birmingham and the West Midlands – a once in a lifetime event enjoyed by all.
"It is testament to the planning and delivery of our services that both public transport and our road network was by and large kept moving throughout the eleven days of action.
"It shows what can be achieved through affordable public transport and I hope that many of those who took the opportunity to try our buses, trains, trams and cycle hire will keep on using them, or use their cars a little less, and leave a real green legacy from these Games."
Andy Street, mayor of the West Midlands and chair of the WMCA, said: "Thousands of volunteers have offered visitors a warm welcome to the West Midlands – pointing guests in the right direction as they navigated festivities – so congratulations to all of them on all they've done over the last couple of weeks.
"Beyond the volunteers, I'm extremely grateful to all the staff on our buses, trains, trams and car parks who have in their own unique way played a vital role in ensuring people made it to events across the region safely and on time."