Survey reveals driver attitudes to 'Close pass' incidents
12 May 2022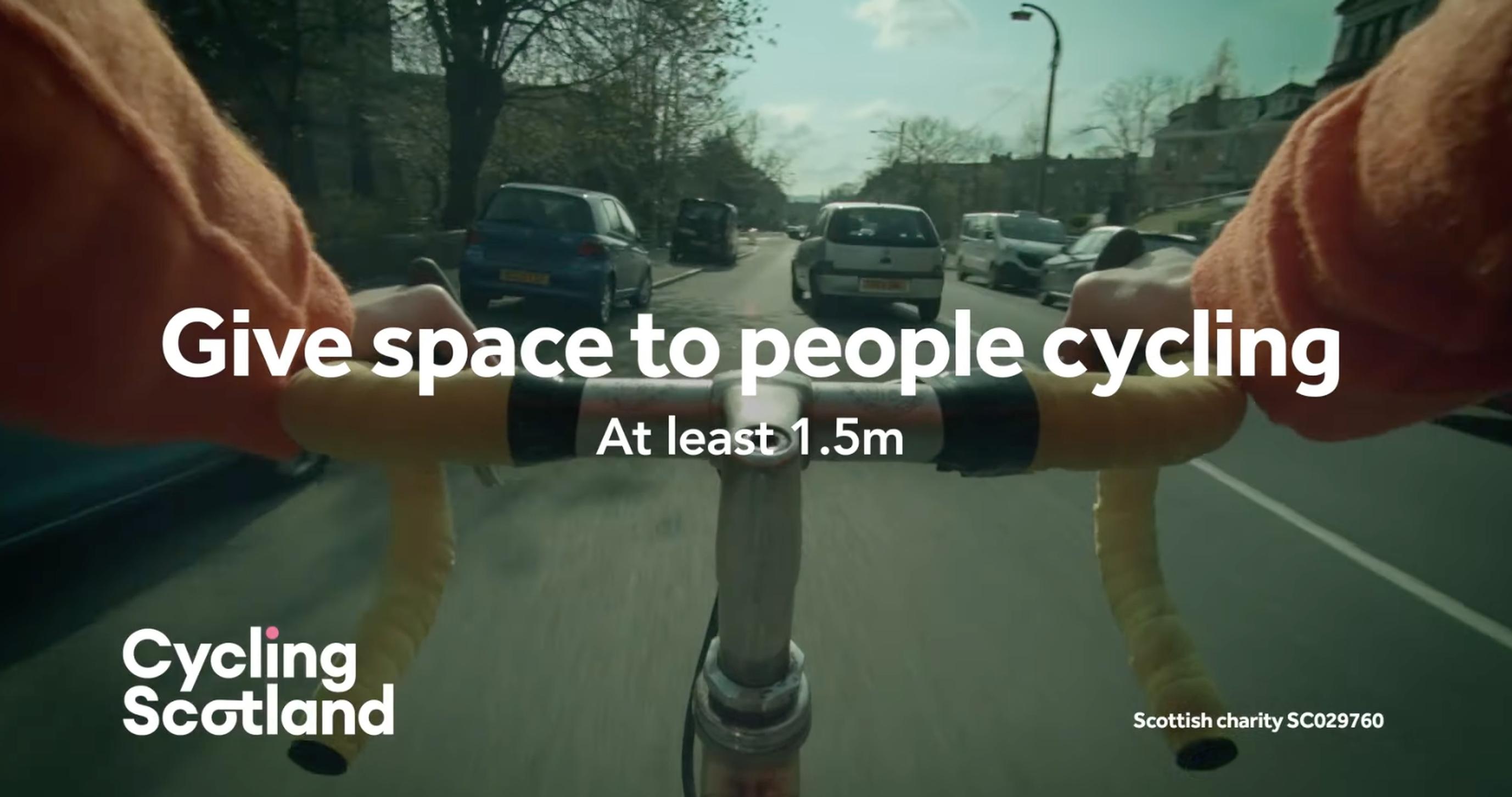 Some 96% of drivers in Scotland accept that a 'close pass' must be frightening for people cycling while 90% said there should be more protection for cyclists, new research shows. However, the survey also showed that 89% of drivers admitted to sometimes being frustrated when passing someone on a bike.
The survey, involving 507 Scotland-based drivers, was commissioned by Cycling Scotland as part of its Give Cycle Space campaign. This includes a TV ad showing a 'close pass' from the perspective of a cyclist.
The campaign highlights the recently updated Highway Code rule about passing people on bikes: when overtaking people on bikes, drivers must leave at least 1.5 metres when driving at speeds of up to 30mph and give more space when overtaking at higher speeds.
Cycling Scotland's campaign is funded by Transport Scotland and supported by Police Scotland. Over the summer, Police Scotland will conduct Operation Close Pass at several locations. Cycling UK said that dashcam and helmet cam footage can provide vital evidence, with Police Scotland developing a new online portal to allow footage to be submitted.
Every week in Scotland, at least three people cycling suffer life-changing injuries and in most cases, it's the person driving, not the person cycling, at fault, according to Cycling Scotland.
It added: "In March 2019, 73% of people in Scotland didn't know you could get three points on your licence and a £100 fine. We repeated our research in February 2020 and awareness had improved by 9% but there's still a long way to go to educate people about close passing and to change behaviour."
Cycling safety campaigner Kirsty Lewin, who survived a collision while cycling, said: "I've been cycling for decades and find it the easiest and quickest way to travel. After being seriously injured by a lorry driver while cycling to work in 2008 I now use my bike as a mobility aid as walking even short distances is so painful.
"I am close-passed on a daily basis and it's frightening and dangerous. No one should have to suffer this just for getting around on everyday trips. Often the driver involved is caught up in traffic further on or stopped at traffic lights so it's pointless for them anyway. We need to make our roads safer and more comfortable for everyone who wants to cycle. Part of that is changing how people drive, helping them understand that it's really intimidating to be close-passed - and that people on bikes are going to come off a lot worse in a collision."
Cycling Scotland chief executive, Keith Irving said: "More people in Scotland are getting on their bikes and enjoying feeling healthier and happier. However, serious cycling casualties have increased over the last 15 years and four people are seriously injured while cycling every week.
"Although the chance of being in a collision with a vehicle while cycling on Scottish roads is low, any serious injury or death is unacceptable. A network of dedicated cycling lanes, separated from road traffic, is the number one priority to make our roads safer for cycling. We need to accelerate the growth of this network, and the increased budget for active travel from Scottish Government will help to achieve this."