Sensing danger is the SAFE way to detect car park fires
Highlight Parking's AI technology can detect smoke or fire in car parks
17 January 2022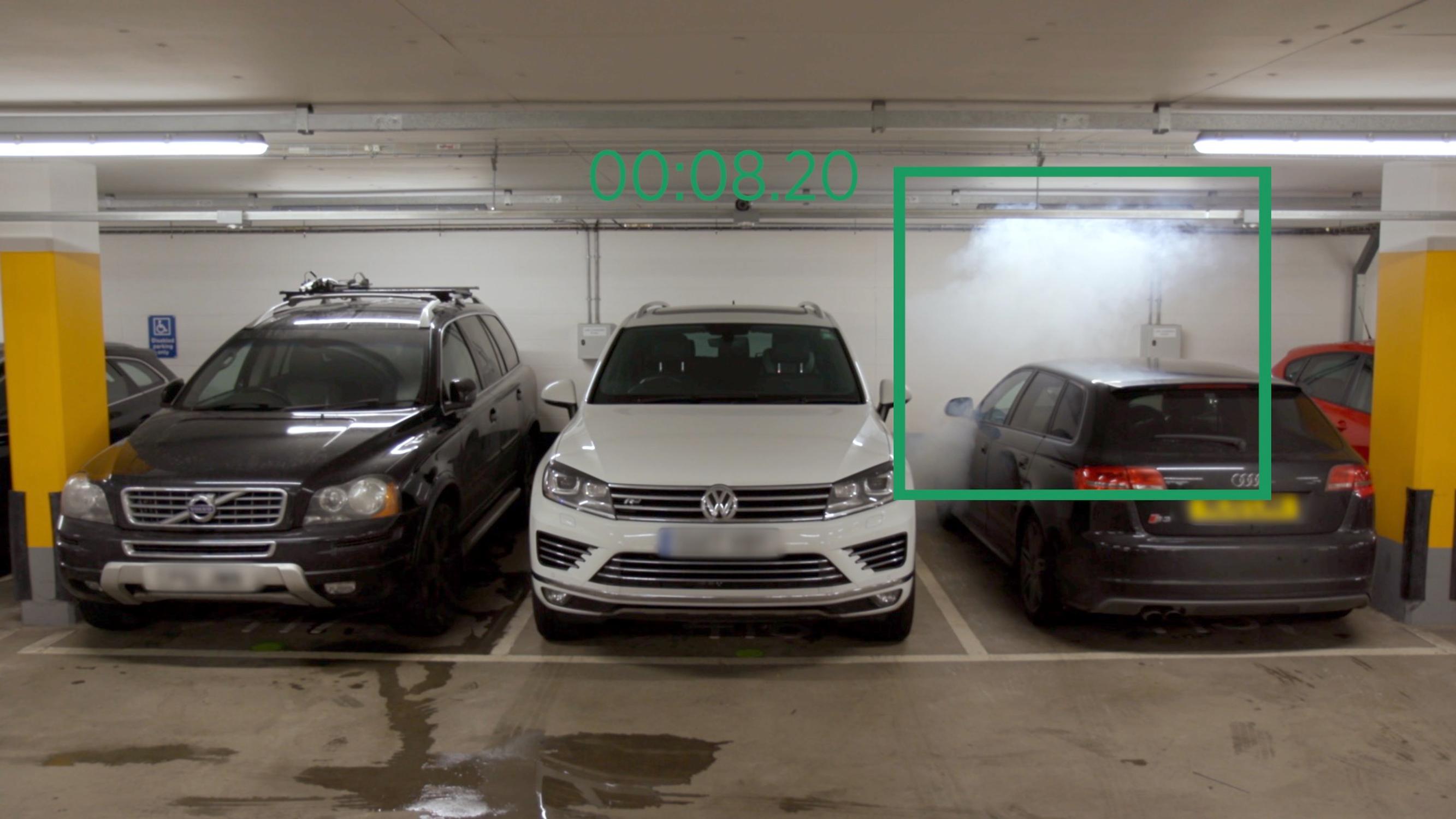 The King's Dock multi-storey car park at Liverpool Echo Arena was devastated by fire on New Year's Eve 2017. The blaze, which caused millions of pounds' of damage, prompted Highlight Parking to develop a detection system to help prevent similar events and improve the overall safety of car parks.
Highlight Parking is a company with a track record in creating parking information systems for multi-storey car parks. It has now devised Smoke and Fire Early Warning System (SAFE), a system that uses artificial intelligence (AI) to detect smoke or fire within just a few seconds. Tests have shown that solution works with around-the-clock unattended monitoring, typically detecting smoke within seconds.
Connected to a cloud application, SAFE immediately triggers a visual and audible alert, sending e-mail and SMS warnings automatically to smart devices and to car park control room screens.
David Harrison, managing director of Highlight Parking, said: "SAFE's AI capability means that smoke can be detected as fast as the human eye, rather than relying on smoke to reach a car park's ceiling mounted FireWire detectors. The outcome is that emergency measures can be taken far more quickly, so the likelihood of serious damage or injury is dramatically reduced.
"We developed SAFE because conventional fire systems are based on heat detection, which means a fire may already be out of control before it is detected, as was the case at King's Dock. By the time fire services had been alerted, despite their quick response, it was too late; nearly 1,200 vehicles were destroyed, and the insurance bill was a massive £20m. Thankfully nobody was injured."
As well as the existing risk of a petrol or diesel fire, Highlight has been considering the fire risks associated with electric vehicles (EVs). "As EVs become more popular and charging points increasingly commonplace in car parks, there is the additional increased threat of an electrical fire," said Harrison. "Consequently, the need for a more sophisticated fire detection solution such as SAFE is even more imperative. Obviously, fire safety is extremely important to car park operators and fire officers who cite speed of response as absolutely crucial when it comes to preventing a fire disaster, like the one in Liverpool. We believe SAFE provides this."
While SAFE has been developed for car parks, its AI software can be implemented in other settings such as warehouses, storage facilities, retail and other large building where there is a fire risk, said Harrison. SAFE can be also installed using an existing or a new CCTV camera system.
Severn Trent Water adopts SAFE
Highlight Parking's SAFE system has been installed by FTSE 100 utilities company Severn Trent Water at its headquarters in the West Midlands. Richard Carney, project manager at Severn Trent said: "The SAFE system was a guaranteed investment for us. We did, of course, have a fire alarm system in the car park but, SAFE provides a far quicker response. We timed it at between seven and eight seconds compared to 12 minutes for our existing system."

For more information and a video demonstration of SAFE visit: highlightparking.co.uk