Highways Agency deploys Operation Brock in Kent
Lorries heading to Europe are being told to park up at Manston Airport
22 December 2020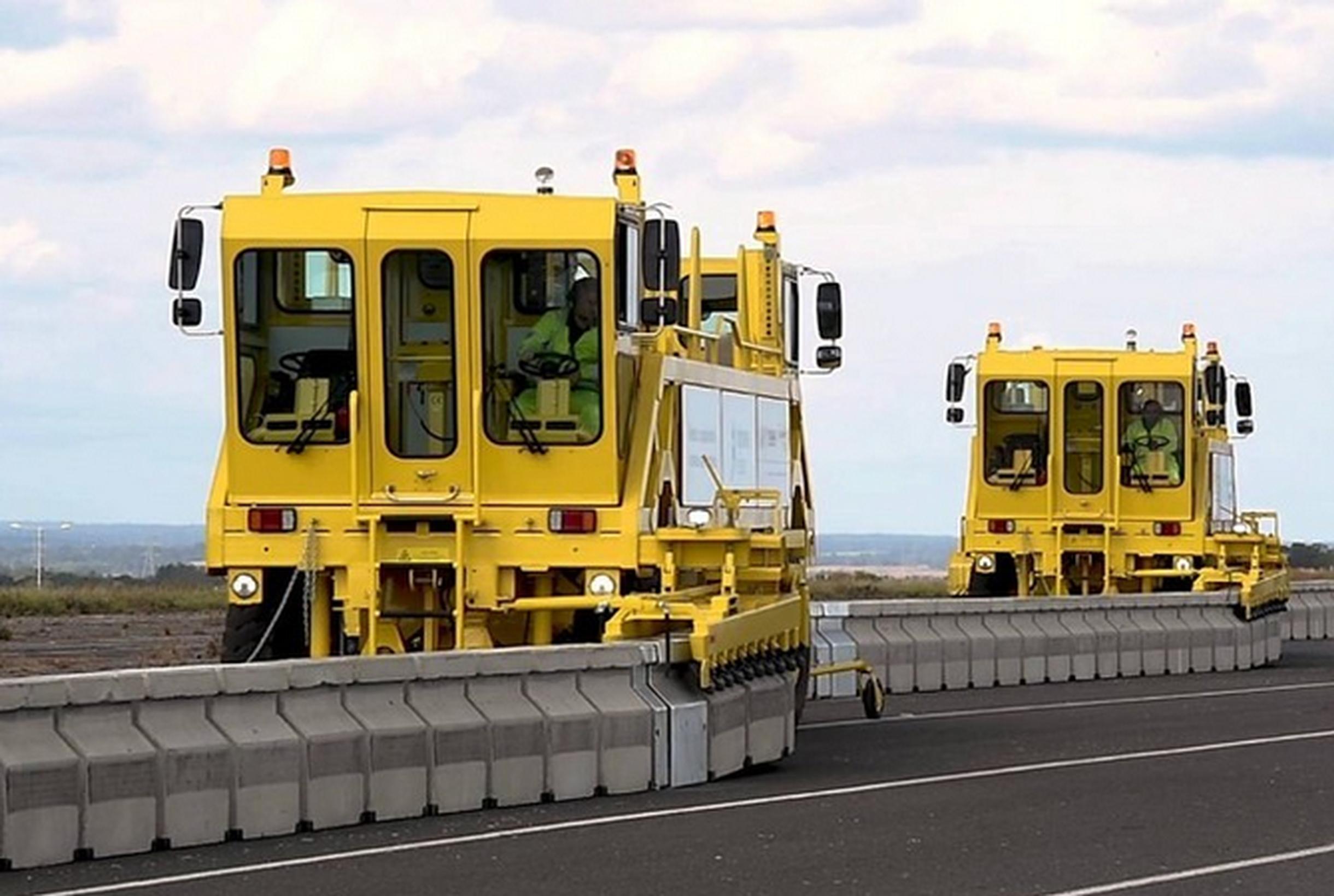 Highways England has repeated calls to drivers not to travel to Kent as the border to France remains closed. The agency said that any HGVs arriving in Kent will be diverted to Manston Airport to park.
France shut its UK border for 48 hours on Sunday amid fears of a new coronavirus variant. More than 40 countries have also banned UK arrivals.
Operation Brock was set up on 21 December on the M20 motorway in Kent as part of a plan to keep traffic moving on the M20 during periods of cross-Channel disruption. It involves using a contraflow road layout on the M20 London-bound carriageway between junctions 9 and 8 (from Ashford to Maidstone) and directing lorries heading for mainland Europe onto the coastbound carriageway, where they can be queued if necessary.
A long concrete moveable barrier is put in place to allow the contraflow to happen safely.
More than 1,500 lorries are stuck in Kent waiting to leave the UK as politicians thrash out a plan to reopen France's border to trade and travel. Home Secretary Priti Patel told the BBC that 650 lorries are stacked up on the M20, with a further 873 at a lorry park.
Operation Brock will replace Operation Stack, which was activated overnight on Sunday 20 December as an initial response after the French government's announcement that it would not accept any passengers or hauliers arriving from the UK for a period, and the subsequent closures of the Port of Dover and Channel Tunnel.
Operation Brock opens up more of the road network in Kent because it means traffic can continue to move in both directions on the M20, whereas Stack effectively closes it to coastbound traffic.
Hauliers are advised to avoid travelling to Kent as disruption could last for several days. Currently no lorries are leaving the Port of Dover or Eurotunnel to France. Eurotunnel estimates that up to 2,500 freight vehicles are expected to arrive in the UK later, and the same again Wednesday. The port of Harwich in Essex, about 130 miles from Dover, is also seeing a build-up of lorries as drivers divert from Dover. The port of Felixstowe in Suffolk is also reported to be busy.
The moveable barrier installed on the M20 creates a new layout with a contraflow system reopening the M20 in both directions. This allows traffic to continue travelling in both directions on the motorway at the same time as port bound HGVs are queued, if necessary, on the coastbound carriageway until they can travel through to the Port of Dover or Eurotunnel. The barrier was recently tested and is part of a series of Operation Brock, which aims to keep the M20 open in both directions during periods of cross-Channel disruption.
To make sure the barrier is deployed and removed safely, the M20 will be closed coastbound between junction 7 (for Maidstone) and junction 9 (Ashford), and London-bound between junctions 9 and 8 (Maidstone East), overnight tonight (8pm to 8am). The M20 will reopen by 8am Tuesday morning with the new road layout in place. Whenever the M20 is closed, signed diversions will be in place.
What the M20 looks like from Tuesday morning
The M20 will close in both directions overnight between junctions 7 and 9 (coastbound) and junctions 9 and 8 (London-bound) from Monday 21 December for the installation of the moveable barrier.
Depending on traffic levels, the M20 should reopen by 8am on Tuesday 22 December, with the contraflow in place. Drivers will need to follow the different layout on the M20 from just north of Junction 8 (for Hollingbourne/Leeds) to Junction 9 (Ashford). Lorries heading for mainland Europe could be routed down the coastbound carriageway, with a 30mph speed limit in place. All other traffic will be directed onto the contraflow, with two lanes in each direction operating at 50mph.
Operation Brock will remain in place until further notice.
On 20 December, Prime Minister Boris Johnson addressed the cross-Channel travel ban in a 10 Downing Street press conference. Johnson said he had chaired a meeting of the Government's emergency COBR committee in order to co-ordinate a UK-wide response.

Johnson tried to sound a reassuring note, saying: "It is vital first to stress that these delays – which are only occurring at Dover – only affect human-handled freight, and that is only 20% of the total arriving from or departing to the European continent, which means the vast majority of food, medicines and other supplies are coming and going as normal."

The Prime Minister said that ongoing preparations for the end of the Brexit transition period meant plans has been made for severe delays in cross-Channel road traffic. "You may also be aware – in fact, I'd be amazed if you weren't – that the Government has been preparing for a long time for this exactly kind of event.
"So working with the Kent Resilience Forum, Kent County Council and Highways England, we've activated our long-prepared plans, with the result that we have already been able to reduce the number of lorries waiting on the M20 from 500 to 170. The site at Manston Airfield is ready to cope with any overflow."

This was a point reiterated during the press conference by Transport Secretary Grant Shapps. Shapps told reporters: "Some of the reasons why we have not seen big problems in Kent today is because the transition period work that has been going on for very many months, and years even, is coming to fruition a couple of weeks earlier than anticipated. But it does mean measures like having Manston available, like having the movable barrier available, and like having welfare for the hauliers, is all in place. So, to a large extent, it has shown we are ready."

Eyes are now on what happens on the other side of the Channel. The Prime Minister said that discussions were underway between the French and UK governments at all levels to unblock the flow of trade as fast as possible. "I have just spoken to President Macron – we had a very good call – we both understand each other's positions and want to resolve these problems as fast as possible. I know that Grant is also speaking to his counterpart and we are working to a solution, as I say, as fast as we can to allow freight traffic to resume between the UK and France, and ensure that lorries can travel in both directions in a Covid-secure way."
The border disruption has also affected air, rail and sea passenger services cancelled between the UK, France and other European countries. Rail operator Eurotunnel said it hoped passengers would be able to travel between the UK and France from Wednesday or Thursday, if a solution can be found.
A new range of travel restrictions are now in place across the UK, with people being encouraged to "stay local" by all four governments. Wales has entered a national lockdown and both Scotland and Northern Ireland will begin national lockdowns on Boxing Day.
The new variant of COVID-19 detected in the UK is known as VUI2020/01. It is described as being up to 70% more transmissible. However, there is no evidence that it is more deadly and there is also no indication that it reacts differently to vaccines that have been developed to tackle COVID-19.