International flights, ferry services and Channel Tunnel crossings cancelled
UK left isolated as concerns over new virus variant grow
21 December 2020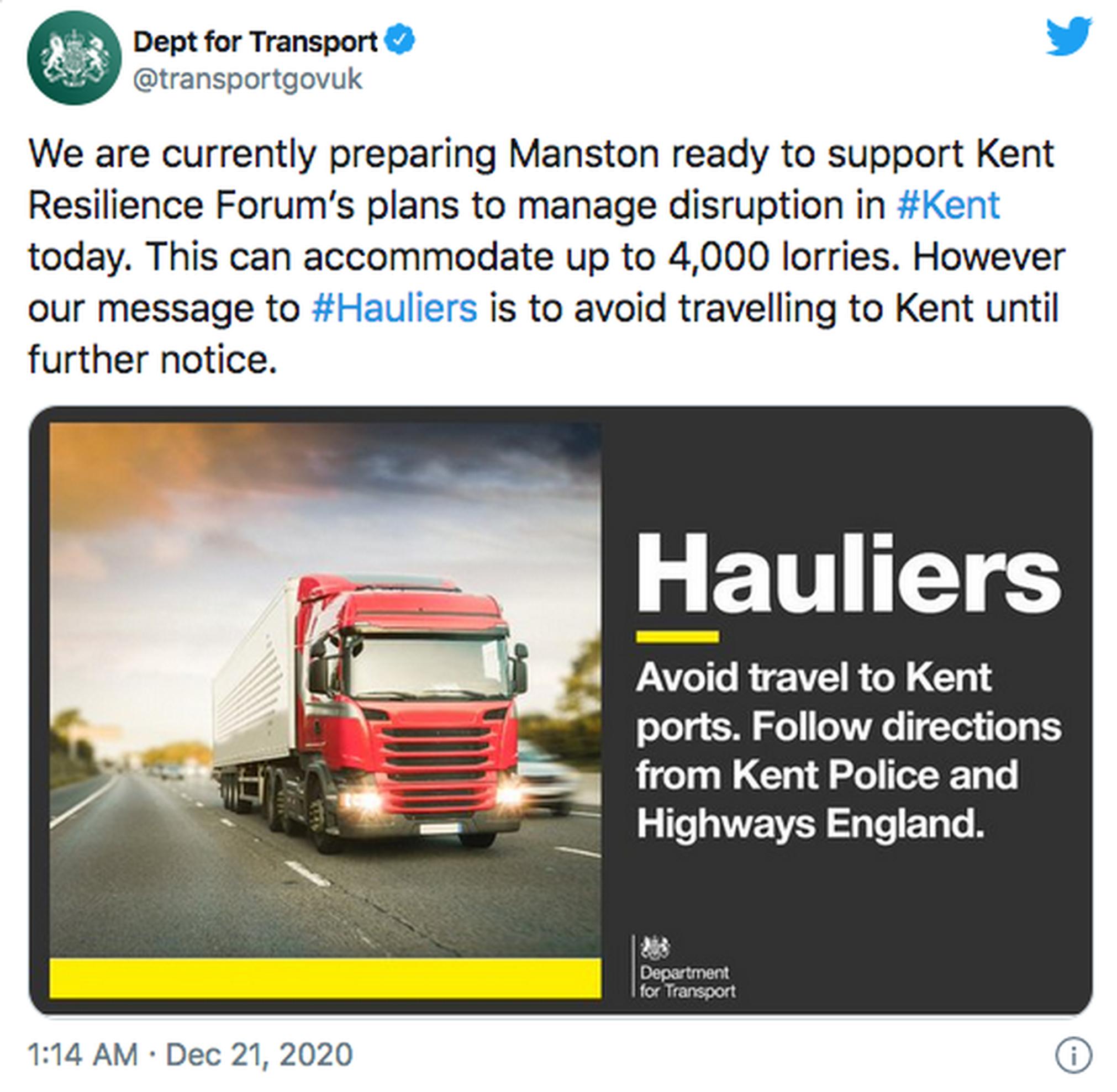 More than 40 countries have banned arrivals from the UK because of concerns at the spread of a new variant of coronavirus.
Several European states have blocked flights from the UK, including: Austria, Belgium, France, Germany, Ireland, Republic of Ireland, Italy, Norway, Spain and Switzerland. Flights from the UK have been blocked by Canada, Hong Kong and India. However, flights to the USA are continuing.
Airports have warned passengers that if they had no ticket or were heading for a country with an active UK ban in place, they will not be able to check in and so should stay at home.
The fact that France has shut its border means no lorries or ferries will be able to sail from the port of Dover. Europe-bound train services via the Channel Tunnel have halted.
European Union member states are currently meeting in Brussels to discuss a co-ordinated response. French Transport Minister Jean-Baptiste Djebbari said: "In the next few hours, at European level, we're going to establish a solid health protocol to ensure that movement from the UK can resume. Our priority: to protect our nationals and our fellow citizens."
Queues of trucks are forming in Kent as a result of the French government's decision to ban air, sea and rail travel for a 48-hour period. While the decision affects lorries but unaccompanied freight, such as containers or lorry trailers on their own, can still be transported.
Kent Police has put Operation Stack into force on the M20 towards Dover to queue lorries caught up in the disruption. The coast-bound carriageway of the motorway has been shut between Junctions 8 and 11 as a contingency measure, the force said.
Manston Airport in Kent is also being readied to take up to 4,000 lorries to ease congestion in the county, the Department for Transport said. Due to the expected level of disruption the DfT is advising hauliers to avoid travel to Kent ports until further notice.
Transport Secretary Grant Shapps said the situation in Kent was not too disrupted. "Immediately as soon as the French said, perhaps slightly surprisingly, that they would stop hauliers rather than just passengers, we were in touch with a group known as the Kent Resilience Forum," Shapps told Sky News on Monday morning. They are well used to planning for exactly these kind of circumstances."
Shapps said that about 20% of the overall 32,000 units of freight shipped today were affected by the restrictions. "To put this into context, there are about 6,000 vehicles we would expect, just under in Dover today, probably I'd say 4,000 would have gone across from Dover, just under 2,000 on the Eurotunnel," he said.
"But there's probably something like 32,000 units that would have been the daily total so the vast majority including virtually all the vaccine actually comes via container."
The Transport Secretary said that COVID-19 vaccine supplies, which come from Belgium, would not be affected by travel bans, as they come to the UK via unaccompanied containers. However, it is understood that the RAF is being readied to fly in the vaccine if needed.
The cross-channel traffic situation wad addressed by UK Prime Minister Boris Johnson at a meeting of COBRA, the UK Government's emergency committee.
Eurostar has cancelled all its services from London to Paris, Brussels, Lille or Amsterdam on Monday and Tuesday. Services will only operate from Paris to London on those days. Eurotunnel also suspended passenger and freight traffic to France from its Folkestone terminal from 10pm on Sunday, but travel continues in the opposite direction. Eurostar said it planned to resume all train services to and from the UK on Wednesday. Eurotunnel said services to France would resume on Tuesday at the earliest.
The new variant of COVID-19 detected in the UK is known as VUI2020/01. It is described as being up to 70% more transmissible. However, there is no evidence that it is more deadly and there is also no indication that it reacts differently to vaccines that have been developed to tackle COVID-19.
The haulage sector's concerns
Freight organisations ask for calm and cooperation
Speaking about the closure of French borders to freight, Alex Veitch, general manager at Logistics UK said: "Logistics UK is very concerned about the welfare of drivers travelling from the UK to France at this time and is urgently seeking more information for our members. Driver health and safety is our key concern, and it is essential that they continue to be recognised as key workers and given access to testing, if necessary, as a priority to ensure the continued movement of goods to and from France.
"Shoppers should not panic buy – retailers will be making every effort to ensure there is stock within the system, including fresh produce, and it is important that we remember that inbound traffic still has access to the UK. We are maintaining close contact with UK government to ensure that supplies of fresh produce are available throughout Christmas and the New Year. Our advice to members is to check with ports before travelling, and keep in close contact with drivers to ensure their welfare is maintained."

The Road Haulage Association (RHA) has also urged shoppers not to panic buy after the French Government closed the border with the UK last night. RHA chief executive, Richard Burnett said that retailers have brought in more ambient stock than usual for the time of year amid long-standing industry concerns about border delays after transition.
"The Christmas supply chain is resilient and our industry is very good at making sure we've got all the goods we need as we've shown throughout the pandemic," he said.?"So we urge people not to panic buy which could spark unnecessary shortages in January when some goods could already be harder to come by."
Burnett also raised concerns about British exports getting across the border this week and what facilities are available to lorry drivers stuck in queues in Kent. "Truckers typically have low COVID-19 infection rates given the nature of their jobs and minimal contact they have with others so it doesn't make sense that they can't cross the border into France."