New transport hub and people friendly routes for Stoke
Infrastructure
16 December 2020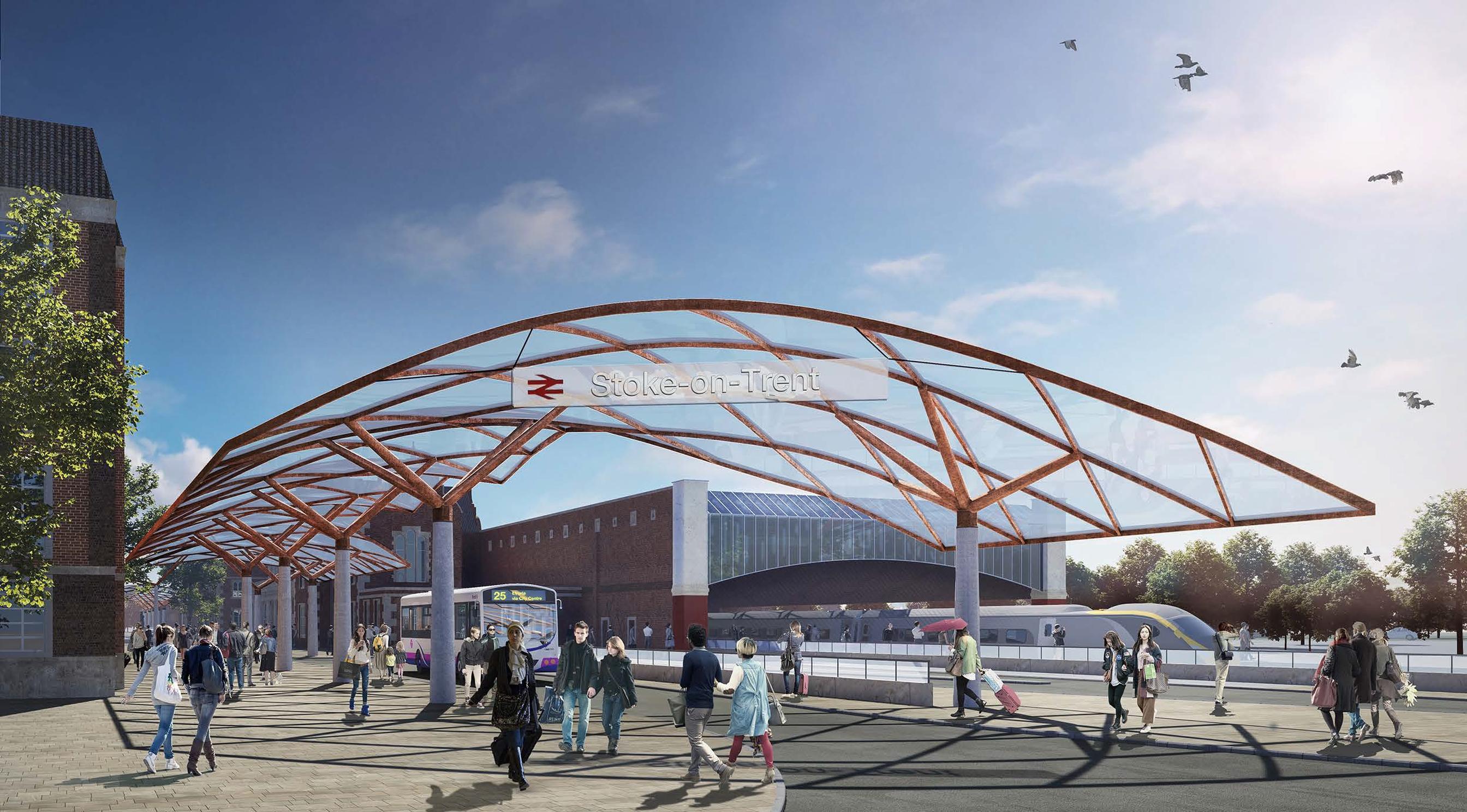 Stoke-on-Trent Council has been awarded £29m in Government funding to create a new transport hub and improve cycling and walking routes in the city centre. The overall package of works is expected to be around £36m once funding from the council and other partners is included.
The Transforming Cities Fund award will result in a better connection between the train station, city centre and key employment sites across the area, said the council.
Two large, weather-proof canopies will be installed on Station Road to provide passengers and pedestrians with shelter, along with an expanded pedestrian area at the entrance to the station and enhanced bus stops. The road will also be closed to through-traffic except for buses and access to existing businesses.
The programme will allocate £1.2m towards the upgrade of Longton train station, with the installation of lifts, facilities to support cyclists, a new platform lift and passenger shelters.
Bus lanes and bus priority at traffic signals will be introduced as part of plans to cut congestion and bus journey times on the city's roads, said the council. Four new cross-city bus routes will be introduced in the first phase, which will link the city centre and train station to wider employment areas including Longton, Burslem, Tunstall, Royal Stoke University Hospital and Trentham Lakes. College Road, in Shelton, will be turned into a priority bus corridor by removing through traffic but keeping access to local businesses, with improved facilities for cyclists and pedestrians also planned.
Other projects will include:
Bus corridors: Junction improvements at key bus delay hotspots in the city (£1.2m).
Boughey Road: Improvements to promote walking and cycling links to the city centre via Hanley Park (£1m).
City centre bus station: Improvements to the bus station to cater for through services and passenger interchange (£1.4m).
Enhanced walking and cycling routes to Etruria Valley (£4.2m).
Stoke-on-Trent station west car park/Glebe Street cycle and pedestrian link: A new cycle track and footpath across Station West car park on to the Trent and Mersey Canal from Glebe Street to the rear of the railway station via Swift House (£104,000).
Vernon Road cycle and pedestrian link: Creation of a new shared or segregated cycle and pedestrian link directly from the Trent and Mersey canal to rear of the train station (£200,000).
A commitment by First Bus to purchase up to 15 new Euro VI buses once supporting road infrastructure work is completed (£3.5m).
The funding announcement follows £5.6m from the DfT last year in the first round of the Transforming Cities Fund.
Transport secretary Grant Shapps said: "The Transforming Cities Fund allows cities across the UK to better connect their communities and open up access to jobs, housing and services, and this multi-million-pound investment will make it quicker and easier to get around Stoke-on-Trent, providing a real improvement to the everyday lives of residents."