'Tis the season to be jolly careful' - PM
Prime Minister publishes UK's COVID Winter Plan
24 November 2020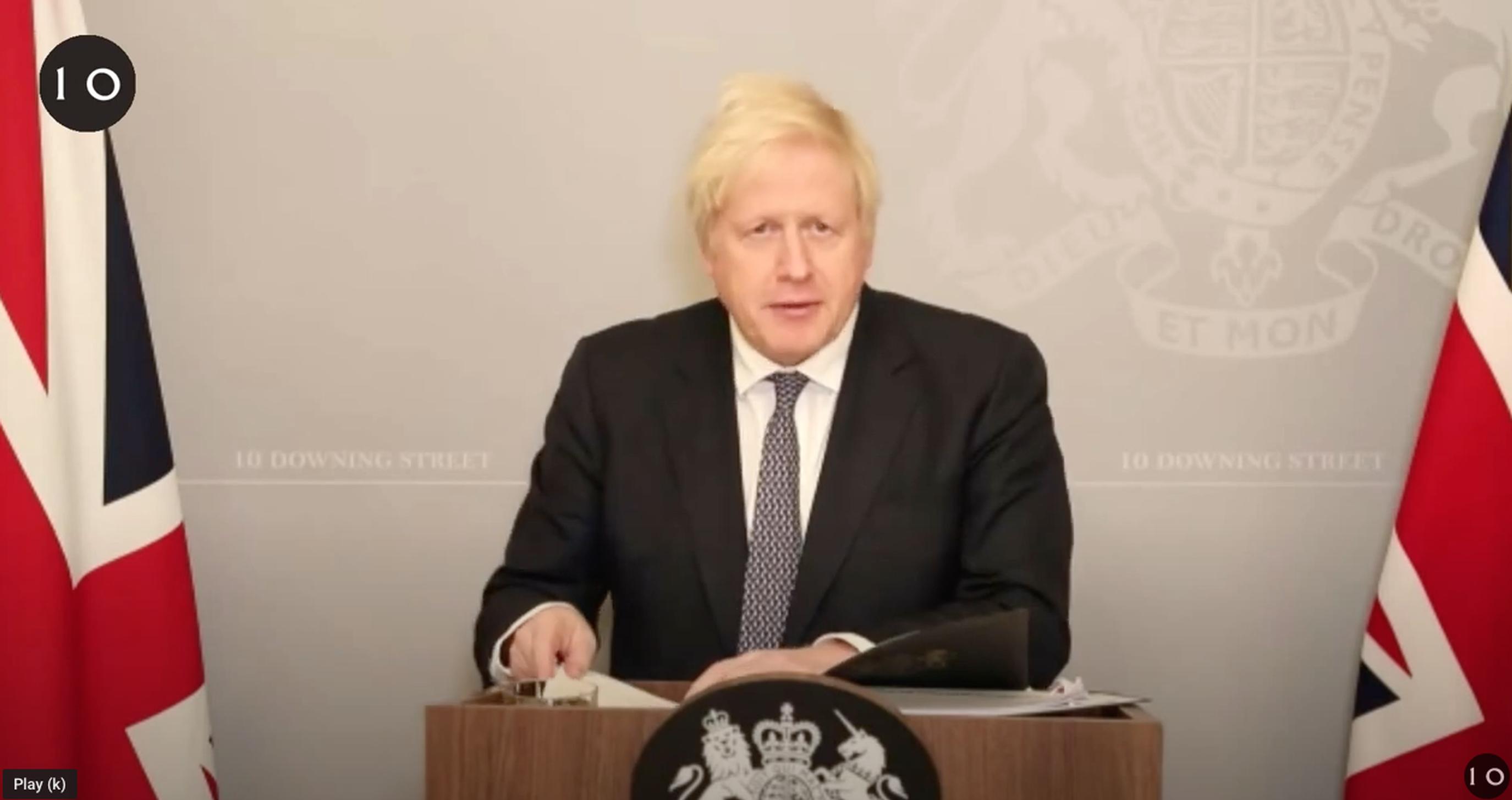 National coronavirus restrictions will come end on 2 December, with England returning to local tiers, the Prime Minister Boris Johnson has announced.
Johnson said the tier system will be toughened in some areas to safeguard gains, and ensure testing and a series of newly developed vaccines can have maximum impact. On Thursday, the Prime Minister will announce which area will be in each tier.
The Government has unveiled its COVID Winter Plan, which sets out the end of national restrictions and the steps ministers plan take to help bring life back to normal by Spring. The plan seeks to bring the virus's reproduction, or 'R' number below 1.
The 'stay at home' order will end on 2 December, meaning that shops, gyms, personal care, and the leisure sector will reopen. Collective worship, weddings and outdoor sports can resume, and people will not be limited to seeing one other person in outdoor public spaces. Instead, the 'Rule of 6' will again apply.
To read full COVID Winter Plan click here
Tougher tiers
With the virus still present and the Prime Minster, Chief Medical Officer and Chief Scientific Advisor have decided that without targeted measures in areas where it is most prevalent, COVID-19 could again run out of control and place pressure on the NHS.
Some restrictions are being amended, given lessons learned from previous tiers. For example, the hospitality curfew has been modified to last orders at 10pm and closing time at 11pm, allowing customers to depart in a staggered way.
In tiers 1 and 2, spectator sport can also resume outside with capacity limits and social distancing, providing consistency with theatres and concert halls.
The Scientific Advisory Group for Emergencies (SAGE) says that, while previous tiers reduced the R rate, they were not enough to bring it below 1. This means that all tiers will be toughened. For example, in tier 1 people will be encouraged to minimise travel and work from home where possible.
In tier 2, alcohol may only be served in hospitality settings as part of a substantial meal. In tier 3, hospitality will close except for delivery and takeaway, and indoor entertainment venues, such as cinemas, casinos and bowling alleys, must also close.
The tiers will be uniform, introduced without negotiations on specific measures, and will be based on the following criteria:
Case rates in all age groups
Case rates in the over 60s
The rate at which cases are rising or falling
The number of cases as a percentage of tests taken
Pressure on the NHS, including current and projected occupancy.
Tiering allocations will be reviewed every 14 days, and tiering regulations will expire in law at the end of March.
New vaccines
The new plan comes as the coronavirus vaccine developed by the University of Oxford has been shown in large trials to be highly effective at stopping people developing symptoms of COVID-19. Interim data suggests 70% protection, but the researchers say the figure may be as high as 90% by tweaking the dose.
The Prime Minister said: "It seems that almost every week we learn of some new scientific breakthrough to help us beat COVID. Last week it was good news about the vaccine from Pfizer BioNTech and then Moderna. This morning we heard the fantastic news that the Oxford Astra Zeneca vaccine has been highly effective in clinical trials.
"This vaccine could be both affordable and easy to use and highly effective. We have ordered 100 million doses and, thanks to the work of the Vaccines Task Force, we have secured more than 350 million doses of potential vaccines of all kinds, but we are not out of the woods yet. We can hear the drumming hooves of the cavalry coming over the brow of the hill, but they are not here yet
"Even if all three vaccines are approved, even if the production timetables are met and vaccines notoriously fall behind in their production timetables, it will be months before we can be sure that we have inoculated everyone that needs a vaccine and those months will be hard, they will be cold. They include January and February when the NHS is under its greatest pressure, and that is why when we come out of lockdown next week we must not just throw away the gains we have all made."

Planning for Christmas
UK Government ministers are currently work with the Devolved Administrations on plans for temporary relaxation over Christmas and will set out details on issues such as looking after the clinically extremely vulnerable.
Johnson said that the majority of people most in need of a vaccination in the UK might be able to get one by Easter. He also warned that the virus would not grant a "Christmas truce" and urged families to make a "careful judgement" about the risks of visiting elderly relatives.
"We will continue to bear down hard on this virus," he said during the Downing Street press conference. "We will use tough tiering, in some ways tougher than the pre-lockdown measures, and details of those tiers are on the GOV.UK website later this week when we have the most up to data and we will be sharing details of which tier your area is going to be in.
"I should warn you now that many more places will be in higher tiers than alas was previously the case, and we will simultaneously be using the new and exciting possibilities of community testing – as they have done in Liverpool – and there will be a clear incentive for everyone in areas where the virus prevalence is high to get a test, to get one of these rapid turnaround lateral flow tests and do your best for the community.
"Get a test to help to squeeze the disease and reduce the restrictions that your town or city or area has endured and that way – through tough tiering and mass community testing – we hope to let people see a little more of their family and friends over Christmas. Now I know that many of us want and need Christmas with our families, we feel after this year we deserve it. But this is not the moment to let the virus rip for the sake of Christmas parties.
"Tis the season to be jolly but tis also the season to be jolly careful especially with elderly relatives."
The Prime Minister said: "Christmas this year will be different and we want to remain prudent through Christmas and beyond into the New Year, but we will use the three tools that I have described to squeeze the virus in the weeks and months ahead – tiering, testing and the roll-out of vaccines."
Testing and tracing
The tougher nature of the measures for tier 3 areas means that the government will rapidly extend community testing in those areas. Following the example of Liverpool, tier 3 areas will be able to participate in a six-week community testing programme to identify asymptomatic cases, and ensure they self-isolate.
The Government also plans to introduce frequent testing as an alternative to the need for self-isolation for people who have had close contact with a positive case. Instead, contacts would have regular tests during the isolation period and only have to self-isolate if they test positive. This will be trialled in Liverpool first then, if successful, will be rolled out across the NHS and care homes in December, and to everyone else from early next year.
The Prime Minister addressed both Parliament and the Downing Street press conference via video link because he is self-isolating after being contacted by NHS Track and Trace following a meeting at which attendees tested positive for COVID-19.
A further 15,450 positive coronavirus cases were recorded across the UK on Monday. There have also been a further 206 deaths within 28 days of a positive test. Figures can be lower on a Monday, due to a lag in reporting.
The PM's Downing Street press conference statement can be read by clicking here