Lewisham creates a very long parklet
Ford's Spin e-scooter operation funds new community space
13 November 2020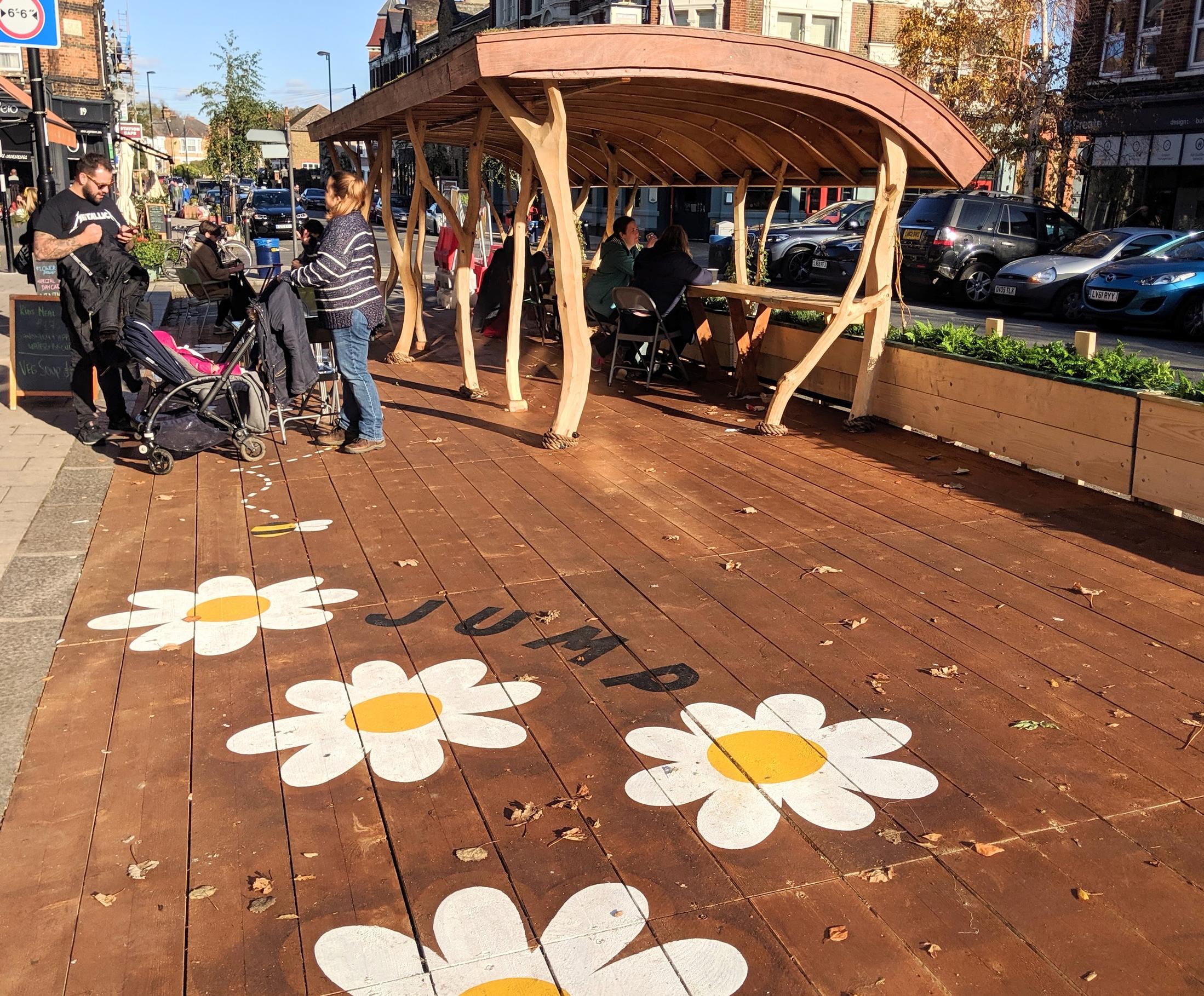 A row of kerbside parking bays have been converted into a parklet in order to create a new community space in south-east London. The parklet was created by Lewisham Council in partnership with the urban design agency Yes Make. It was funded by Spin, the micromobility unit of Ford Motor Company, which is promoting the use of electric or e-scooters.
The parklet was created under Transport for London's Streetspace initiative, which funds measures designed to create more space for people to safely walk or cycle as the capital deals with the coronavirus pandemic. Streetspace has seen street parking suspended in many areas to make it easier and safer for people to maintain social distancing.
At Staplehurst Road, which is near Hither Green Station, the Spin Streets programme has funded an outdoor space to serve the local community throughout the pandemic.
The parklet will be in place for 12 months. It has been built across nine parking spaces on a 22 x 5-metre platform, making it the largest in London and the only one with a cover.
The parklet more than doubles the pavement width and creates an open-sided shelter that can be used for community events once lockdown restrictions are eased. It features a wooden canopy and provides 10-metre table space in front of local businesses such as Blue Marlin, You Don't Bring Me Flowers, Hither Green Cafe and Favourable Chicken and Ribs.
Joel De Mowbray, founder of Yes Make, said: "Projects like The Arc in Lewisham have never been more important in helping local communities through these difficult times when we are so restricted in terms of how we can see our friends and family.
"Using the suspended parking area, which local residents assumed was for building works, to instead create a space that self-evidently supports social distancing and local businesses is essential to supporting the local community over the winter."
Local artists This is My Costume and Harriet Parry Flowers have painted murals, and planted ferns and herbs. The structure is built almost entirely from reused materials, including naturally fallen ash tree branches for the support beams and wood chippings as mulch.
Cllr Sophie McGeevor, Lewisham cabinet member for environment and transport, said: "We hope that this new parklet will help with social distancing and allow local businesses to serve more customers in a COVID-secure way."
A key component of the build is a bicycle rack and e-scooter parking spaces, which are being provided by Spin in anticipation of the vehicles being legalised following the conclusion of the national trials next year.
Kay Cheng, Streets programme director at Spin, added: "Through our Spin Streets programme we are committed to helping UK communities by making their streets safer, more liveable and enjoyable for everyone, be it pedestrians, cyclists, and hopefully soon e-scooter riders. For now, we need to stay indoors, but when people do pop out for essential shopping or outdoor exercise this space serves as an urban pit-stop whilst supporting local businesses doing takeaways during these challenging times."
The Arc is Spin Streets's second project in London, following the Pallet to Pavement project in Brixton, a collaboration with Yes Make and InUse-ReUse that created an expanded footway on Atlantic Road.
Spin has begun to roll out its e-scooters through the Department of Transport's and local councils national e-scooter trials scheme. Spin is already operating in Milton Keynes and plans to launch in Essex.