On the road to cleaner air
Clean Air Zones and other measures will enable councils to comply with the EU Air Quality Directive, JAQU's Sam Harrison told a Traffic + Parking webinar
13 November 2020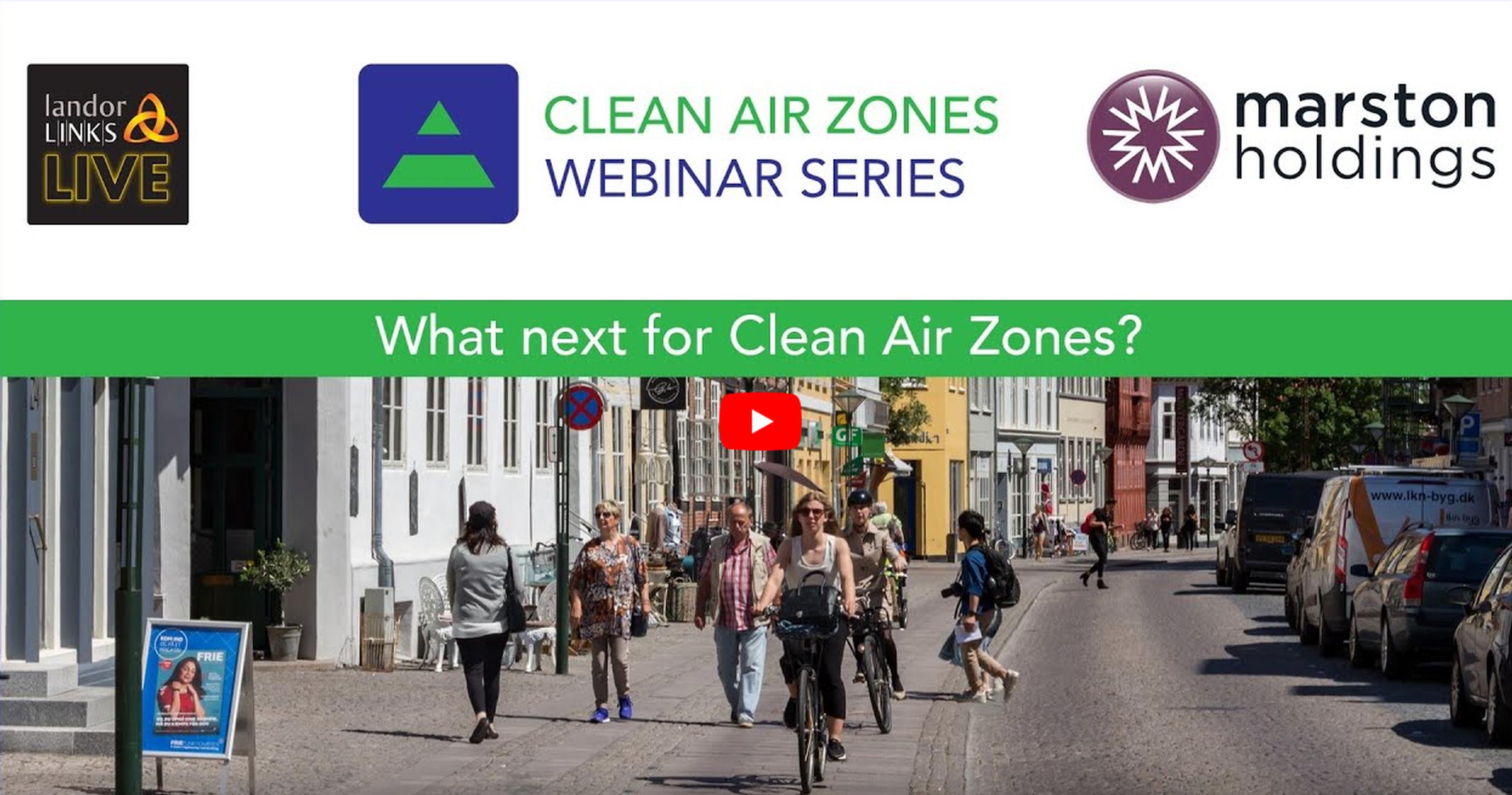 After being knocked off course by COVID-19, plans to roll out Clean Air Zones (CAZs) across England are once more gathering momentum. The first charging CAZs will go live in Bath and Birmingham on 12 March and 1 June respectively. These will be the first schemes to be implemented outside London.
It is no surprise that CAZ preparations were held up by COVID-19, said Sam Harrison, head of communications and stakeholder engagement at the Joint Air Quality Unit (JAQU), a joint venture between the Department for Environment, Food and Rural Affairs (Defra) and the Department for Transport (DfT) to deliver the government's NO2 reduction strategies.
"Ministers felt it was right there should be a delay because dealing with the pandemic was clearly the priority," he said at the 'What Next for Clean Air Zones?' webinar, organised by Landor LINKS last month. But, as stated by transport secretary Grant Shapps, COVID-19 should not stop councils introducing CAZ schemes, said Harrison. "Hence, the acceleration that you've seen recently in delivering CAZ plans."
Alongside Bath and Birmingham, charging schemes are to be introduced in Sheffield and Rotherham, Gateshead and Newcastle, Greater Manchester, Bradford, Liverpool, Basildon and Essex, Bristol and Portsmouth.
Non-charging schemes, meanwhile, are due to launch in Coventry, Fareham, Derby, Southampton, Nottingham, Dudley, Reading, Solihull, Leicester, Newcastle-under-Lyme and Portsmouth. Non-charging schemes will focus on measures to change behaviour such as: improved traffic management; safe cycling routes; upgrading bus fleets; supporting a shift to electric taxis; and encouraging the uptake of electric cars and installing more charging points.
Targeted approach
Road transport is responsible for 80% of concentrations of NO2 at the roadside, with diesel vehicles the largest source in the local areas of greatest concern. CAZ schemes are being introduced to bring high NO2 areas within EU Air Quality Directive limits as quickly as possible. "The risk from NO2 is highly localised so the intervention needs to be targeted to the problem areas," said Harrison.
The UK government has been taken to the High Court three times over its failure to bring NO2 within limits set out in EU directive. "We've been taken to court because the NO2 concentrations at roadside exceed the legal limit of 40.19 micrograms per cubic metre," explained Harrison. The legal actions led to JAQU identifying the local authority areas where urgent action was needed. It sometimes raises irritation with people, but the government position is that the NO2 issue is localised within certain areas. Therefore, it needs to be targeted at those areas rather than a broad-brush approach. What we did was to set out the challenge to local authorities to monitor their data and come up with solutions that would bring down NO2 within legal limits."
The government is offering councils £880m to implement clean air plans. "This is ring-fenced specifically for the local authorities that have to put in a NO2 local plan."
This is not the only financial support available, Harrison stressed, citing the Transforming Cities Fund and schemes to pay for the retrofitting of buses. "We are going to see a lot more of these funds coming in as time moves on."
New infrastructure
Central and local government is delivering new infrastructure for charging CAZs including cameras, an online vehicle compliance checker, and a charge payment portal. The vehicle checker was launched in early 2020 and the central payment portal is due to be ready for the launch of the first CAZs in 2021. NO2 levels have followed the fluctuations in traffic caused by COVID-19 and lockdown, Harrison noted. "So, when we saw low road traffic at the beginning of the pandemic, NO2 levels dropped. As cars and vehicles have come back onto the road, we're seeing those reductions slip away a little bit and an increase in numbers.
"The online vehicle checker is improving all the time because we're getting more and more data on it. And also we're developing a charging payment portal with business accounts as part of that," he added.
However, the same patterns have not been seen for particulate and ozone levels, said Harrison. "We have ensured that monitoring networks continue to operate normally and have set up new tools to analyse these data. NO2 compliance may be improved this year but the longer term picture is complicated."
Though JAQU currently focusses on NO2 levels, it plans to turn its attentions to particulates. This will become necessary as the Environment Bill includes "ambitious targets" for reducing particulates, Harrison said. "The government is very enthusiastic about getting this Bill through its readings. Particulates is the next big one, and it will be presenting the new challenges once we've got NO2 out of the way."
Extreme weather conditions can also impact air quality, Harrison said. "It's staggering how much different weather forms can impact NO2. And it has been an extreme weather year, which has made things interesting in terms of monitoring."
No CAZ for Leeds
During the webinar, Harrison was asked why Leeds City Council has shelved its plans for a CAZ. He explained that during October a joint review by the council and the government had revealed that businesses have switched to cleaner vehicles faster than expected. This means the roads covered by the EU Air Quality Directive are now compliant with NO2 limit values.
"We wouldn't have changed our position had that not been the case. Leeds does not seem to suffer quite so badly from a slow fleet turnover. There are concerns that circumstances might change, so there will be an ongoing review process. And, obviously, if there's a return to the levels seen before then we may need to have a different conversation with Leeds City Council."
Harrison praised the council for proactively addressing air quality issues and making good use of an Early Measures Fund grant from JAQU. "For other local authorities in the same position, I think there is a lesson to be learned from the approach taken by Leeds, and spending money earlier, which has had an impact."
However, topographical factors and different weather conditions may favour some areas more than others, Harrison said. "So, Leeds is different from, say, Birmingham and Bath, and cities which are in basins or valleys. All these things need remembering, though I wouldn't say, as some people have, that Leeds have got away with it. It's not a question of getting away with it; Leeds did the work and got to the position where they've reduced their NO2 level down to legal limits."
HGV fleets will gradually become compliant though fleets can take six to seven years to change, said Harrison. "So, obviously, we'll be getting more compliant vehicles coming in over time. Also, the way business is working is having an impact. We are getting more white vans out on the road. But, equally, some businesses are not able to operate in the way that they were previously operating. So you're seeing different vehicles."
Strategic Road Network
Alongside the CAZ schemes, Highways England is working to improve air quality on non-compliant links of the Strategic Road Network (SRN). Harrison noted that the introduction of smart motorways on some sections of the SRN has reduced traffic, resulting in a drop in NO2 levels. A smart motorway is a section of road that uses traffic management methods – such as using the hard shoulder as a running lane and using variable speed limits – to increase capacity and reduce congestion in particularly busy areas.
Harrison welcomed the positive impact of smart motorways on air quality but warned: "It won't solve every single problem by any stretch of imagination. Traffic management does have a part to play in these issues. The government is pressing Highways England to ensure that they do comply [with the NO2 limits] and make every effort."
Traffic modelling on the SRN shows there are "some very significant challenges, which are going to need to be addressed". Harrison welcomed new measures to improve air quality. "For example," he said, "Highways England is installing electric vehicle charge points every 20 miles on 95% of the Strategic Road Network. This will definitely help."
Highways England has also pledged to help local authorities invest in fleets of electric vans. Earlier this year it awarded Leeds City Council £2m to buy nearly 70 electric vans. Highways England also plans to help other councils switch to electric vans.
Risk of displacement
During the webinar's Q&A session, Harrison was asked how JAQU would stop CAZs displacing poor air quality to neighbouring areas. "Displacement has to be considered as part of any plan or study where there is exceedances of NO2, because clearly there's no point in taking action if you're going to move it three roads to the left."
Local authorities should use modelling to identify if traffic displacement is likely. "I think where you cross local authority boundaries, councils should work together to develop plans. But one of the things we are seeing across the board is that the cleanliness of fleet mix is improving. That will ultimately reduce the emissions in any area, which should address issues about displacement."
Workplace parking levies
Should councils consider introducing workplace parking levies as an alternative to Clean Air Zones? Currently, Nottingham City Council is the only authority in the UK operating a workplace parking levy. Since being launched in 2012, the levy has raised more than £60m, which has been ring-fenced to pay for new tram lines, electric and gas buses, and a redevelopment of the train station.
During the webinar, Sam Harrison said: "Nottingham's workplace parking levy clearly seems to have had the desired impact in keeping NO2 levels down. I don't think it's necessarily an alternative to Clean Air Zones. But I do think that there's potential certainly for it to be complementary and one of the measures that local authorities could consider when putting together a NO2 plan."
Effective monitoring
Looking ahead, Harrison said JAQU will ensure the proper monitoring of air quality across the CAZ schemes. It has launched a new NO2 monitoring network (UUNN – UK Urban NO2 Network) of enhanced diffusion tube monitors deployed at 150 roadside locations where the difference between national and local modelling is greatest. This will complement data from the Environment Agency, which works with the air quality team at engineering and environmental consultancy Ricardo to record air quality levels cross the UK.
"These are the national baselines that we use in order to keep an eye on the NO2 plans. There's also a local authority network, and we tend, on the whole, to default to local authority monitoring stations, because they're targeted in specific areas."
Once CAZ schemes start, JAQU will continue to monitor air quality. "We are legally obliged to do so under the EU Air Quality Directive, which has been transposed into UK law," he said. "So monitoring is essential and it will continue. And it's not just NO2. We also monitor a range of other pollutants, including ozone, particulate matter and ammonia."
Action is needed urgently to address air pollution, which is "the largest environmental health risk in the UK". Long-term exposure to air pollution reduces life expectancy by increasing deaths from lung, heart and circulatory conditions and most severely affects vulnerable groups, Harrison said.
One of the criticisms of CAZ schemes is they would have an adverse impact on socially deprived residents. He said: "It's argued they might not have the right sorts of vehicles or the capability to upgrade to cleaner vehicles. But they are also the people most likely to be affected by air pollution."
What Next for Clean Air Zones? was organised by Landor LINKS and sponsored by Marston Holdings. It is available on the Landor LINKS YouTube channel.