Bailiff delivers PPE to Citizens Advice Bureau
Bristow & Sutor donates personal protection equipment
13 November 2020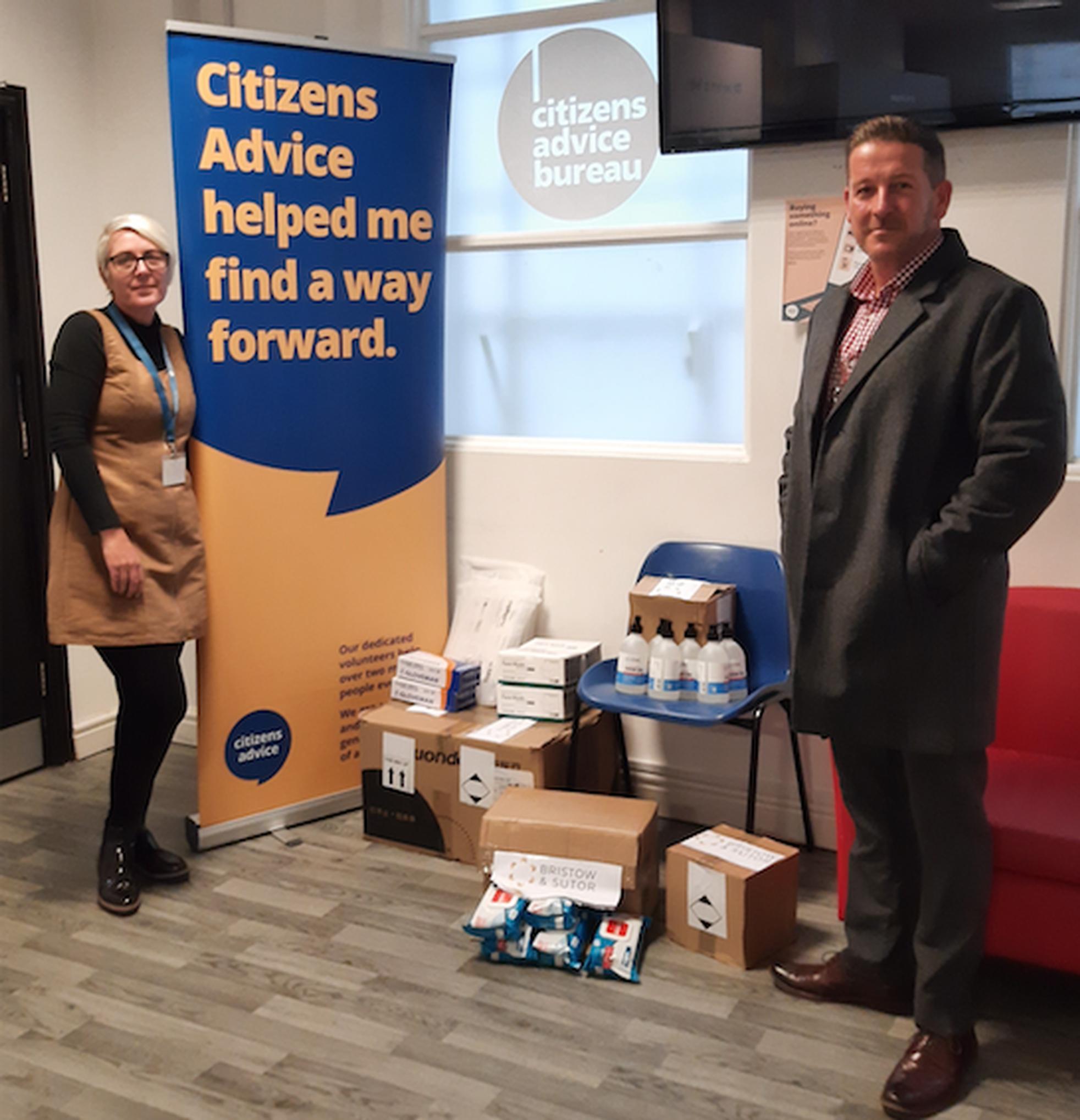 Citizens Advice in Birmingham has received several boxes of personal protective equipment (PPE) from Bristow & Sutor, a debt recovery company based in Washford, Redditch.
During 2019 and 2020, Citizens Advice has delivered 1,265 outreach sessions in hospitals, libraries, job centres, HMP Birmingham, Birmingham Magistrates' Court and mental health venues across Birmingham. Fifty volunteers and 57 paid staff helped to assist 28,924 clients during this time.
The boxes of masks, hand gel, wipes and gloves supplied by Bristow & Sutor will help ensure the advice service work can continue safely. Kelly Danks, debt service manager, Citizens Advice Birmingham, said: "This PPE donation will allow us to speak face-to-face with more local people about their circumstances. This is important for vulnerable members of the Birmingham community, especially when you consider more people may be facing vulnerable circumstances currently."
Bristow & Sutor has a strong connections with the city, having a 12-year history of working for Birmingham City Council.
Bristow & Sutor has also been ensuring its enforcement agents are provided with PPE. Its bailiffs now possess equipment such as masks, hand sanitisers, antibacterial wipes, disinfectant sprays and gloves as standard.
All members of staff have been trained on the use of PPE and must pass an industry approved course before being allowed to conduct visits. They are not permitted to enter properties currently, so any resolution found is done so in a socially distanced manner from the doorstep. The company said it received zero complaints related to doorstep enforcement since the resumption of visits at the end of August.
Bristow & Sutor also uses a range of other measures to engage with debtors, such as phone calls, webchats and text reminders. Before resuming visits, Bristow & Sutor supplied reconnection letters to debtors, giving them the opportunity to set up flexible payment arrangements and discuss changing
circumstances.
Emma Watson, head of external communications at Bristow & Sutor, said: "We understand better than anyone the importance of communicating with those in debt and the positive outcomes those conversations can lead to. Our business has strong roots in the local community and as part of our support to Birmingham City Council, we wanted to do something to help ensure access to impartial advice is not restricted for anyone at this difficult time.
"Citizens Advice Birmingham have been very grateful for the PPE donation and we are currently looking into the possibility of making further donations to other local institutions within the region."
Bristow & Sutor employees are directly employed and are not paid based on the performance of one visit.