Utrecht's 12,500-space bicycle parking garage
23 October 2020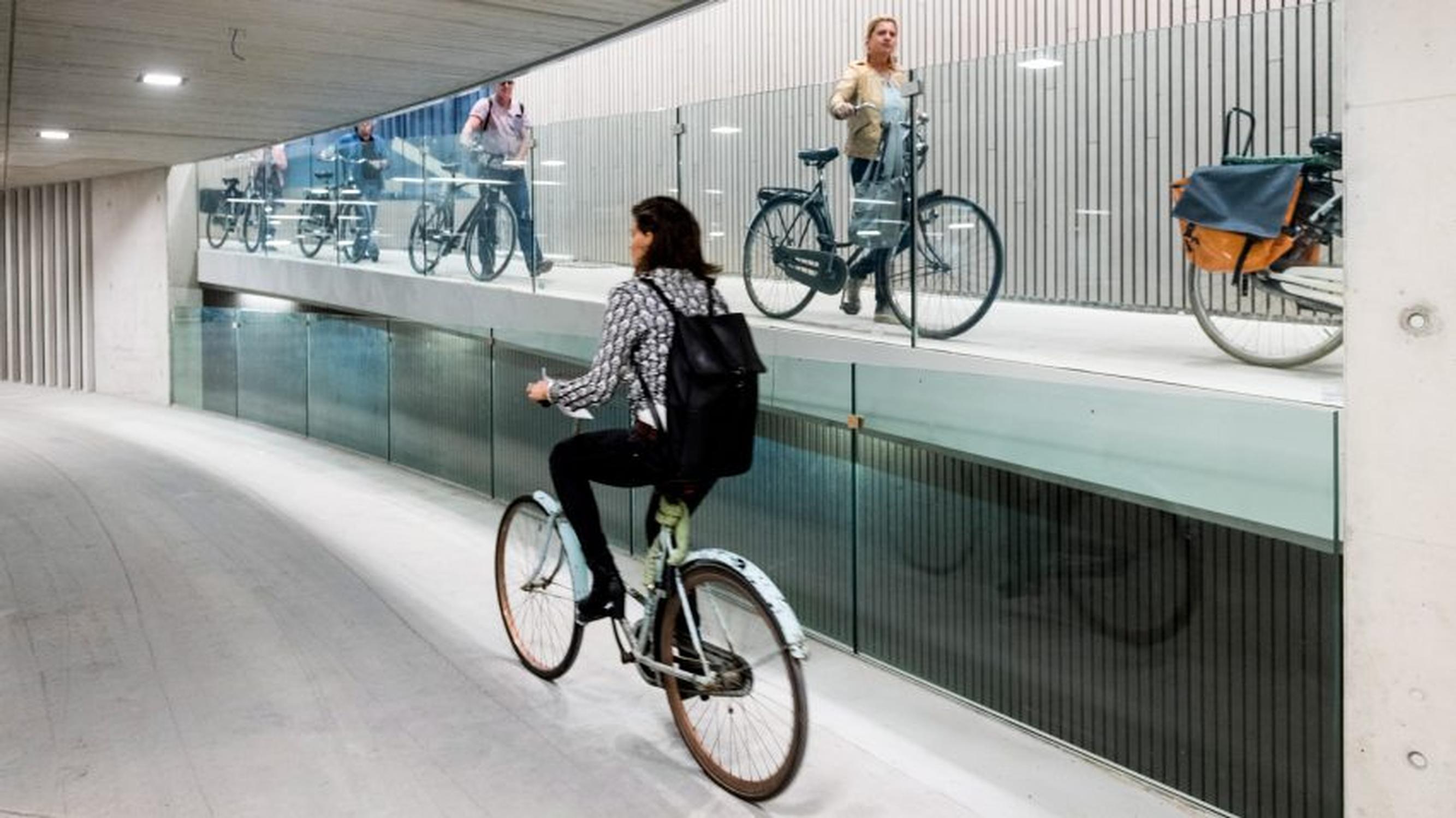 The world's biggest bicycle parking in the world has been created in The Netherlands. The facility at Utrecht's central railway station has space for over 12,500 bicycles.
The three-storey Utrecht Stationsstalling (Station bicycle parking garage) has taken almost five years to complete. The first section of 6,000 spaces opened in August 2017. Capacity was increased by 1,500 to 7,500 places before the final 5,000 spaces were opened on 18 August by junior infrastructure minister Stientje van Veldhoven.
Ector Hoogstad Architecten designed the project in collaboration with landscape designers Sant & Co, engineers Royal Haskoning DHV and general contractor BAM.
The facility is open 24 hours, 7 days a week. Cyclists enter and exit the underground space on a one-way system of ramps that circle the central parking spaces. Cyclists are guided to free spaces by a digital system and park using a public-transport chip card. Parking is free for the first 24 hours, and cyclists have access to a service point for repairs, maintenance, parts and accessories. The city of Utrecht employs around 40 people, including workshop staff who carry out minor bike repairs.
The €30m (£27m) facility is owned and managed by the municipality of Utrecht. It was financed by the railway company (Prorail, infrastructure management, roughly 60%), the city of Utrecht (20%) and the Ministry of Transport (20%). Nederlandse Spoorwegen (rail passenger management) and the European Union, via the CEF (Connecting Europe Facility), also contributed funding.
There is now room to park around 33,000 bicycles in the Utrecht Central Station area, of which circa 22,000 spaces are public and free for the first 24 hours. A further 11,000 bicycle parking places – funded by private investors – are set be installed around the train station to accommodate employees and visitors. And 700 public-transport bicycles, called OV-bicycles, will also be available to rent.
The former biggest cycle parking facility in the world was opened in Japan. Tokyo's Kasai station cycle park, which opened in 2008, is an underground facility where over 9,000 bike bays are serviced by 50 lifts.