So, where do you park 7,000 lorries?
Design studio Fatkin has an answer
12 October 2020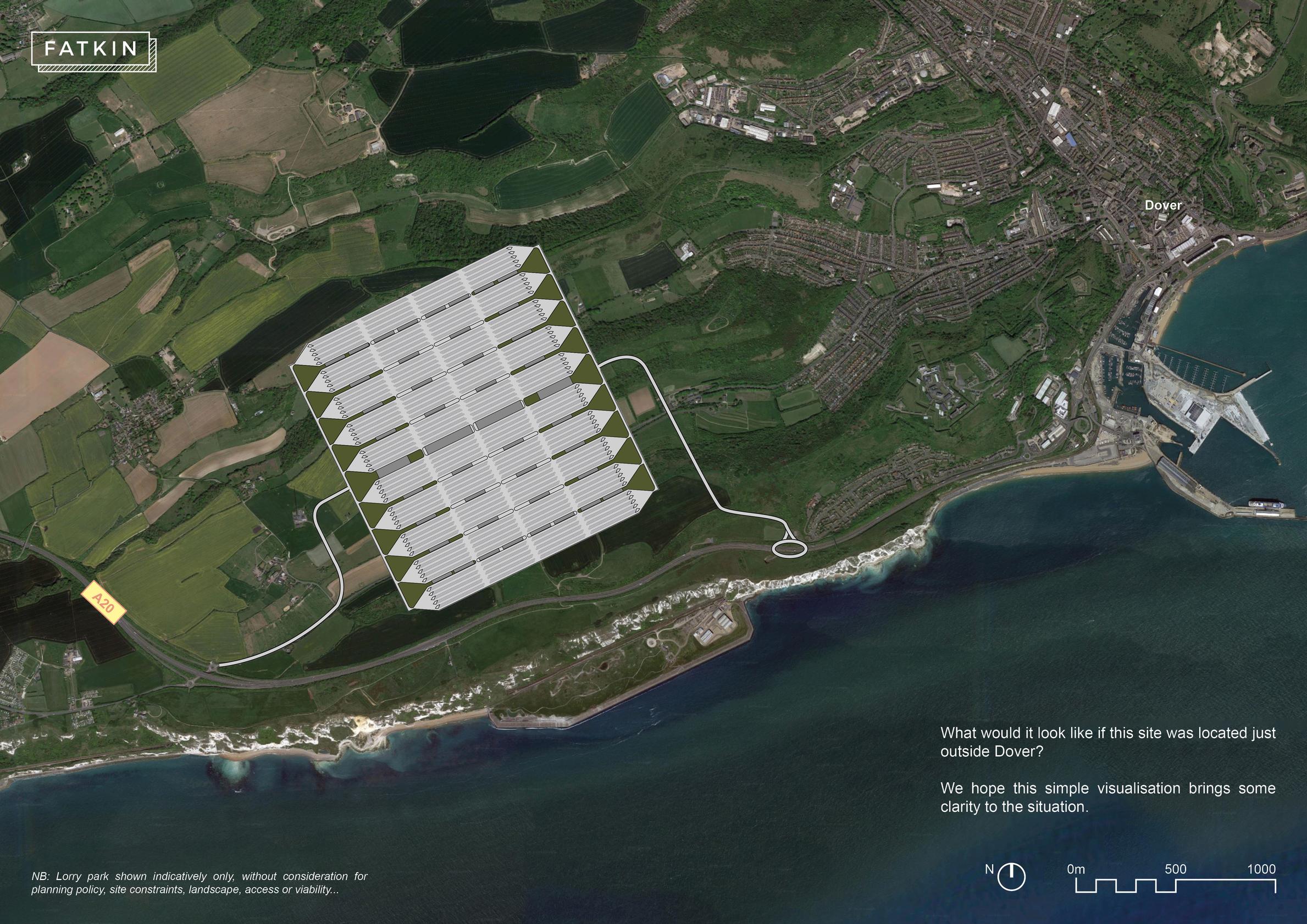 Just how much land would a 7,000-space lorry park need? Answering this question is the challenge that architectural practice Fatkin decided to answer as a fun exercise – and that may be the only occasion in which the words 'fun' and 'Brexit' appear in the same sentence.
The Fatkin team said: "Following the revelation that Brexit could see 7,000 trucks queuing in Kent, we started to wonder what this would actually look like on the ground. After all, Fatkin specialises in parking and infrastructure, and we like a challenge. We hope this simple visualisation brings some clarity to the situation."
Every picture tells a story… It turns out 7,000 lorries take up a fair bit of room. If all 7,000 lorries were queued in a single file row they would go all the way up the M20 and halfway back again. This doesn't leave much room for other traffic.
Alternatively, could the 7,000 lorries be parked up in a dedicated site? Well, they would need an area of land the size of:
280 x Wembley football pitches, or
4 x Bluewater shopping centres, or
20 x Dover Castles.
The site is split into 40 cells of 175 lorries in order to provide firebreaks and simplify management. Provision of central amenities such as gyms, cafes, hotels, retail units, fuel stations, medical facilities, vehicle service garages and a wellbeing centre would serve the transient population of up to 15,000 people. Future provision of EV charging for lorries would require a local power station, perhaps off-shore wind or tidal. Each of the cells would be provided with welfare facilities including a social lounge, toilets, showers, laundry equipment and a canteen.
What would it look like if this site was located just outside Dover? Look and see... (NB: The lorry park is shown indicatively only, without consideration for planning policy, site constraints, landscape, access or viability.)
Founded in 2014, Fatkin is an emerging architectural practice based in West London and Cardiff that has worked on a number of town centre, university, station and hospital parking projects and cycle hubs, working with companies such as HUBER Car Park Systems, Morgan Sindall and Wilmott Dixon.
Besides car parks, the practice has explored how to reimagine the use of the urban kerbside in the form of parklets. During the London Festival Architecture 2019 the Fatkin team created the London Cablet by taking a decommissioned diesel black and peeling it open to reveal a public place for sitting, relaxing and playing.
www.fatkin.co.uk