Turning streets into a Concrete Jungle
Concrete planter provides robust street measures while sustaining planting for longer
12 October 2020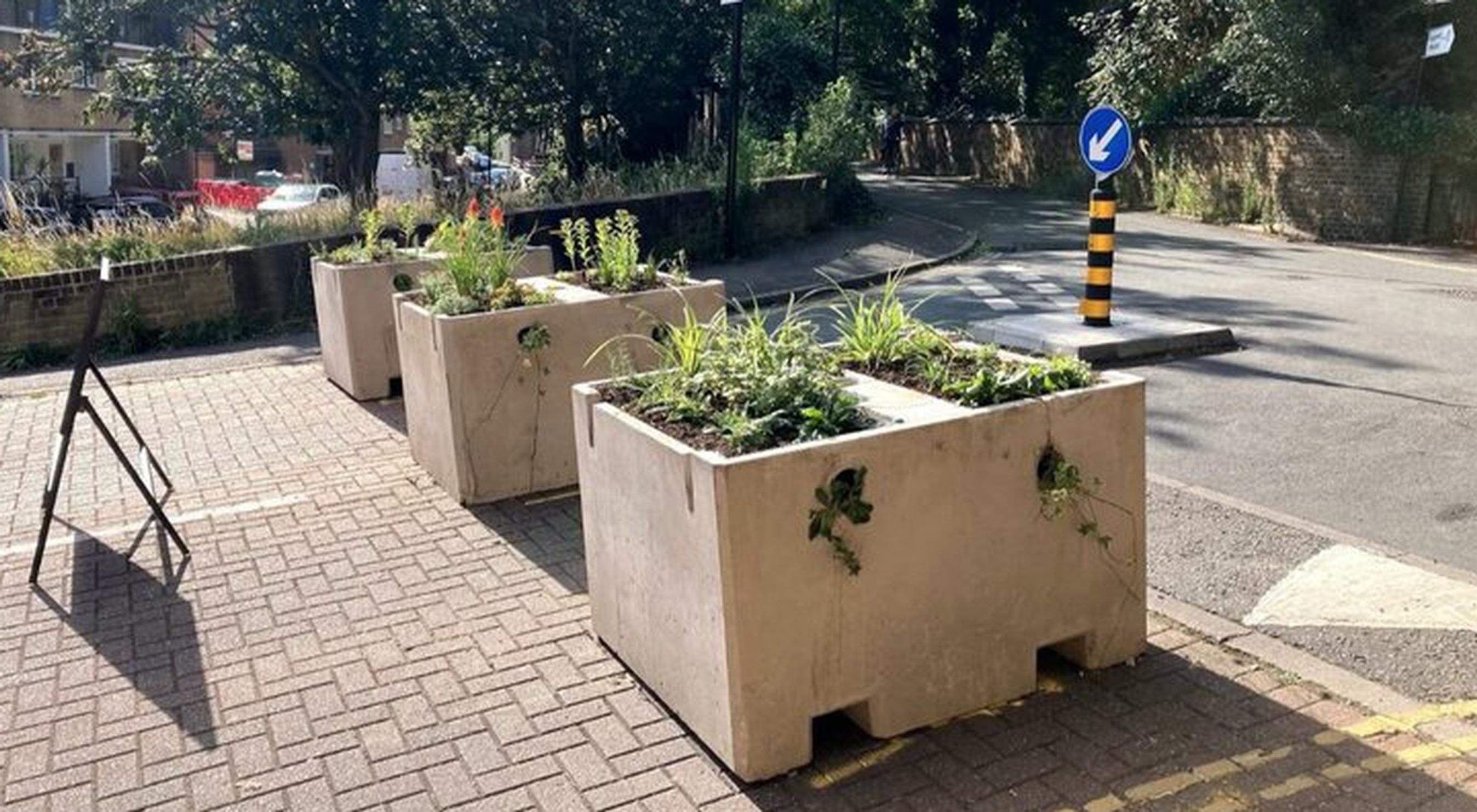 Architectural urban furniture designer Possible has created self-watering green roadblocks to help with emergency street management schemes designed to aid social distancing and create car-free spaces.
The Concrete Jungle Modal Filter Planter is a cuboid concrete block designed for use as temporary green modal filters to open streets for pedestrians and cyclists by closing them to through-traffic.
As lockdown eases, councils are working to adapt streets to provide more room for walking and cycling, and keep cyclists and pedestrians safe. Possible has devised a concrete block that acts as a planter. The use of reservoirs to trap and store rainwater means plants stay watered for up to six-weeks without rainfall. The blocks can be used to block roads to motor vehicles, while letting bikes and pedestrians through.
Leo Murray, director of innovation at Possible, said: "Many of the changes needed to keep our cities moving and our streets safe in response to the COVID crisis are the same changes we already needed to tackle the climate crisis, so the hope is that many temporary measures can become permanent once the pandemic has passed. But for people to want that, we have to make sure that emergency measures are implemented in the most appealing way possible, and that means more than rolling out a mix-and-match of plastic and concrete barriers.
"Wooden planters are one of the best ways to manage traffic, but although they are very low cost to install, they can come with a hefty and potentially off-putting maintenance bill for cash-strapped councils. They can also be vulnerable to drivers of larger vehicles frustrated at having their passage barred. The Concrete Jungle blocks combine the best of both approaches, being cheap to make and maintain, yet still bursting with life, while being impossible to push aside, even with an SUV."
The Concrete Jungle was developed by Leo Murray working with chartered arboriculturist Ben Rose, founder of Stockholm Tree Pits, and Dr Karen Liebreich MBE, founder of voluntary urban greening organisation Abundance London. The inventors said: "It is imperative that when streets are opened up for pedestrians and cyclists by being closed to motor traffic, this is done in the most appealing way possible. The experiences people have of sudden changes to their neighbourhoods to fight the pandemic will be critical to their potential future support for such changes to become permanent.
"In an ideal world, temporary road closures would be implemented with planters; heavy, bulky beds filled with soil and flowers and shrubbery, which give a sense of what an improvement it might be to have patch of greenery there permanently. However, a decade of austerity and a looming recession means local authorities may be unable to take on any new ongoing costs like the maintenance liability of keeping roadside planters watered."
The Modal Filter Planter has been regarded to be pragmatic compromise between brutalist concrete blocks and full-scale planters, which require lots of maintenance needed. Unlike planters which require very regular watering through dry spells in the summer, the Modal Filter Planters should be able to retain enough rainwater in their reservoirs to keep plants thriving for up to six-weeks with no rain.
It incorporates two large planting recesses with sloping sides that funnel rainwater into Permavoid reservoirs embedded beneath the soil. This enables the use of natural rainfall to irrigate the plants. The planter stores rainwater in the reservoirs to carry the plants through dry periods. There are overflow drainage slots at the reservoir boundary to prevent waterlogging, while wicking capillaries continue to supply water to the roots of the plants between rainfalls.
The Possible team worked with fabricator Elite Precast Concrete to adapt its Kentledge security roadblock, and with water management company Polypipe to incorporate its Permavoid water storage system.
The block features forklift slots in the base and a lifting eye in the centre to allow them to be deployed and removed using a variety of different lifting equipment.