Energy Superhub Oxford project installs first electric vehicle chargers
31 August 2020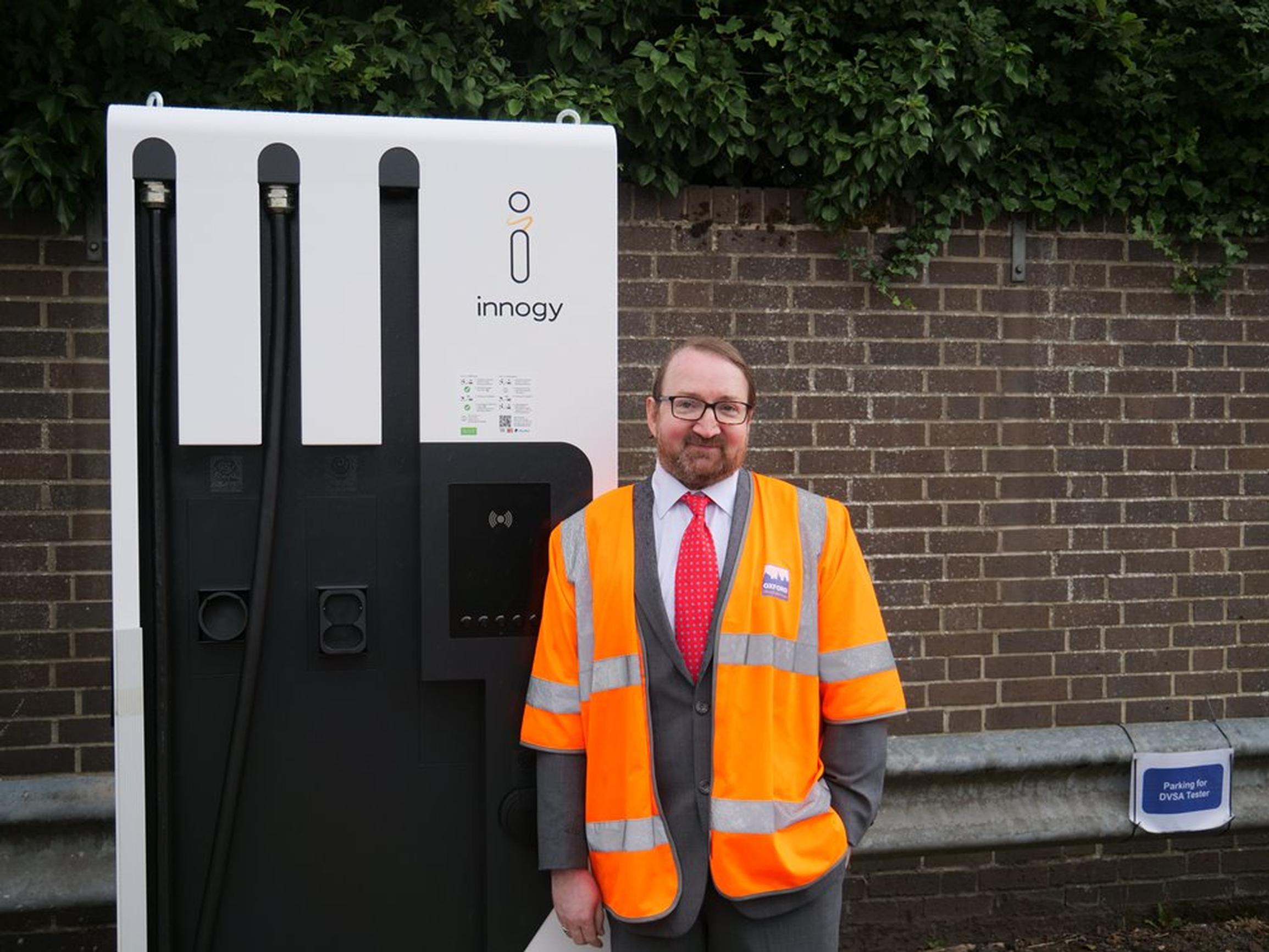 The Energy Superhub Oxford project has installed its first electric vehicle charging points. What is the city's first 50kW rapid electric charger is now powering the fleet of electric vehicles run by the Oxford City Council's wholly owned ODS company.
The Innogy eMobility rapid charger is capable of replenishing a fleet vehicle battery up to 80% battery capacity in as little as 40 minutes. A further 32 fast 22kW chargers have also been installed at ODS, marking a significant milestone in the ESO project.
The chargers have been installed at ODS's depot in Marsh road in Cowley as part of the Energy Superhub Oxford project, led by Oxford City Council and Pivot Power, an EDF Renewables UK company.
In the future, the chargers will be connected directly to ESO's EV charging network, which will be optimised alongside a hybrid battery that will deliver power for rapid EV charging at key locations around the city, including a public superhub at the Redbridge park and ride site.
Owain Pearce, transport manager for ODS, said: "These chargers, the vehicles that will use them and the information they deliver, will allow us to demonstrate how through research and real life actions, electric vehicles can form part of a smart, local energy system that accelerates Oxford's journey to zero carbon and benefits the whole community."
ODS is responsible for delivering all of the council's statutory services currently provided to residents and business including waste and recycling, street cleaning, car park operations, parks maintenance and road repairs as well as additional services including garden waste collection, pest control, vehicle MOTs and building services.
ODS currently has 330 vehicles in its fleet, and is aiming to make a quarter of them electric by 2023. In total, 34 new electric vehicles will arrive this year including cars, a street sweeper, an excavator, a mix of different sized vans and a refuse collection vehicle. In April the city council took the delivery of its first electric vehicles for the project.
Energy Superhub Oxford is a collaboration between Oxford City Council and Pivot Power (an EDF Renewables UK company) which also includes Habitat Energy, Invinity Energy Systems (previously redT energy), Kensa Contracting and the University of Oxford.
The project will see the trialling a 50MW hybrid battery system to support the acceleration of Oxford's electric vehicle charging capacity and fleets, and to power ground-source heat pumps for residential properties.
The £41m Energy Superhub Oxford project, which was announced in April 2019, received £10m from the government's Prospering from the Energy Revolution Challenge – of which Oxford City Council was awarded £1.6m for its role in the project.
Cllr Tom Hayes, cabinet member for Zero Carbon Oxford, said: "It's a great moment for Oxford and the City Council to see this new charging point going in, it's a cornerstone event in the Energy Superhub Oxford project which brings significantly more power to the city. Every vehicle powered by electricity helps to reduce the council's emissions and address our climate breakdown and air pollution problem. The chargers' smart technology will also help to achieve smarter ways of working which should benefit the council as a whole
"ODS has been an advocate of green transport for the last decade and whilst we have been slowly growing our electric fleet this project has given us the opportunity to rapidly increase that number and enabled us to include some specialist vehicles. We have already been operating a full electric vehicle test centre for the last two years for the ODS fleet and private customers so this will only improve as electric fleets increase."