Chichester cycle way completed
West Sussex progresses plan to create 21kms of temporary cycle lanes
30 August 2020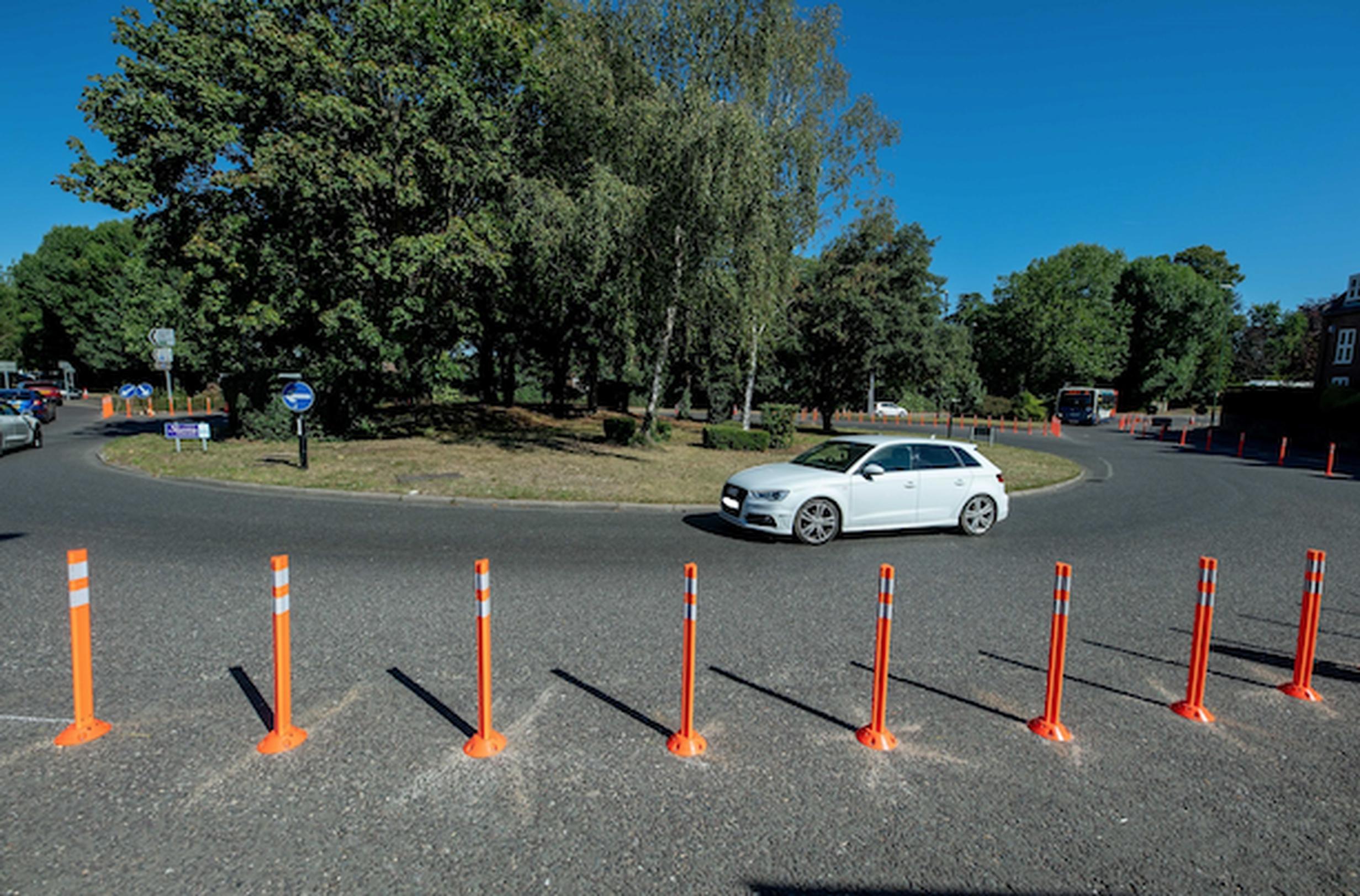 Work is progressing on the creation of temporary cycle ways across West Sussex, with a route being completed in Chichester and one planned for Shoreham being amended.
The county council is creating seven trial schemes, paid for by the Government, that aim to redistribute road space and put cycling on a par with car traffic.
The 21kms of cycle lanes are being created using a combination of traffic segregation 'wands', road markings and signage.
Construction work is currently underway on temporary cycle routes in Crawley and Worthing cycleways, and work is about to start on one in Shoreham.
A county council spokesperson said: "Once built, the temporary cycleways will be closely monitored to ensure they are having a positive impact on local travel: this will include how well used they are by cyclists and any positive or negative impact on congestion, safety and air quality. Adjustments will be considered and, if the schemes do not work, then some or all may be removed."
Chichester's new cycleway is now open. It starts near St Richard's Hospital, Spitalfield Lane, and ends at Southgate. The final element of the scheme – the introduction of the 20mph limit and the installation of signage – was completed on 25 August.
The council spokesperson said: "We will be encouraging cyclists to experience the Chichester cycleway for themselves. It will be closely monitored to see how well used it is and any positive or negative impact on congestion, safety and air quality. As with the other six schemes, adjustments will be considered and, if it does not work, it may be removed. This will be a chance for cyclists to show how much they want the cycleway to stay: once open it will be a case of 'please use it or risk losing it'."
A free, bicycle "health" check marked the completion of the Chichester temporary cycleway. A "Dr Bike" gazebo was set up in the Northgate car park, near the new cycleway, from 11am to 1pm. Experienced cycle trainers and mechanics were on hand to check brakes, gears, tyre pressures and lights.
Following discussions with Adur District Council, the design of Shoreham's temporary cycleway scheme has been amended. Adur District Council supports the idea of a cycleway on the Old Shoreham Road but was not in favour of the proposed bus/cycle lane on the eastern section. The proposed cycleway section east of the Holmbush roundabout, on the A270, Old Shoreham Road, has now been removed from the scheme: the rest of the cycleway, proposed as part of emergency measures in the COVID-19 crisis, will be constructed.
A West Sussex County Council spokesperson said: "Brighton & Hove City Council is considering a scheme that could link to ours, on the A270, as part of its Tranche Two bid to the Department for Transport's Emergency Active Travel Fund. It therefore makes sense not to implement the eastern section on the A270 now but to consider it as part of Tranche Two, or further bidding rounds, working with Brighton & Hove City Council. It should be emphasised that there is no certainty the Tranche Two bids will be successful. However, if they are, and following further consultations with stakeholders, the potential is there to create a route along the A270 to Brighton city centre."
Work is due to start week commencing 31 August.
A revised, illustrative map for the Shoreham temporary cycleway scheme will be published here www.westsussex.gov.uk/popupcyclelanes
Statutory Guidance issued by Department for Transport on 23 May directed councils to introduce these measures. Transport Secretary Grant Shapps said at the time: "The Government therefore expects local authorities to make significant changes to their road layouts to give more space to cyclists and pedestrians. Such changes will help embed altered behaviours and demonstrate the positive effects of active travel."