North Tyneside's coastal cycle lane upgraded
30 August 2020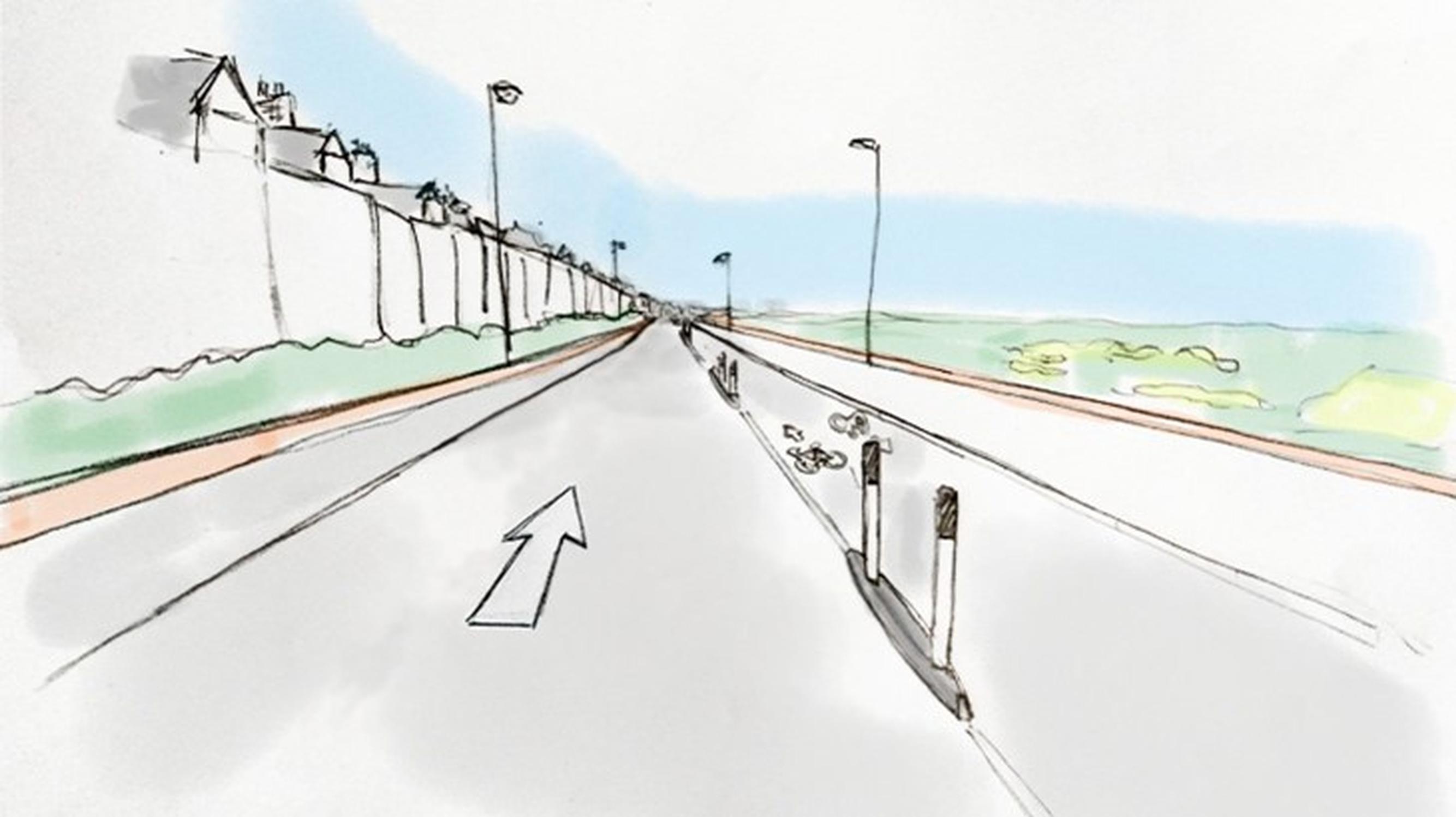 North Tyneside's temporary coastal strip cycle lane has been upgraded. North Tyneside Council put the two-way cycle lane in place between Whitley Bay and Tynemouth as part of a series of measures to ensure people can travel around the borough safely and feel confident and secure when visiting town centres, busy shopping areas and along the coast while social-distancing is required.
The two-way cycle route runs along the coastal road between Whitley Bay and Tynemouth. The works will allow the promenade and footpaths to be used solely by pedestrians.
The council has identified 'pop-up' cycle routes to link the coastal strip plans to the nearby town and district centres.
There are also plans to create more space for pedestrians along busy town centre streets to support local businesses and observe social distancing. These include Park View in Whitley Bay, High Street West in Wallsend, Nile Street in North Shields and Front Street, Tynemouth.
The route has been designed by Sustrans and now forems part of Sustrans' National Cycle Network. Sustrans is including all the new measures on its Space to Move map.
Jonah Morris, Sustrans' Partnerships Manager in the North East, said: "We know that transport choices will change as a result of the COVID-19 pandemic. And current space arrangements do not currently allow for social distancing between people who walk and cycle. Many people are returning to cycling for leisure and for utility journeys.
"Giving people who cycle the space to ride whilst protected from motor vehicles and giving additional space to people who walk will help people move around the coast in a safe manner."
To create the 4km cycle lane as quickly as possible and allow social distancing by giving space on the promenade back to people walking, cones and barriers have been used while the council awaited delivery of the upgraded, removable, bolt down equipment, which will vastly improve the appearance and is less intrusive.
The new bollards, islands and orcas are much more in keeping with the environment along the coast. The previous barriers along the cycle lane will be used for other projects around the borough. The new street furniture can also be removed and used elsewhere if needed.
Council figures show that up to a quarter of all trips (not including people walking) along the seafront are by bicycle with more than 1,000 cyclists using the new lane on weekdays, increasing to over 1,500 at weekends.
In addition, before the cycle lane was introduced half of cyclists were using the shared promenade, putting pressure on the limited space there. This has now fallen to 10% as people adjust to the changes, and continues to reduce with 84% of all cyclists now using the cycle lane.
Cllr Carl Johnson, Cabinet Member for Environment and Transport, said: "It's important to remember that the main reason we brought this new cycle lane in was to ensure everyone's safety by creating more space while social-distancing measures are in place and public transport capacity is reduced.
"It's great that it has proved so popular, with so many people using it and enjoying the benefits that cycling can bring, not only for your own health and wellbeing but also for the environment.
"We know that the cones and barriers don't look great but it was important that we got the cycle lane into place as quickly as possible so that people walking along the promenade could have more space, particularly during the busy summer season."
The temporary cycle lane runs along the southbound section of the road along the coast and will remain as long as it is required to achieve social distancing, in line with Government guidelines. The road has become one-way, northbound, to traffic.
The council has continued to engage with local businesses and residents directly affected by the changes and will closely monitor their impact. People are encouraged to provide feedback following the measures being put into place as these will be considered as part of an ongoing review. Anyone wishing to comment can email the council or use the interactive Sustrans Space to Move tool.