Rescuing the mountain
Snowdownia National Park, Gwynedd Council and North Wales Police work together
12 August 2020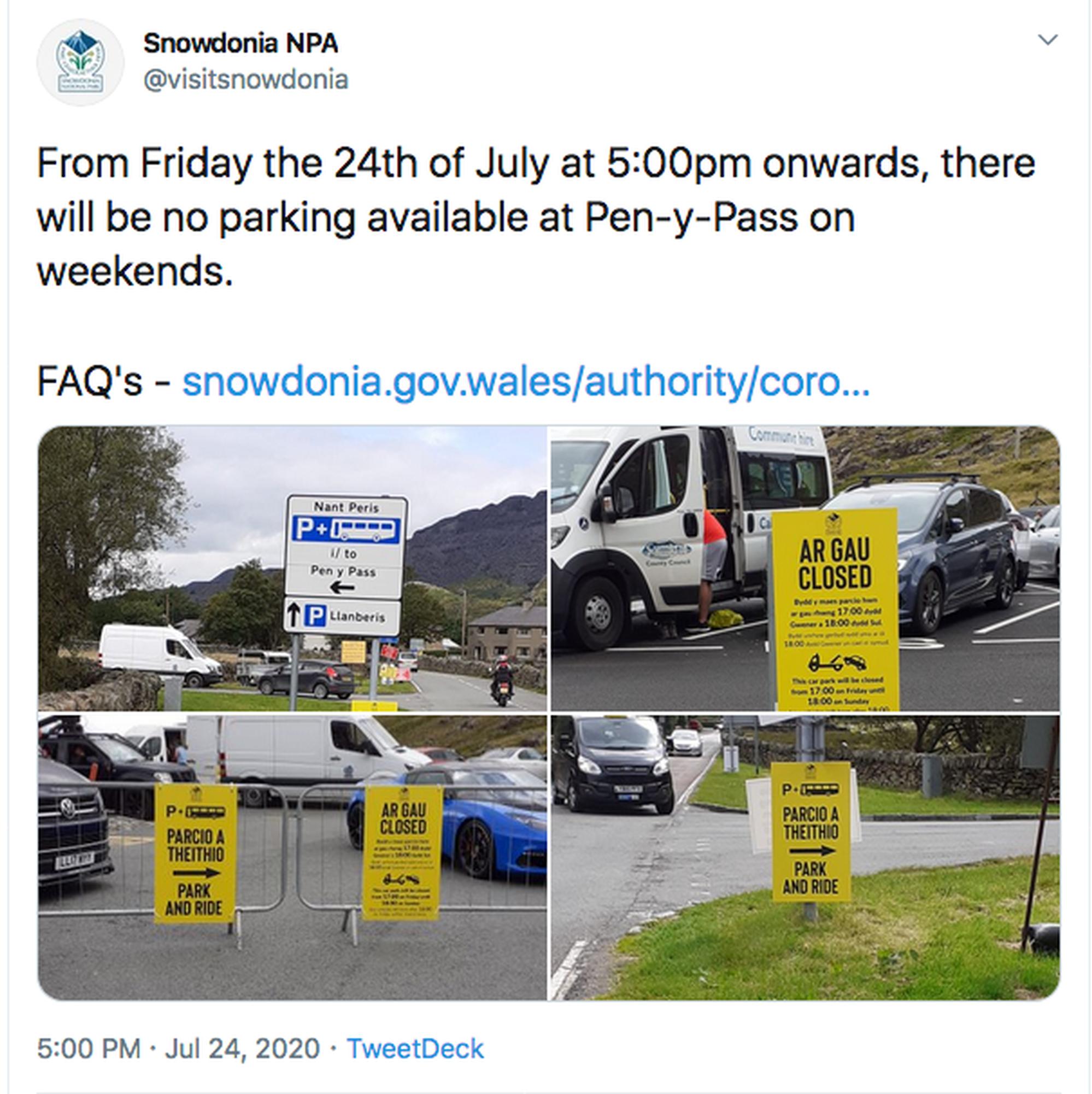 National parks and other scenic areas in Wales have been experiencing problems caused by vehicles blocking access for emergency services, as well as littering and the lack of toilet facilities. The Welsh national parks closed in March as part of coronavirus lockdown measures. Walkers and hikers were allowed back when the Welsh Government's "Stay local" lockdown restrictions were eased on 6 July.
Following a spate of irresponsible parking in the Pen-y-Pass area of Snowdonia last month, public authorities in this mountainous area of North Wales have worked together to implement emergency measures to address problems such inconsiderate motorists parking illegally and blocking one of the main routes skirting the foot of Snowdon.
Chaotic scenes in the area during the weekend of 18-19 July saw 180 penalty fines issued to badly parked cars. On Monday 20 May, police turned scores of vehicles away from close to the base of Snowdon. Cars were also towed away after motorists were warned against parking illegally in Snowdonia National Park.
Gwynedd Council, Snowdonia National Park and North Wales Police have now agreed a joint approach for the coming weeks to ensure motorists park responsibly.
During the summer, National Park, council and police personnel will be on duty in the area at weekends to remind motorists of their responsibility. Signs warn motorists that those who flout the rules are liable to be towed by the police and cones discourage parking on the highway. Visitors are also being encouraged to use of a special park & ride service.
Gwynedd Council leader Cllr Dyfrig Siencyn said: "Our message for people who intend to visit Snowdonia is to plan in advance before they set-off so that they can do so safely and responsibly. We are urging motorists to make full use of the car-parking facilities available at Nant Peris and Llanberis as well as at nearby Pen-y-Gwryd and to check the National Park's website for up-to-date details of their car parks.
"The fact is that motorists like those who parked illegally at Pen-y-Pass endanger the lives of other drivers, cyclists and pedestrians and cause serious access issues for emergency service vehicles, including mountain rescue volunteers. We want people to be able to enjoy our stunning mountain ranges safely. Those who ignore the message by parking illegally on the highway on Snowdonia's mountain passes will face an on-the-spot fine or even being towed away by police.
"Walkers are also encouraged to use the regular Sherpa bus service which will be running every 15 minutes from 6.45am from Saturday onwards and which links all the main Snowdon car parks with the various summit paths. This will help us to control the traffic on these narrow mountain routes."
At weekends, the car park at Pen-y-Pass will operate only as a drop-off site for buses and taxis to reinforce the message that walkers should park in Llanberis, Nant Peris and Pen-y-Gwryd, and use the regular Sherpa bus services. Traffic and parking in other parts of Snowdonia National Park are also being monitored and visitors are being urged to make use of local park & ride services, which have been increased.
Emyr Williams, chief executive of Snowdonia National Park Authority, said: "These urgent measures will help to tackle the immediate challenge and we will continue to monitor and adapt as matters progress. Such a situation confirms the urgency required of further progressing the existing partnership work on developing a sustainable alpine style model of transport, which involves a radical re-think in the way the area is experienced by visitors and local residents."
Superintendent Neil Thomas of North Wales Police, said: "We are working closely with our colleagues at Gwynedd Council and the National Park to help reduce the risk to walkers, cyclists and other road users. The measures have been put in place to maximise public safety. This is a 60mph area and the irresponsible and dangerous parking risked lives and also would have prevented emergency vehicle access.
"Whilst we appreciate that people are getting out and about more now that the travel restrictions have lifted, we are urging people to be responsible and think about where they park and to make full use of the park & ride facilities that are available. Anybody found to be parked on the clearway or causing an obstruction will have their vehicle removed at their own expense."