A picture of life after lockdown
Traffic levels are creeping back up as lockdown is relaxed. But John Siraut says local government could dramatically improve the streetscape by deploying a range of traffic and parking measures
12 August 2020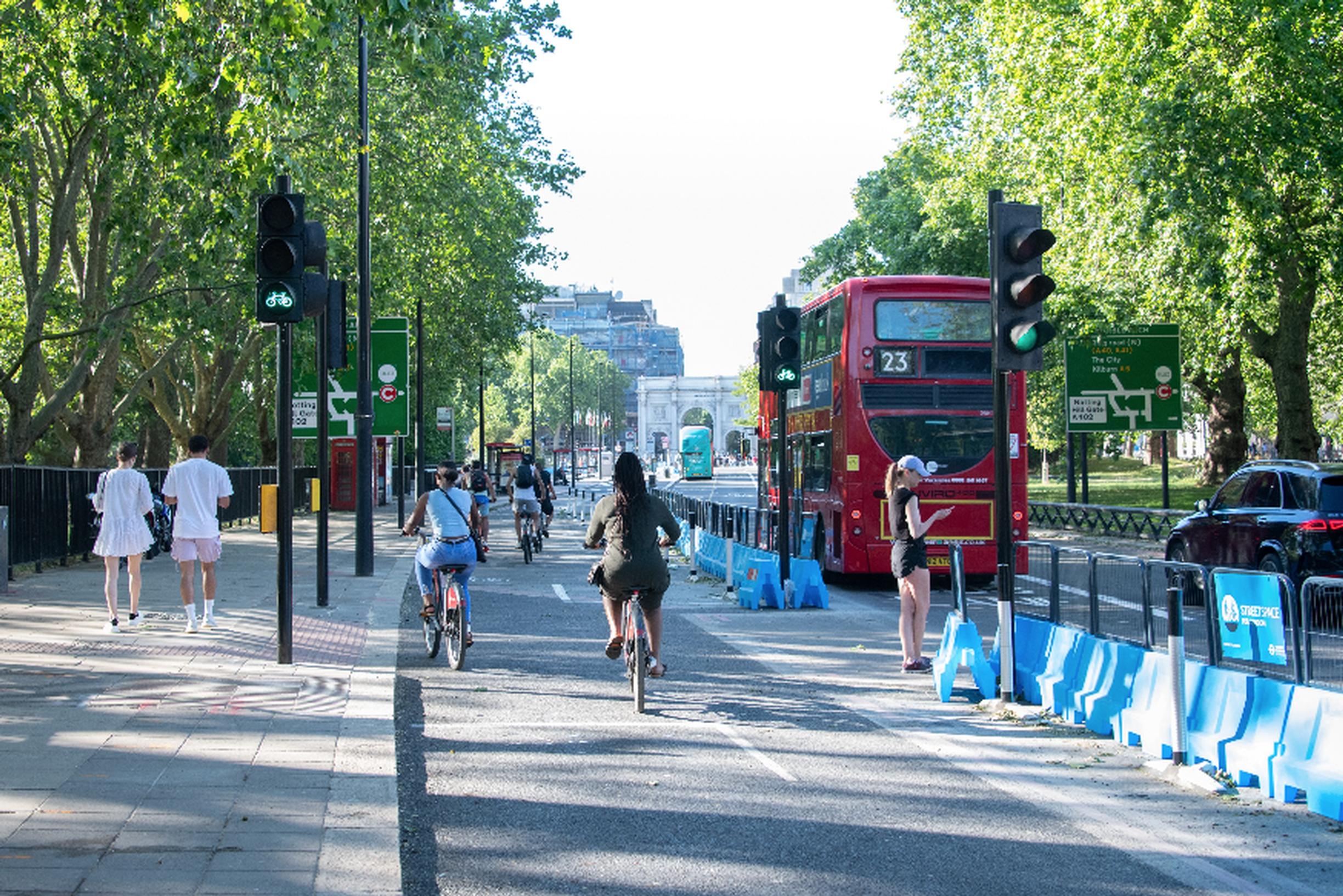 COVID-19 has brought into sharp relief our relationship with the automobile, the way we travel and how we view our high streets. Local authorities now face a clear choice between returning to a pre-COVID world or ushering in a radical new approach to mobility, believes John Siraut, director, economics, at Jacobs. "What we will see going forward is a divergence of opinion between two different viewpoints," said Siraut at the 'Clearer Roads, Cleaner Air' webinar, organised by Landor LINKS as part of the Traffic & Parking series. "One is that the economy needs to recover rapidly and, therefore, anything goes and we need to get cars back into our town centres and reduce parking charges. That way leads us back to where we were before with pollution and all the other problems and congestion."
Radical solutions
The other choice, Siraut suggested, involves local authorities embracing a range of radical solutions to stop a return to the old ways. This could be the moment for councils to take space away from motorised vehicles, promote more walking and cycling in town centres, in a bid to address both climate change and air
pollution in city centres.
"It will be interesting to see which argument wins out and which of those towns and cities have performed best. Will it be those that have gone back to life as it was before or those who seize an opportunity to do something completely different?"
After lockdown started on 23 March, traffic on the road network dropped 70%, Siraut noted. "What we have seen over the last couple of months is a steady increase in traffic on the roads. HGV traffic is almost back to normal levels, light goods vehicle traffic is slowly getting there, boosted by home deliveries and car use is two-thirds to three quarters of its previous use.
"By contrast, bus use levels still remain very low, at about 20% of pre-lockdown levels. Cycling levels, meanwhile, fluctuated dramatically during lockdown driven mainly by leisure traffic at weekends and the warm weather in May."
Cycling levels are currently still about 50% higher than normal levels. Walking levels, meanwhile, have dropped to half of what it was in the early months of lockdown.
Parking activity is still about 50% down on normal levels, Siraut observed. "In other European countries parking levels are almost back to where they were pre-COVID."
Research data from Dublin shows that evening and overnight traffic fell the most. This is representative of what happened in towns and cities across the UK, said Siraut. "In Ireland, as in the UK, the evening economy has been very badly hit – virtually all the pubs closed down early, before lockdown came in."
By mid-July morning peak traffic had slowly crept back to around two-thirds of its previous level. "Off-peak traffic is starting to increase, not quite back to normal levels, but is still growing very strongly. So we have seen traffic levels increasing fairly steadily since lockdown. As the restrictions are lifted, traffic flows have been increasing significantly.
"The pandemic gave us one of the most successful public transport marketing campaigns ever," said Siraut. The core message was unequivocal: "Need to travel? If possible walk or cycle or go by car."
This succeeded in getting people off public transport to the extent where even the NHS was telling people to drive, Siraut said. "We are dealing with an obesity crisis in the UK, but still we are telling people to get in their cars and drive."
Some councils temporarily scrapped charges in their car parks to encourage people to drive. "The result of all this has been an increase in the amount of pollution on our streets. So, when lockdown came in there was a massive reduction in the amount of traffic and hence the amount of pollution, but what we are seeing is a steady increase back, not quite to the usual levels of pollution but getting
Clearing the air
Figures from early July revealed that since non-essential shops re-opened pollution levels in town and city centres have started to rise. "One of the biggest changes we saw during lockdown, especially for anybody living in a major urban area, was a massive improvement in air quality. I live relatively close to central London and just being able to see a skyline completely clear, with no haze, was quite an impressive sight."
There is a real risk that pollution will return to pre-lockdown levels as we resume old habits, Siraut warned. "We shouldn't forget that road traffic is a key source of emissions. It is a key pollutant that occurs in our cities and it is a situation that is slowly getting worse."
Siraut welcomed the shift to electric vehicles but also noted the enduring popularity of SUVS, "which are bigger, heavier vehicles using more fuel". He added:
"We shouldn't forget that pollution caused by vehicles isn't just to do with tailpipe emissions. There is also brake dust and tyre pollution."
He cited the congestion charge in Bergen, Norway, where previous exemptions for electric vehicles have now been removed because "actually the pollution had been caused by the congestion, and that includes electric vehicles".
Looking closer to home, Siraut said: "London is going the same way, with exemptions to be removed from low emission vehicles in due course. Having a lot of vehicles in our city centres is not a good thing from an air quality perspective."
But this poses a dilemma for local authorities: how do they attract people to town and city centres to support local economies, providing additional capacity for people to get there when they can no longer use public transport, without clogging the streets with cars? "We can't get as many people into our cities in cars alone, they used to able to get there by all modes beforehand," Siraut explained.
"We are seeing a worldwide phenomenon where road space is being taken away from cars and given to other modes of transport, and this has been done very simply and very easily in many cities by putting down a load of traffic cones and segregating cars away from cyclists. There are lots of examples around the world of this occurring and this is why we have seen an uptake in cycling – people now regard it as a safer and easier way of getting around and by introducing segregation it has allowed people to move around more easily."
It is important that transferring space from motor vehicles to other modes of transport is properly executed, said Siraut. Installing swathes of barriers may actually increase "severance", stopping pedestrians and cyclists from crossing a road.
"It can also cause problems with how to deal with loading and unloading when parking spaces are taken out. A number of shops and retail activities are complaining about loss of trade, which is often the case whenever parking restrictions are introduced."
Parklets for the people
The challenge for towns and cities is how to create more attractive places while maintaining economic activity. One way to do this is to allow restaurants and cafes to turn road space into outdoor areas with tables and chairs. "This keeps ours cities vibrant while removing vehicles and improving the air quality."
The streetscape can be further enhanced by parklets taking over kerbspace. Parklets have been a popular feature at annual PARKing Day events around the world but are now increasingly becoming a permanent fixture. "Providing outdoor seating space has been a response to the pandemic, offering a way to allow our restaurants and cafes to function, with social distancing. The easiest way is to give them more outdoor space."
This might involve the removal of some parking spaces though some parking spaces should remain. Traditionally, people have gone to great lengths to avoid parking charges, but people are now willing to pay for the convenience to park as near to their location as possible, Siraut believes.
"Hopefully, people will go back to using public transport, but in the meantime it makes sense to use parking spaces to support economic activity rather than just leaving a car sitting in a space for a few hours. I think the future is quite clear; do we want a place where everything is centred around cars, where cars are the dominant factor in the landscape, taking away space for pedestrians and the associated problems with air quality? Or do we want to see our cities as places where people can still get around by walking and cycling in a clean environment?"
The 'Clearer Roads, Cleaner Air' webinar can be found on the Landor LINKS Live YouTube channel