PM shares worries over rising European coronavirus levels
Prime Minister defends Spanish quarantine decision that caught out holidaymakers, including Transport Secretary
29 July 2020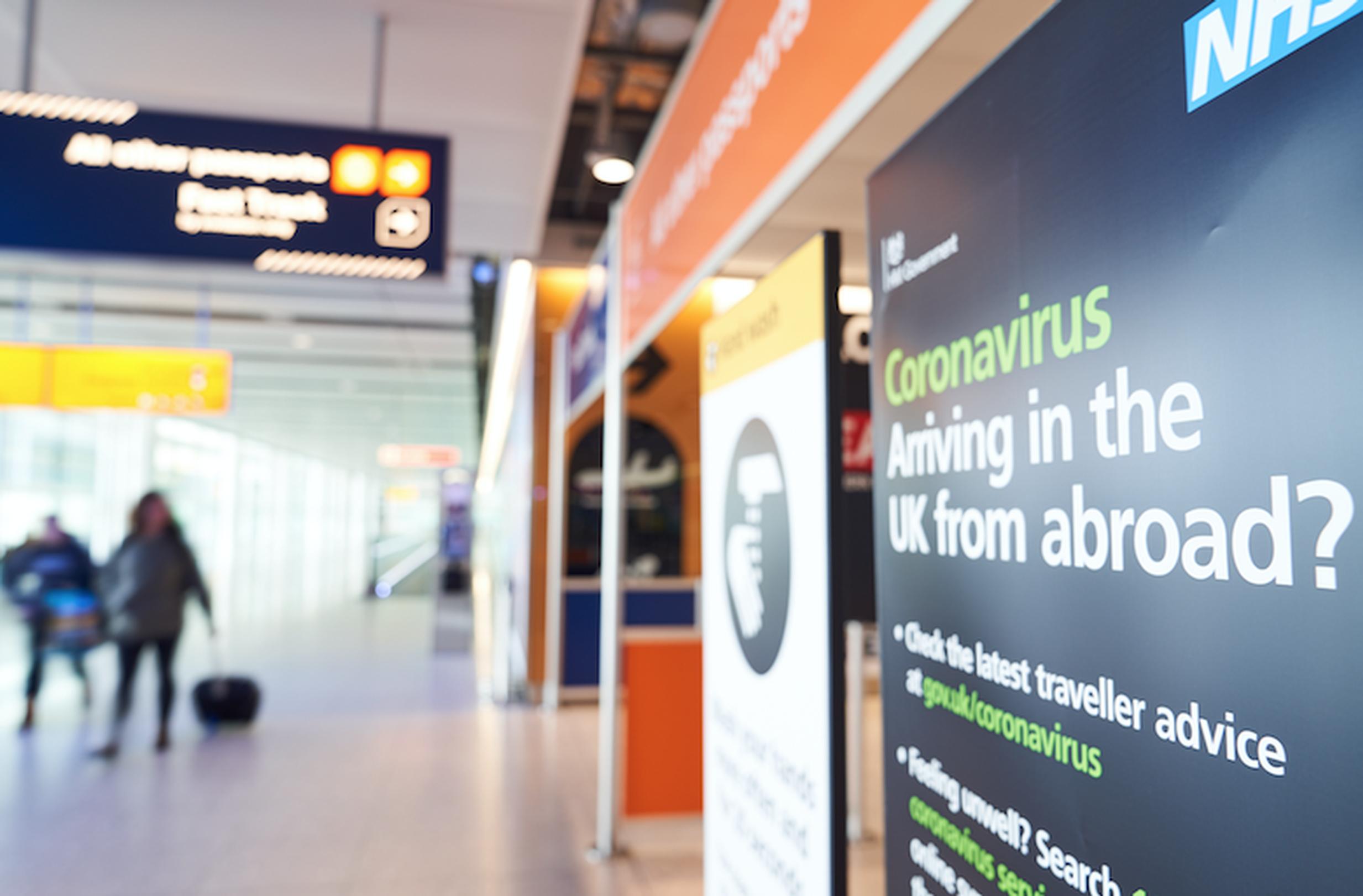 Prime Minister Boris Johnson has expressed concerns that there are signs of a "second wave" of COVID-19 cases building in Europe. The warning was made as the Prime Minister defended the re-imposition of quarantine rules on travellers arriving from Spain over the weekend.
The Foreign and Commonwealth Office is currently advising against all but essential travel to Spain, its Balearic Islands and the Canary Islands, including the popular holiday destinations of Tenerife, Lanzarote, Gran Canaria, Ibiza, Majorca and Menorca.
Speaking during a visit to Nottinghamshire, Johnson said: "What we have to do is take swift and decisive action where we think that the risks are starting to bubble up again. Let's be absolutely clear about what's happening in Europe, amongst some of our European friends, I'm afraid you are starting to see in some places the signs of a second wave of the pandemic."
Johnson said if the UK did see signs of a second wave in other countries, it was the Government's duty to stop returning travellers returning spreading the virus. "It's vital that when people are coming back from abroad, if they are coming back from a place where I'm afraid there is another outbreak, they must go into quarantine," he said. "That's why we have taken the action that we have and we will continue, throughout the summer, to take such action where it is necessary."
Asked about reports in the Daily Telegraph that the 14-day period could be reduced, the Prime Minister said: "We are always looking at ways in which we can mitigate the impact of the quarantine. At the moment you have got to stick with the guidance that we are giving, we have given the guidance now about Spain and about some other places around the world."

One corridor closes… others open
The travel corridor system sees the Government publish a list of countries that can be visited without needing to quarantine on return to the UK. People arriving in the UK from countries not on the list must self-isolate for 14 days.
The transport minister, Baroness Vere, raised expectations of such a change when she told the House of Lords that the Government was looking at regional air bridges. "For the time being we are taking the approach by country, but it is the case that we could put them in place for regions in the future," she said.
However, Cabinet sources have been reported as rejecting suggestions that border policies would change in time for the remainder of the summer. The Prime Minister's comments seem to make further restrictions more likely than relaxations.
However, the fluidity of the situation is evident in that while Spain has been excluded from the list, on Tuesday, the UK Government has just added Estonia, Latvia, Slovakia, Slovenia and St Vincent and the Grenadines to the list of countries that are exempt from the quarantine rule.
Unexpected and unwelcome rule change
The travel corridor with Spain was shut down at midnight on Saturday 26 July. Among those caught up in the change of rules was the Transport Secretary, Grant Shapps, had just started a family holiday in Spain when the travel advice changed so will have to self-isolate on his return.
The timing and extent of the restrictions placed on travel to Spain have been criticised by the aviation and travel industries. It has led to holiday cancellations and has caused uncertainty over future travel. For example, the major travel company TUI has cancelled holidays to Spain's Balearics and Canary Islands until 4 August after the UK extended its advice against non-essential travel to Spain to include its islands. Airline easyJet has also cancelled its package holidays.
Airlines such as British Airways and Ryanair are still operating flights to Spain, enabling people who can quarantine to travel. "The schedules remain in place," Neil Sorahan, Ryanair's Chief Financial Officer, told the BBC. "As things stand, the market remains open, the schedules remain in place and we continue to operate in and out of Spain as normal."
The Spanish PM complains
Spain's Prime Minister has criticised the imposition of a 14-day quarantine on everyone arriving in the UK. Pedro Sánchez said tourists in most Spanish regions would be safer from coronavirus than in the UK and was hoping Britain would rethink its move.
In an interview with the Telecinco TV network, the Spanish PM said the UK had made an error by considering the infection rate for the whole country, he said. Sánchez said that 64.5% of the new cases registered are in two territories – Catalonia in the north-east and the neighbouring region of Aragón – and that in most of Spain the prevalence of COVID-19 was far lower than numbers registered in the United Kingdom.
The rate of infection in Spain is 35.1 cases per 100,000 people, while the UK is at 14.7, according to the latest figures from the European Centre for Disease Prevention and Control. Data up to 19 July suggested there were far lower rates of infection in the Balearic and Canary Islands than in mainland Spain.
Sánchez said his government was talking with British authorities to try to get them to reconsider the decision. Until the situation changes, Sanchez advised against all but essential travel to the whole of Spain.
Shapps caught up in confusion
Transport Secretary Grant Shapps has been caught up in his own department's rule change while on holiday in Spain. The cabinet minister travelled to the country with his family on Saturday morning for a summer break. But just hours later, the Department for Transport confirmed all travellers returning to the UK from Spain would have to quarantine for 14 days, due to a spike in cases in the country.
Shapps flew out to Spain aware that a quarantine requirement could be imposed on Sunday. It is understood Shapps felt he could not use inside information to return to the UK before it came into force. Shapps said he will comply with the 14-day quarantine rule upon his return.
Ministers discussed the rising infection rate in parts of Spain on Friday night. It is understood that the Transport Secretary has to remain in Spain and observe quarantine restrictions in the UK to avoid a possible public backlash.
Once in Spain, Shapps took part in a meeting with other UK ministers at which it was agreed to impose the restrictions. On Sunday afternoon, Shapps tweeted that he had held a video call with UK airlines and the British Ambassador to Spain about the rule change.
Foreign Secretary Dominic Raab said he spoke to the Transport Secretary after he had arrived in Spain on Saturday. Raab told Sky TV's Sophy Ridge on Sunday that the Transport Secterary empathised with other holidaymakers who were experiencing the same thing. "I think it shows you the risk for everyone," said Raab, "and shows you we have got to take swift measures."
Minister for London Paul Scully is also on holiday in Spain, so has also been affected by the changes.
On Monday 27 July, Cabinet Office Minster Michael Gove said he had decided to cancel a planned holiday on the Balearic Islands after the rule change.
The Transport Secretary arrived back in the UK on 29 Jul and will now have to self-isolate at home for 14 days. Speaking to reporters, Shapps said he understood the frustrations of tourists caught out by the rule changedefended the decision to close the Spanish travel corridor.
"We absolutely have to act the moment we get the information and that's exactly what happened with Spain as we saw and as we've seen over the weekend where there was over 6,100 cases – the highest since the peak in March over there. It was the right thing to do and it's why the whole of the UK did it at the same time."
Shapps said other countries may be added to the UK's quarantine list. "I can't therefore rule out other countries having to go into the quarantine as well."
The Transport Secretary revealed that ministers had consideed exempting the Balearic Islands and the Canary Islands, where the cases are lower than mainland Spain. However, Chief Medical Officer Chris Whitty has been concerned by rising infection rates and wanted to see what was happening in the islands.
Airport offers testing trial
In the wake of the Spanish corridor closing aviation sector is currently seeking ways to rescue the holiday season. For example, Heathrow Airport is calling for coronavirus tests once people land in the UK.
John Holland-Kaye, chief executive of Heathrow Airport, has pointed to new operating figures that show the country's biggest airport is set to make a loss of £471m in the first six months of 2020 due to the near total collapse in passenger numbers.
"Today's results should serve as a clarion call for the Government: the UK needs a passenger testing regime and fast. Without it, Britain is just playing a game of quarantine roulette. As many of our customers have experienced, it's difficult to plan a holiday that way, let alone run a business.
"Testing offers a way to safely open up travel and trade to some of the UK's biggest markets which currently remain closed. Our European competitors are racing ahead with passenger testing, if the UK doesn't act soon global Britain will be nothing more than a campaign slogan."
In countries such as France, Germany and The Netherlands, a variety of airport testing regimes are being operated.
Holland-Kaye told the BBC's Today on 29 July that Heathrow wanted the government to work with the airport on the plan, and that testing sites could be ready within weeks. "The aim would be to have a test on arrival. We could have it up and running in the next two weeks, then we need to work with government to see what happens next," he said.
Heathrow's plan would be for passengers to go into quarantine and have another test after eight days: "If they were infected we would be confident that it had shown itself," said Holland-Kaye. "If it was clear, they would be allowed to go out of quarantine earlier than had been the case. It's very scientifically based."
Holland-Kaye said a UK airport test would cost about £150 each, and passengers would be expected to pay. He said there would be those prepared to stand the cost: "There are people who are worried about being able to go back to work or get the kids into school, there will be people who are prepared to pay that to avoid the extra period of quarantine."
However, later on the same morning, Culture Secretary Oliver Dowden told the Today programme that coronavirus testing at airports is not a "silver bullet" because the virus can develop over time. Dowden said: "We are not at the point where there is a viable alternative to the 14-day quarantine." However, he added that all options were under review.
Later in the day, 50 travel and airline industry figures signed a letter urging the Prime Minister to replace blanket quarantine measures with regional travel corridors. Besides Heathrow's John Holland-Kaye the signatoriers included Airlines UK Chief Executive Tim Alderslade and British Airways Chief Executive Alex Cruz.
"We are in a situation where the government is advising against travel to areas of Spain that have lower rates of Covid than the UK," the letter said. "We urgently request a meeting with you to discuss the challenge facing our sector and our proposed ways forward."
They called for quarantine-free travel to areas unaffected by any spike in coronavirus cases. This would include not just Spain, but other key markets for trade and tourism, such as the US and Canada.
Heathrow reports heavy losses
Heathrow's latest quarterly figures show that significant passenger decline, which is pushing the airport into losses. Passenger numbers were down over 96% in Q2 as global aviation came to a virtual standstill. The airport anticipates a gradual recovery as countries reopen borders, but that 2020 passenger volumes will be more than 60% lower than 2019.
The airport's Q2 revenue fell 85% to £119m and adjusted EBITDA turned to a loss of £93m. It recorded an adjusted loss before tax of £471m in the first six months of 2020.
Cargo volumes are down over 30%, hit by loss of passenger flights. An increase in cargo-only flights has not offset the loss of passenger flights to long haul markets.
The airport has worked to reduce its overheads, said John Holland-Kaye. "We acted quickly to reduce our average cash burn by over 30%, by cutting at least £300m operating costs and cancelling or pausing over £650m of capital projects. We have tried to protect as many jobs as possible and maintain pay at or above the London Living Wage.
"Heathrow finances remain robust. Cash reserves are sufficient until at least June 2021 with no revenue. We have agreed a waiver on financial covenants until the end of 2021 and maintained our Investment Grade credit rating status.
"The UK's economic recovery depends on restarting aviation. Government's risk-based approach to allow quarantine-free flights from low and medium risk countries is very welcome, but only covers 30% of Heathrow's markets. Establishing an alternative to quarantine for COVID-free passengers from other countries should be a priority for Government. Pre-flight testing for passengers from high risk countries will allow long haul flying to resume, which is critical for the UK's economic recovery."
Heathrow has implemented a range of measures designed reduce the risk of contracting or transmitting COVID-19 at the airport. The airport is using technologies including: UV cleaning robots which use UV rays to kill viruses and bacteria at night; UV handrail technology is being fitted to escalators to ensure continuous disinfection of the moving handrails; and self-cleaning anti-viral wraps are being fitted to security trays, lift buttons, trolley and door handles, aiming to provide long-lasting protection from COVID-19 (The wraps work by coating high-touch surfaces in a material with long-lasting anti-viral protection).
Heathrow is also retraining 100 team members to serve as hygiene-technicians who thoroughly disinfect the airport and answer passenger queries on the methods being used. The technicians will continuously monitor the effectiveness of the new technologies and help to inform plans to roll these projects out across the entire airport.
Prior to the trials, Heathrow reviewed every step of the passenger journey to identify key touchpoints where anti-viral technologies would have the most impact. 'Fly Safe Pit Stops' – points where passengers can pick up face masks, anti-viral wipes and hand sanitiser free of charge – are being rolled out at these touchpoints to keep travellers safe on their journeys. Teams at the airport are also reviewing technologies that could remove the need for passengers to touch self-service check in machines, allowing them to control the kiosks from their phones. These enhanced cleaning measures are in addition to steps the airport has taken to ensure passengers feel safe when travelling, including the introduction of Perspex barriers in security areas and in some retailers, compulsory face coverings, one-way systems as well as touchless services available on Heathrow and airline apps. In addition, passengers at Heathrow will now receive a notification on their smart device with the latest COVID-19 guidance on travelling through the airport.