Lockdown to be relaxed further in England as 2-metre rule eased
Coronavirus: Restaurants and hairdressers set to open on 4 July
23 June 2020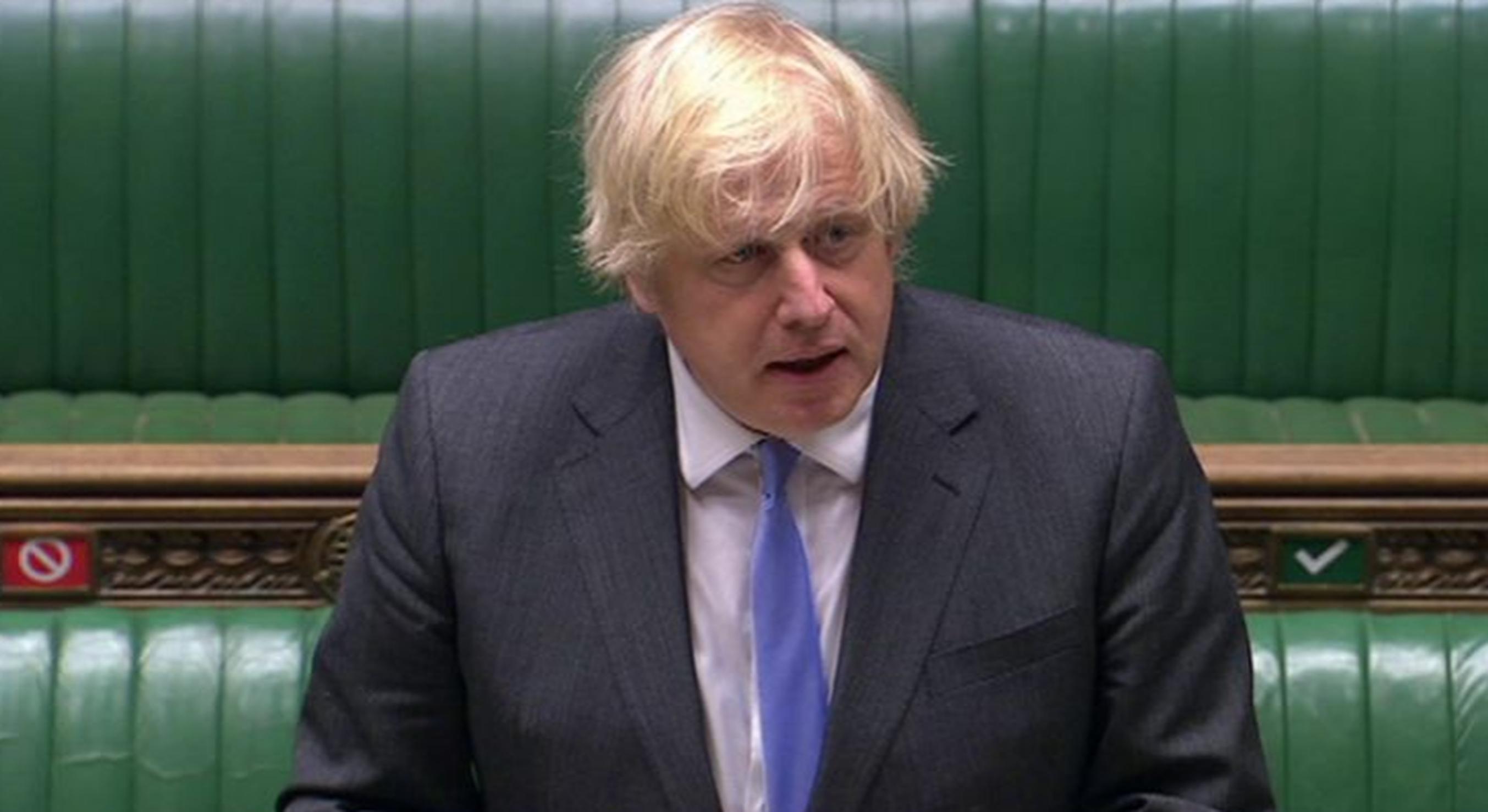 Pubs, restaurants, hotels and hairdressers in England can open from 4 July, when social distancing rules will be eased, Prime Minister Boris Johnson has announced.
Announcing the changes in Parliament on 23 June, the Prime Minister also said that where it is not possible to stay 2-metres apart, new guidance will allow people to keep a social distance of '1-metre-plus'. This means staying 1-metre apart, plus mitigations that reduce the risk of transmission.
"Given the significant fall in the prevalence of the virus, we can change the two-metre social distancing rule, from 4th July," said Johnson. "I know this rule effectively makes life impossible for large parts of our economy, even without other restrictions. For example, it prevents all but a fraction of our hospitality industry from operating.
"So that is why almost two weeks ago, I asked our experts to conduct a review and I will place a summary of their conclusions in the libraries of both Houses this week. Where it is possible to keep 2-metres apart people should. But where it is not, we will advise people to keep a social distance of '1-metre plus', meaning they should remain one-metre apart, while taking mitigations to reduce the risk of transmission."
The Prime Minister said the new guidance would advise how businesses can reduce the risk by taking certain steps to protect workers and customers.
These include:
avoiding face-to-face seating by changing office layouts
reducing the number of people in enclosed spaces
mproving ventilation
using protective screens and face coverings
closing non-essential social spaces
providing hand sanitiser
changing shift patterns so that staff work in set teams.
The government has already mandated the face coverings on public transport.
Relying on common-sense
The new relaxations will not be enforced using laws, said Johnson. The Prime Minister said: "Our principle is to trust the British public to use their common sense in the full knowledge of the risks, remembering the more we open up, the more vigilant we need to be."
From Saturday 4 July, pubs, restaurants and hairdressers will be able to reopen, providing they adhere to COVID secure guidelines. "All hospitality indoors will be limited to table-service, and our guidance will encourage minimal staff and customer contact," said Johnson.
From the same date, two households will be able to meet up in any setting with social distancing measures, and that people can now take 'staycations' in England with the reopening of accommodation sites. Johnson said meet-ups do not always have to be with the same household, but that only one household can meet one other at any time. These measures are not the same as the household bubble where distancing is not required, meaning family members who live apart can still not hug.
Enabling culture and play
In order to begin restoring the arts and cultural sector, some leisure facilities and tourist attractions may also reopen, if they can do so safely. This provision includes outdoor gyms and playgrounds, cinemas, museums, galleries, theme parks and arcades, as well as libraries, social clubs, places of worship and community centres.
Courts, probation services, police stations and other public services will increasingly resume face-to-face proceedings, said the Prime Minister.
However nightclubs, spas, indoor soft play areas, bowling alleys, water parks, indoor gyms, nail bars, swimming pools and water parks will not be able to reopen at this stage.
Johnson said: "As we begin to reopen the economy, it's important that we do not increase the risk of transmission which is why 'close proximity' venues such as nightclubs, soft-play areas, indoor gyms, swimming pools, water parks, bowling alleys and spas will need to remain closed for now. The Government is continuing to work with these sectors to establish taskforces to help them to become COVID secure and reopen as soon as possible."
While the infection rate continues to fall, the Prime Minister said the public must continue to follow social distancing guidelines to keep coronavirus under control. The Government will keep all measures under constant review and will not hesitate to apply the handbrake, or reverse measures, should the virus begin to run out of control.
Johnson repeated his desire to see all children to return to school in September. "Wrap-around care for school age children and formal childcare will restart over the summer. Primary and secondary education will recommence in September with full attendance and those children who can already go to school should do so – because it is safe."
Labour leader Sir Keir Starmer welcomed the statement, saying: "I believe the Government is trying to do the right thing and in that I support them."
England only
The rule changes apply in England only as the devolved administrations have all set out their own approaches to easing lockdown. Scotland's First Minister Nicola Sturgeon and Wales' First Minister Mark Drakeford have both said that the 2-metre rule will remain in place in their nations for the moment.
In Northern Ireland, where hotels, bars, restaurants and cafés are set to reopen from 3 July, Economy Minister Diane Dodds has said she is open to changing the 2-metre rule. Schools will be able to follow 1-metre social distancing measures when they reopen in August.
The Prime Minister's statement to Parliament can be read by clicking here
The final daily briefing
The Prime Minister repeated his plan to ease lockdown later in the day at what was revealed to be the final daily 10 Downing Street briefing.
Johnson was flanked by the chief scientific adviser Sir Patrick Vallance and Professor Chris Whitty, the chief medical officer, who struck a more cautious note than the Prime Minister as they stood alongside the prime minister at the final regular government daily coronavirus briefing, warning the loosening of restrictions was "not risk-free".
Sir Patrick said the 'R' number for the transmission of the coronavirus remains below one across the UK as the epidemic continued to shrink, "albeit slowly", by between 2% and 4% a day. "Don't be fooled that this means it has gone away," he said. "The disease is growing across the world. It is coming down in the UK but it hasn't gone away."
Asked whether the new freedoms were too risky, Professor Whitty said: "This is a balance of risk, it's like many things in medicine, you don't go for operation if you don't have you have to. It's a balance of risk. And I think that this is a reasonable balance of risk. It is not risk-free, absolutely not risk-free, nobody thinks it is, and we may, at some point say that particular bit of the decisions that were taken was too much of a risk with the benefit of hindsight, but it is a balance of risk informed by reasonable professional judgments."
Prof Whitty said there was a risk coronavirus could start to increase in its spread if restrictions involved with the "one metre-plus" rules were not followed. He said: "A lot of the changes are about emphasising things that we can do and it is really critical that individuals and firms take these really seriously. Because if we don't take them seriously then chains of transmission between households will be reestablished."
Prof Whitty said mitigation involved not sitting face to face or even physical barriers. "To be really clear, it is absolutely critical that every individual, every household and every firm takes these precautions seriously. If that does not happen, we will go back to a situation where transmission starts to rise again," he said.
"If people hear a distorted version of what's being said, that says 'this is all fine now, it's gone away' and start behaving in ways that they normally would have before this virus happened, yes, we will get an uptick for sure," Professor Whitty continued.
The current numbers
According to the latest official figures, the R value for the UK - the average number of people that one infected person passes the virus on to - is between 0.7 and 0.9.
A further 171 deaths were reported in the UK on Tuesday, taking the total to 42,927, while latest testing figures showed there were 874 new positive cases.
There have been 42,927 deaths where COVID-19 was cited as a cause, according to Public Health England figures, which reveal there have been 306,210 confirmed cases.
New Office for National Statistics (ONS) figures, published on 23 June, showed that the latest weekly number of deaths from Covid-19 in England and Wales was 1,114, the lowest since 27 March, shortly after the imposition of the full lockdown on 23 March. On Monday, the official tally of UK deaths from COVID-19 was 15, the lowest number since 15 March.
The latest ONS infection statistics show that approximately one in 1,700 people in a community setting in England (not in a hospital, care home or similar) had COVID-19 at any given time between 31 May and 13 June. This compares with one in 400 between 3 May and 16 May.
The ONS figures take the total number of deaths involving COVID-19 in the UK past 54,000.
The ONS said 48,866 deaths involving COVID-19 had occurred in England and Wales up to June 12 (and had been registered by June 20).
Including figures published last week for Scotland and Northern Ireland, so far 53,738 deaths have been registered in the UK where COVID-19 was mentioned on the death certificate, including suspected cases. In addition, 351 hospital deaths between June 13 and 21 in England and Northern Ireland take the overall total to 54,089.
Of the deaths involving COVID-19 in England and Wales up to the week ending June 12, the majority (63.6%) occurred in hospital, with 30,868 deaths.
There have been 14,404 deaths in care homes, 2,205 in private homes, 660 in hospices, 219 in other communal establishments and 182 elsewhere.
The number of excess deaths in the UK since the coronavirus outbreak began has passed 65,000. There have been 59,252 excess deaths in England and Wales between March 21 and June 12, the ONS said, following figures last week showing the equivalent numbers for Scotland and Northern Ireland.Together, this means the total number of excess deaths in the UK across this period now stands at 65,101.