Ionity expands UK network with Leeds services location
01 June 2020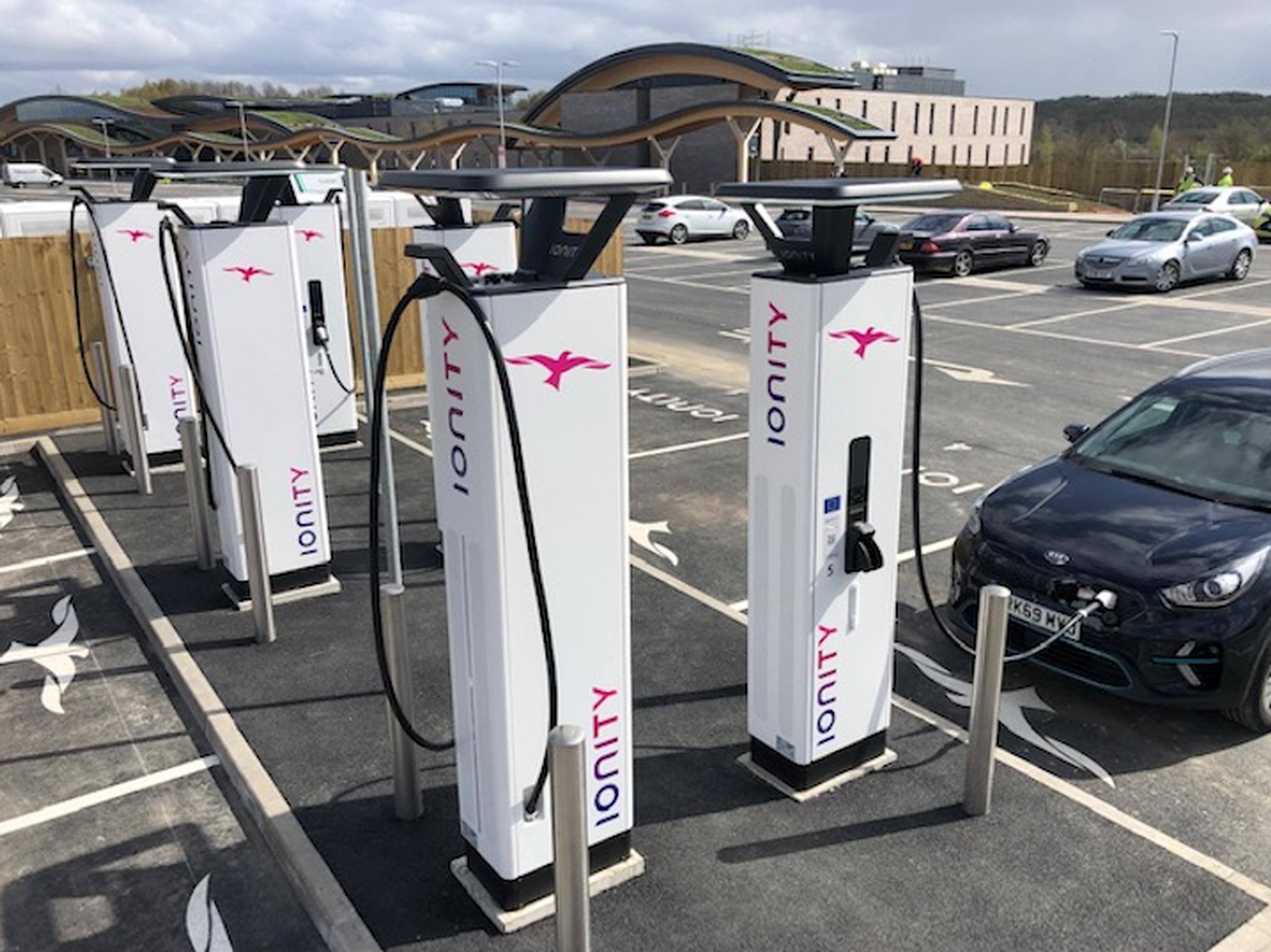 Electric vehicle charging network IONITY has installed a 350kW high-power charging station at Extra MSA's 'new concept' Leeds Skelton Lake Services, located on the M1 J45 east of Leeds.
Drivers can use the Ionity unit to charge their electric cars in less than 20 minutes depending on their vehicle's charging capacity using renewable energy from the IONITY High Power Charging points.
Leeds Skelton Lake is IONITY's fourth station to be launched in the UK, with seven others planned to follow in 2020 in co-operation with Extra MSA Group - each with the UK's fastest EV chargers.
The site is the first IONITY High Power Charging station in the UK to feature the new award-winning chargers premiered by IONITY at last year's Frankfurt Motor Show. The new chargers use halo lighting to provide customers with information about the charging status of the battery.
Leeds Skelton Lake Services is only one of three new UK MSAs to open in the last 10 years. It is situated within two miles of Leeds city centre, serving the M1, M62 and A1(M), for the North of England motorway network.
IONITY is a joint venture between Mercedes-Benz AG, Ford Motor Company, BMW Group and the Volkswagen Group with Audi and Porsche AG. It plans to establish 400 High Power Charging stations across Europe, enabling hassle-free pan-European EV travel.
Marcus Groll, chief operating officer at IONITY said: "The continued expansion of the IONITY network in the UK signals our strategic commitment to enable long distance EV travel and to break down perceived barriers to EV usage in the UK.
"Our network will bring 40 high power charging stations to the UK, providing much-needed infrastructure for the e-mobility revolution. The reality is that 50kW chargers no longer offer customers fast enough charging on motorways and key travel routes and will therefore not facilitate the transition to e-mobility. IONITY's chargers are prepared for the advancement of battery technology and EVs of the future. Our network makes long-distance e-mobility a seamless experience."
With reference to the COVID-19 crisis, Groll added: "During the ongoing unfortunate coronavirus pandemic, we are continuing to provide full support to our customers and essential service providers, as we know that a great many people depend on an EV for their own essential journeys. We advise all our customers to follow government regulations on social distancing and hygiene measures while they charge with IONITY, to minimise the risk of infection and ensure safety for all users."
Andrew Long, chief executive of Extra MSA Group, said: "Whilst we obviously wish that the circumstances for opening Leeds Skelton Lake Services could have been different, we are proud to open this new concept MSA and one which will provide a critical infrastructure role for the safe and efficient operation of this section of the motorway network. We are also look forward to the opening of the other seven Extra/IONITY High Powered EV Charging Stations at our other MSA locations later this year, including M40 J2 Beaconsfield and M25 J9-J10 Cobham Services."