Doncaster Council prepares for when lockdown eases
Coronavirus: Town centre pedestrianised and social distancing encouraged
22 May 2020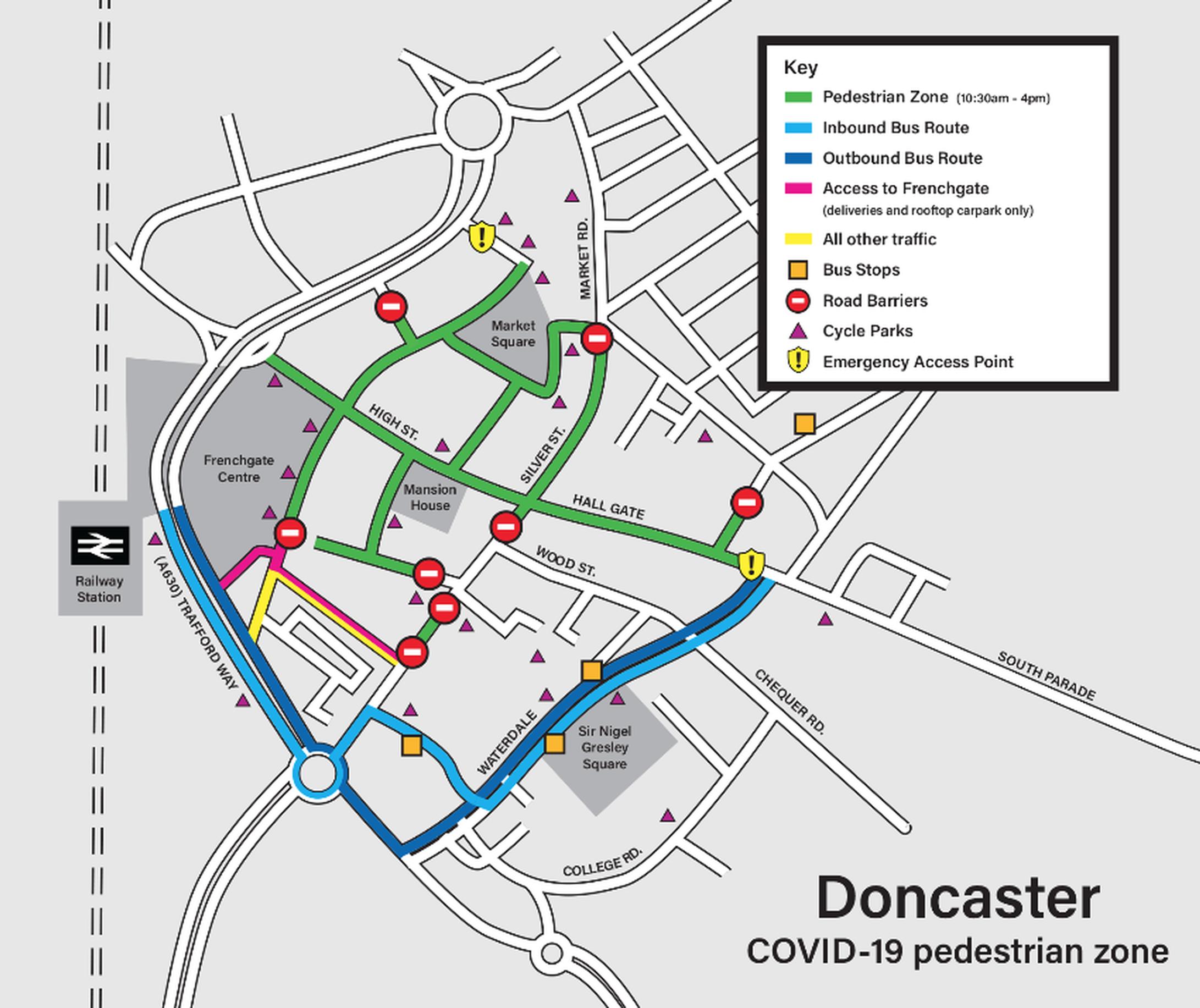 Doncaster Council has made changes to the town centre that it hopes will help people follow guidance on social distancing and other public safety measures.
Most of Doncaster town centre is still not open and the council is asking people not to visit unless it is absolutely necessary to do so.
Where people do visit it is asking them to follow the 2-metre social distancing guidance. Face coverings are also being recommended if people anticipate going into an enclosed public space. People are being encouraged to use a car, cycle or walk if they can.
The council has pedestrianised the core parts of the town centre between 10.30am and 4pm, seven days a week. Delivery vehicles will have access outside these times and emergency vehicles will have access at all times.
Street signage has been erected to highlight safety messages like social distancing. Other arrangements will be introduced including asking people to keep left as part of dedicated pedestrian routes.
"The Government has announced that it hoped to ease the lockdown restrictions in the coming weeks and months and to make sure we are prepared for this, we are introducing a number of changes in the town centre," said the council.
"We plan to create pedestrian routes by asking people to use the left hand side of the busy streets and the main parts of the town centre will become pedestrian friendly with traffic restrictions in place. We will also have town centre ambassadors out and about to help and advise people. These changes will start happening shortly ready for when we can encourage people back into the town centre."
The pedestrian routes will be similar to what supermarkets have introduced to help people move around keeping a safe distance from other people, said the council. Businesses will be implementing their own arrangements for protecting their staff and customers.
"As the latest Government advice is not to open toilet facilities, people may not be able to clean and wash their hands regularly when in the town centre," said the council. "If people do have to come in to Doncaster, they are asked to bring tissues and hand sanitisers with them."
Town centre ambassadors will be out and about to help and advise people, while police officers will look to ensure people are observing the safe distancing rules and not gathering in groups.
Buses and trains are available, but in view of social distancing requirements, people are being advised to walk, cycle or use their cars.
Doncaster Council owned car parks (except the Colonnades car park) are open, but access may be required via a different route, please see the map of the road closures for information. The council has increased cleansing at its car parks, but users are encouraged to make card payments if they can and observe social distancing when parking up and paying.
Taxis can access the town centre but will have to observe the changes and the traffic restrictions. Emergency vehicles will have access into all parts of the town centre at all times.
People can cycle to the town centre and park bikes at dedicated cycle parks/bays but cannot cycle through the town centre as that is a risk to pedestrians.
"As part of a bid to encourage active travel, the council is looking at opportunities for pop-up cycle lanes that could be deployed quickly but safely," the council said. "This would be complementary to the three cycle lanes that have recently been completed during the lockdown at Thorne Moorends, Auckley and Bennetthorpe."
The council said the future will see a significant expansion of active travel infrastructure through the £35m successful Transforming Cites Fund Programme, which is heavily populated with active travel schemes across the borough over the next three years.
"The council's Business Doncaster team is working closely with businesses and town centre partners to ensure they are fully aware of the latest government guidance and any changes that the council are looking to introduce," it said.
The council's enforcement and trading standards teams are also working closely with businesses during the COVID-19 emergency by providing them with help, guidance and support and ensuring they are complying with latest Government rules. Businesses will need to organise their deliveries before 10.30am and after 4pm. Business Doncaster will be supporting businesses with the changes.