Cars to be banished from key streets in Square Mile
Coronavirus: City of London Corporation's socially distanced streets will support gradual return of commuters and visitors
19 May 2020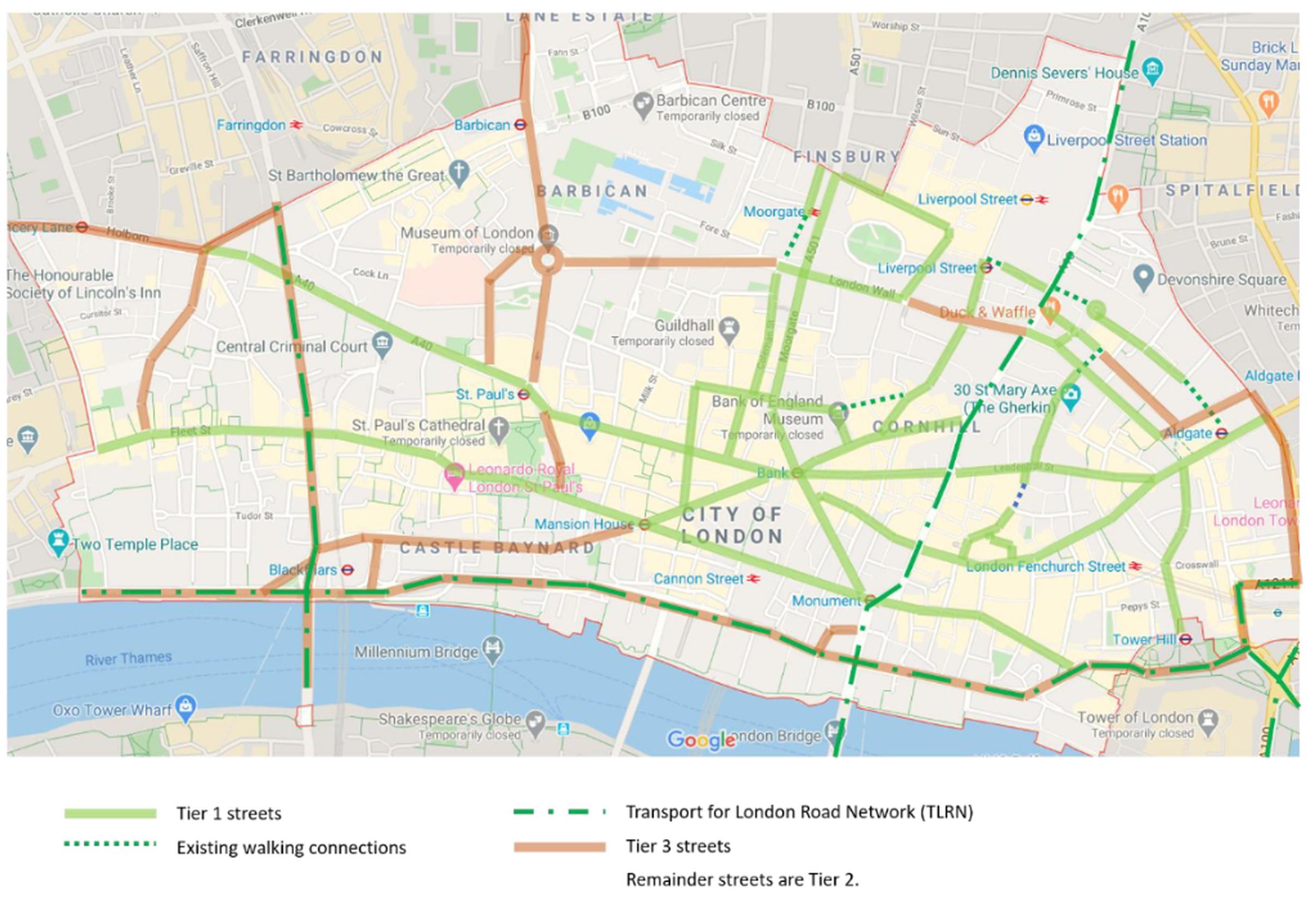 The City of London Corporation is banning cars from the busiest roads within the Square Mile in order to manage the return of commuters as the coronavirus lockdown is eased.
The corporation has detailed its transport plans to manage a gradual safe return of people who work, live and visit the financial district. It has drawn up proposals for 12-hour and 24-hour closures for cars on its main artery routes to widen pavements for walking and bike lanes, as well as allow safe queuing for shops and cafés in the City's many narrow streets.
The plan was agreed by the Planning and Transportation Committee on 14 May in the first phase of the decision making process.
The transport response is designed to support City businesses in their COVID-19 recovery, while also ensuring that residents, workers and visitors are safe and feel comfortable when travelling, particularly when travelling on foot, by bike and on public transport.
Alastair Moss, Chair of the Planning and Transportation Committee, said: "The safety and security for the people who work, live and visit the Square Mile is our number one priority. We are keen to get the City back on its feet in a safe and sustainable manner. That is why we are prioritising space for pedestrians and cyclists as any significant increase in the use of cars or taxis would lead to congestion, increased air pollution and road danger. We will continue to support businesses in the Square Mile in their COVID-19 recovery and ensure that the City remains a safe and attractive location."
The plan is aligned to the principles in the City Corporation's Transport Strategy, so sets out short and long-term objectives. The programme of activity will see changes to streets in the Square Mile to provide additional space for people walking and cycling. It will look at measures to support businesses, encourage travel on foot and by cycle, and manage demand on public transport.
Across all streets, changes will be delivered in stages and reviewed on an on-going basis. In addition, further measures will include markings, signage and campaigns to facilitate queuing, promote social distancing and encourage safe and considerate behaviour by all street users.
The corporation will also be setting an advisory 15mph speed limit. There will also be a temporary reallocation some on-street parking bays to cycle parking and dockless cycle hire.
Three tiers
Streets in the City have been classified into three tiers, based on the level of intervention that will be needed to make them safe enough to maintain social distancing.
Tier 1
Tier 1 streets will be prioritised for change. Proposed changes to tier 1 streets are:
Timed closures to motor vehicles (24/7 or 7am – 7pm, where necessary allowing limited access to premises for essential vehicles)
Reallocation of carriageway to space for walking, queuing and cycling and providing priority for buses
Closures to through traffic or other changes in operation (e.g. switching to one-way)

During phase one of the project, six City locations have been identified for adaptation. These have been prioritised based on pedestrian flows, pavement width, cycling demand and connections to destinations, retail and transport hubs. The streets are:
Cannon Street between Queen Victoria Street and Monument junction
Cheapside and Poultry
Old Jewry and Coleman Street
Lombard Street
Leadenhall Street and St Mary Axe
Threadneedle Street and Old Broad Street

Tier 2
Tier 2 streets will require little or no reallocation of space but might require closures to through traffic or other changes in operation for example, switching to one-way to reduce through traffic.
Tier 3
Tier 3 streets are unlikely to require any significant change to layout or operation. Some reallocation of space may be required where pavement widths are below 2-3 metres, in places where queuing may occur or where space needs to be provided for people cycling.
The City Corporation will work closely with Transport for London and the City of London Police to implement the plans. A final decision on the plans will be made by the Policy and Resources Committee in the coming weeks.
A report on the plan be found by clicking here