A route to safer car parks
Car parks are places shared by people and moving vehicles, so safety must be a top consideration for designers and operators, says Callum Clay
07 May 2020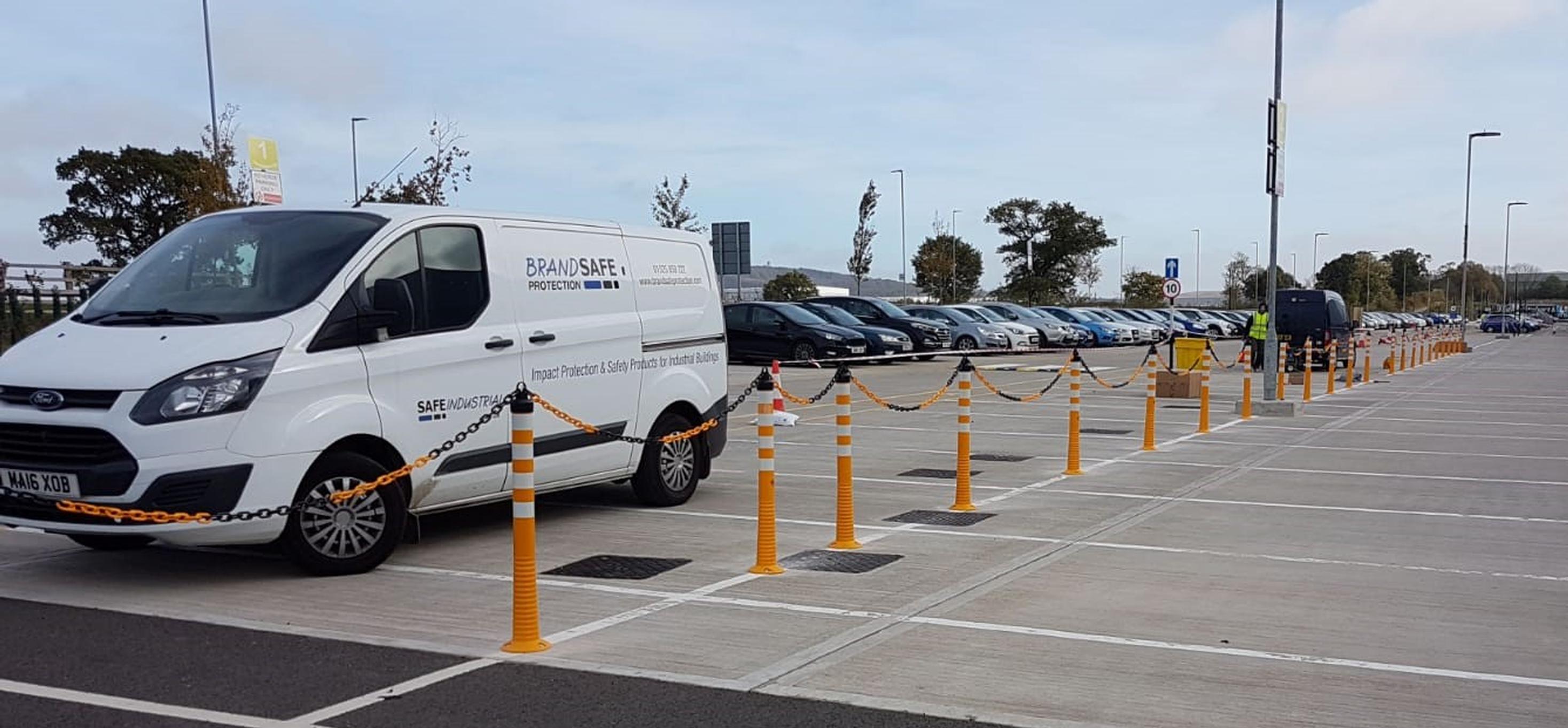 As multi-storey car parks become an increasingly integrated feature of new-build warehouse and distribution complexes effective safety and routing specification is of paramount importance.
Many hazards can be found in car parks, so warehouse and distribution centre owners and operators have a responsibility to ensure that the on-site multi-storey car parks provided for the benefit of employees and visitors are safe to use. Under the Health and Safety at Work Act 1974, and subsidiary legislation, car park owners and any contractors operating car parks on their behalf, have a responsibility to ensure that their facilities must be safety compliant.
The first task in drawing up any kind of specification is to follow good practice through the preparation of a risk assessment. Think about how to keep parked vehicles out of the flow of traffic and people, and how to explain to drivers where parking areas are as soon as they enter the site. Try and lay out parking areas to reduce manoeuvring and reversing for outsized vehicles such as the larger SUVs or pick-up trucks, which are increasingly gaining favour among today's car owners.
Parking areas should be in safe, convenient and accessible locations, so consider the volume of vehicles that will use your site. Consider also the type of vehicles that people will use to get to and from their place of work – you should provide adequate parking space for all vehicles types: work-related vehicles, private cars, motorcycles and even bicycles. Think about how pedestrians will be segregated or restricted from traffic in the parking areas, and how parking will be controlled and enforced if necessary.
Safety first
Designing with safety in mind should always be a good starting point when it comes to more effective control and management of risks in parking areas. Here, reference to HSG 136: Workplace Transport Safety: An Employers' Guide is a useful document, recommending that parking areas should feature well sited signage that's clearly visible to both drivers and pedestrian. Multi-level parking areas and bays should always be clearly marked with safe walking areas and instructive guidance for people entering and exiting the car park.
Adopting a common sense approach will also ensure better safety because it places the emphasis on critical safety equipment and systems – all assets when integrated into a well designed and delivered car park design scheme. The use of physical precautions such as delineators, chains and safety barriers is recommended to prevent vehicles crossing into walking areas. For example, installing a visual system of delineators, specifically designed for vehicles with a separate one for pedestrians, will be beneficial, leading to safer routing.
One of the main hazards in car parks can be over-parking during busy periods. Clearly thought needs to be given to usage of the parking area and the maximum number of vehicles allowed. As mentioned above, it may be necessary to carefully control numbers and allocate parking spaces to specific persons through physical traffic control systems.
Controlling the speed, flow and safe movement of vehicles is critical. Here, speed restrictors and delineators strategically positioned in car parks will help limit the speed at which vehicles travel, control their access or turn-points, and minimise collisions and encounters between pedestrians and vehicles. You may also want to restrict cars from parking illegally, to block access permanently or cordon off areas for specific time periods with delineators.
Safety barriers and protectors also contribute to improved levels of safety and should be considered in contributing towards reducing the severity of damage – and cost – to both car park structure and vehicles in the event of a collision. After all, in the unfortunate event of an accident, a safety barrier is not only quick and easy to replace but can significantly lower the risk of physical injury and expensive damage.
It is not always a matter of deciding if your operations need some kind of high-tech surveillance equipment or a more physical presence or improved safety and routing furniture. It probably needs all of these and more to operate at peak safety and efficiency but adopting a common sense approach when it comes to investing in equipment can reap rewards in terms of improvements in overall safety, employee satisfaction and productivity. It is also important to recognise that integrated multi-storey car parks – and their operation – are different: they have their own particular set of hazards and risks. This must be reflected in the final solution.
Individual needs
A strategy has to be tailored to meet individual needs - the one size fits all simply won't work in an environment where the safe, optimum flow of people and vehicles, usually on a 24/7 basis, is paramount. Regardless of size or location, the current trend towards more integration in car park design requires a good deal of complex safety planning and product support. So it is important to think about your long-term investment in terms of quality, reliability and performance. Consider also how your supplier can add value through bespoke planning and consultancy services.
Car park owners and/or operators must ensure that their car parks are meeting all relevant best practice requirements. And this includes important issues around vehicle and pedestrian safety - people should be given due consideration from the outset and feature in the forefront of your designs and plans. After all car park safety is not just about the installation of physical measures. Good management is also essential to ensure appropriate procedures are utilised for both on-going use and maintenance.
Callum Clay is marketing manager of BrandSAFE