Online guide maps free parking for NHS staff and care workers
Coronavirus: International Parking Community launches Free Parking Portal
06 April 2020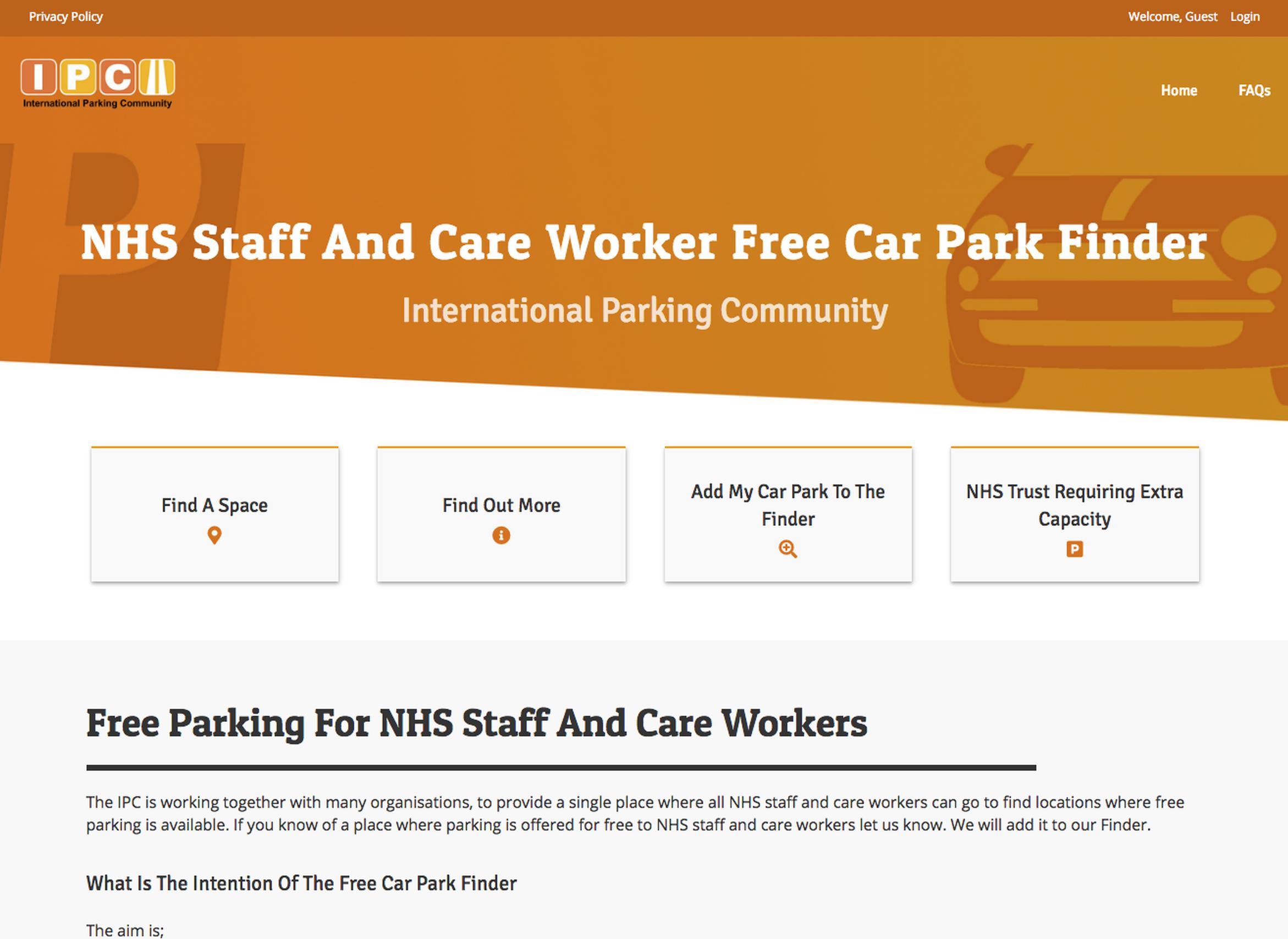 An online portal providing NHS staff and care workers with details of where they can find free parking has been launched by the International Parking Community (IPC) trade association.
The Free Car Park Finder information portal will be updated continuously to include every possible provider of free parking, not just the local authorities that have received a government mandate to provide such arrangements.
The IPC said the portal will also help to identify parking hotspots where contingency arrangements may be required due to parking capacity at NHS trusts, and will provide links to all relevant local car park providers.
"Wholesome praise and generous support for NHS staff and care workers is all very well and is most certainly justified, but practical assistance is what really matters the most in these unprecedented times," said Will Hurley, chief executive of the IPC. "Offers of free parking really do make a difference and will remove the risk of frustration trying to find or contact different parking providers and adding further stress to an already stressful working day.
"It is wonderful that so many organisations and individuals have rallied to offer free parking for health workers. However, in the absence of a central source of information to help find and organise convenient free parking, such a piecemeal approach risks inconsistencies, poor accessibility and limited take-up.
"Given the urgency and intensity of the current health crisis, every effort should be made to ease the everyday pressures on health workers when they are away from the medical frontline. That's where a national trade association has an important role to play. We've now set up a dedicated web portal to provide NHS staff and care workers with a quick and easy-to-use way of finding free parking in their local area during the coronavirus emergency.
"This is our way of providing help to everyone on the medical front line and those caring for the more vulnerable members of the community. Creating a central point of information for the benefit of all NHS staff and care workers is also acting as a catalyst for coordinating the offers of free parking right across the country so no-one misses out. We have really good coverage from the outset, but this is only going to grow
"We would ask everyone who is providing a free car park, be it a local authority, a private company or indeed a private individual to get in touch and provide us with details so we can help those who are helping us."
The association is also working to increase the coverage of free NHS parking being offered by private sector operators. "We will be working hard to get all sites added in the next week to 10 days and many companies are already contacting us to ensure they are included on the portal," said Hurley. "The initial response from companies has been very encouraging and we anticipate the number of sites over the next seven days will increase significantly as more and more become of aware of the importance and value of providing NHS staff and care workers with a central source of information. Indeed, it can only be a good thing for everyone involved – especially those on the medical front line – as there are no downsides and there is absolutely no reason to not support the initiative."
The IPC intends to relay information on where local authorities in England, Wales, Scotland and Northern Ireland are offering free parking to NHS staff and carers. "Our aim is to ensure that all local authorities are covered on the portal and we are working hard to update the database, although it's not just a case of adding new sites, as certain local authorities are requiring different approaches," said Hurley. "That said, we are hopeful there will soon be a universal approach, so we can then add a significant proportion of local authority locations. To ensure the accuracy of the information we are asking anyone working at an local authority to make contact with us and provide accurate information of their on-street and off-street locations. Ultimately, this is about making it easy for NHS and care workers to access the free parking that has been offered to them."
The IPC plans to use social media channels to raise awareness of the Free Car Park Finder portal. "We are also in consultation with senior officials within the NHS," said Hurley. "Our offer is genuine and open to everyone and I am confident the development and provision of a central source of information on free parking options will make a huge difference to NHS staff and care workers. Indeed, there can be no justified reason for anyone in the industry not to provide input and to support the aim of the portal at a time when everyone in the health sector is under such intense pressure and in need of all the help we can give them."