Police use drone footage to warn against leisure drives to countryside during pandemic
Coronavirus: Derbyshire Police says visiting Peak District breaches prohibition on all but essential travel
27 March 2020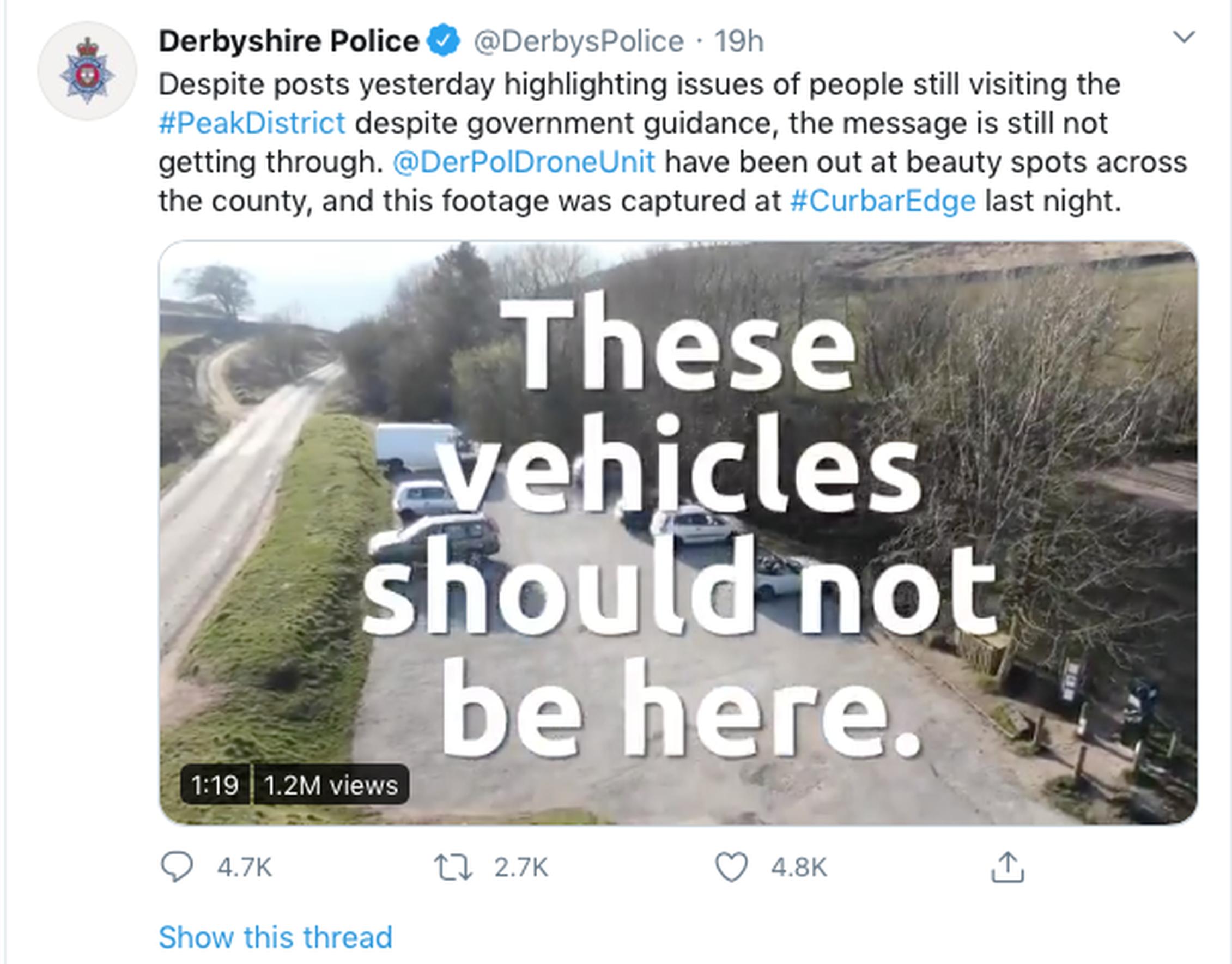 A police force has released drone footage of people walking in the Peak District to highlight breaches of government guidance on avoiding unnecessary travel during the coronavirus lockdown.
Derbyshire Police said travelling to remote areas for exercise does not count as essential travel as permitted under government lockdown rules.
The force is concerned that the message is still not getting through about stopping the spread of coronavirus, despite government guidance and several police posts.
Derbyshire Police's drone unit filmed in people rambling on Wednesday. It released a 90-second clip starting in a car park in the Curbar Edge area and then highlighting people walking dogs and posing for selfies.
In a series of tweets, the force said some cars parked in the area were registered in Sheffield, suggesting people had travelled to Derbyshire and ignored government advice to exercise close to home.
Derbyshire Police said: "It was not appropriate to be getting in your car and travelling to take this exercise, particularly to a location such as the Peak District that in normal times can become busy.
"Our actions and the government's advice are there to keep you and others safe and ensure our NHS is able to cope in order to save as many lives as possible."
On Thursday, the force had to break up a large group near the Snake Pass enjoying a picnic and shisha. Officers said the group included people who has travelled from Manchester, Sheffield and Ipswich. It said: "Seriously this is not social distancing and staying home."
At the weekend the Peak District National Park urged people to stay home after it said crowds flocked to the Peaks.
The Home Office has announced new powers for police to arrest anyone flouting the coronavirus lockdown rules. Anyone ignoring restrictions can now be fined £60 and another £120 for a second offence.